Maggiolina accessories
Changing room
New product
2021 (latest version)

Item available in 3 weeks from receipt of the order

Item available from September

Original product covered by the Autohome
Excellent choice but unluckily the item immediately sold out.
Please check again another time.
Excellent choice but unluckily this item is sold out. It will be available from September.
Book it in time!
Warning: Last items in stock!
Availability date:
DELIVERY
For delivery in the European Union, the costs are as follows:
Roof top tents

COUNTRIES IN MAINLAND EUROPE

Price: € 150,00
Price for each additional tent: € 50,00

ISOLE

Price: € 160,00
Price for each additional tent: € 50,00


Accessories with volume over 0.10 m3:

COUNTRIES IN MAINLAND EUROPE

Price: € 50,00
Price for each additional accessory: € 20,00

ISLANDS

Price: € 70,00
Price for each additional accessory € 20,00


Accessories with volume under 0.10 m3:

COUNTRIES IN MAINLAND EUROPE

Price: €15,00
Price for each additional accessory: € 10,00

ISLANDS

Price: € 15,00
Price for each additional accessory € 10,00
Tempi di Consegna
Delivery time of products for customers residing in the European Union is 3 weeks from receipt of the order
FOR ORDERS BY PHONE AND OTHER INFORMATION

CALL CENTER AUTOHOME ITALY


TRASMISSIONE DEL VAPORE D'ACQUA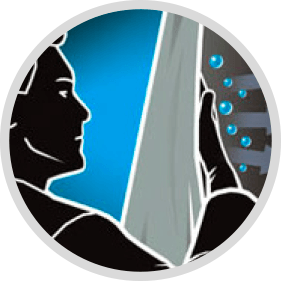 Tessuto Airtex: g/m²/24hrs: 440
Another very important factor is the transmission rate of the water vapour through the fabric, which should not be lower than 350 g/m²/24hrs. Only the high breathability and/or the excellent water vapour transmission rate can effectively limit moisture forming inside the tent, thus keeping your environment fresh and healthy. Therefore, choose carefully!

CAMERE DA TETTO FATTE PER DURARE
All particulars, from the design concept, materials and components, to the safety features and insulation, have been methodically chosen and thoroughly tested in order to obtain an all-weather proof product reliable at all times. Just like the structure of a boat, we have used fiberglass to prevent it from aging, discoloring or losing its shape.
TETTO COIBENTATO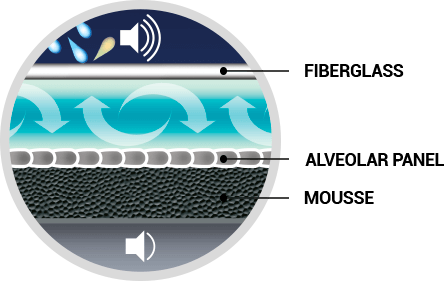 Roof insulation with air gap is an exclusive Autohome feature. The air cushion obtained by the internal alveolar panel and the anti- condensation foam allow a better thermal and acoustic insulation and a healthier and more silent place to rest in case of rain.
BASE COIBENTATO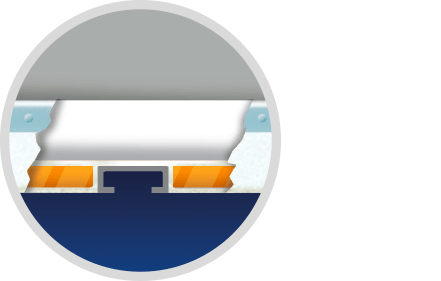 The "sandwich" construction base has 25mm insulation thickness, while the two "C" shaped built in guides allow easy installation with any kind of roof cross bars (normally without any additional fixings) offering a steady and safe structure in order to withstand any off-road stresses.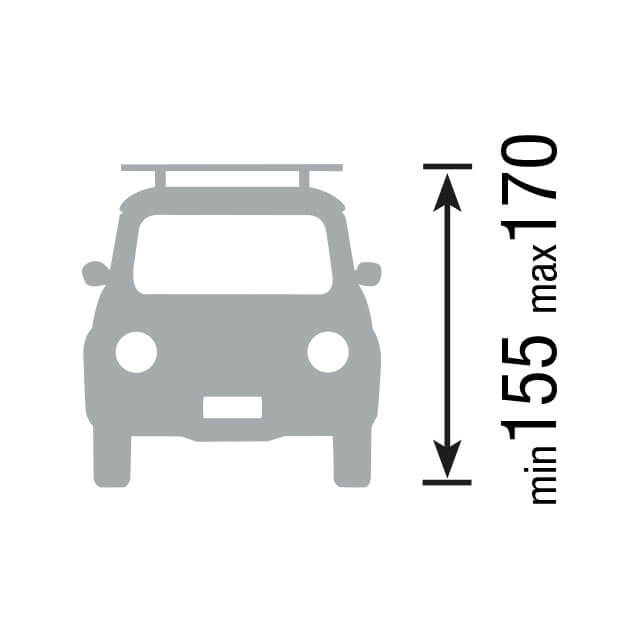 ITIdonea per autovetture h min 150 cm - max 170 cm (altezze comprensive del paratutto).
ENSuitable for vehicles with min height 150 cm - max height 170 cm (hights inluding roof-rack).
DEAusführung für Fahrzeuge von 150 bis 170 cm Höhe incl. Dachträger.
FRIndiquée pour véhicules ayant hauteur min 150 cm – max 170 cm (hauteur qui inclut le porte-tout).
CHANGING ROOM: FUORISTRADA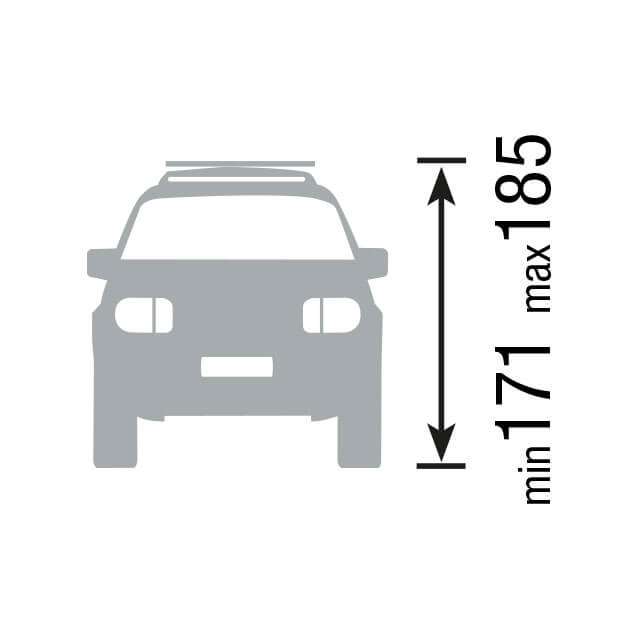 ITIdonea per autovetture h min 171 cm - max 185 cm (altezze comprensive del paratutto).
ENSuitable for vehicles with min height 171 cm - max height 185 cm (hights inluding roof-rack).
DEAusführung für Fahrzeuge von 171 bis 185 cm Höhe incl. Dachträger.
FRIndiquée pour véhicules ayant hauteur min 171 cm – max 185 cm (hauteur qui inclut le porte-tout).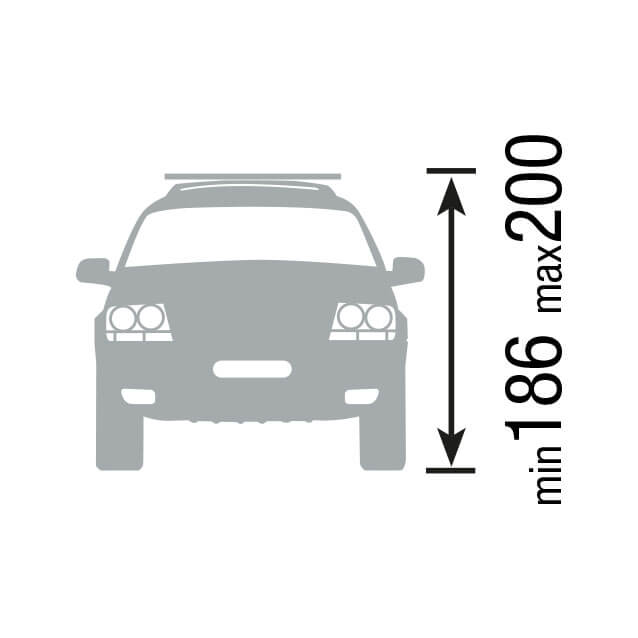 ITIdonea per autovetture h min 186 cm - max 200 cm (altezze comprensive del paratutto).
ENSuitable for vehicles with min height 186 cm - max height 200 cm (hights inluding roof-rack).
DEAusführung für Fahrzeuge von 186 bis 200 cm Höhe incl. Dachträger.
FRIndiquée pour véhicules ayant hauteur min 186 cm – max 200 cm (hauteur qui inclut le porte-tout).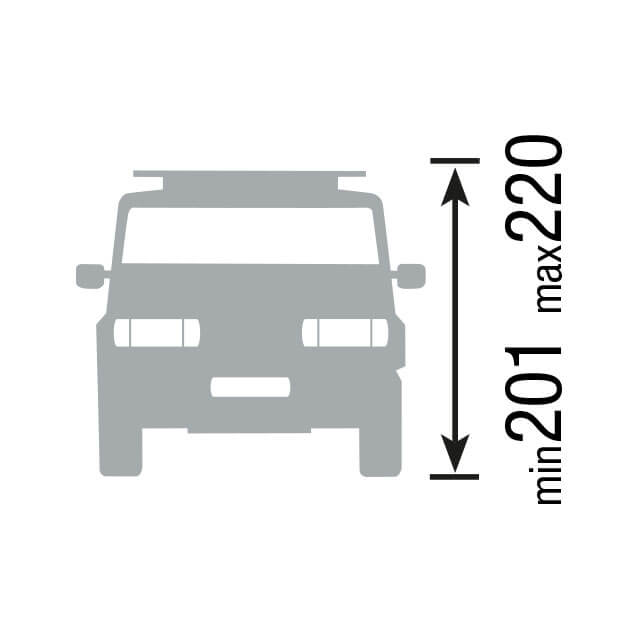 ITIdonea per autovetture h min 201 cm - max 220 cm (altezze comprensive del paratutto).
ENSuitable for vehicles with min height 201 cm - max height 220 cm (hights inluding roof-rack).
DEAusführung für Fahrzeuge von 201 bis 220 cm Höhe incl. Dachträger.
FRIndiquée pour véhicules ayant hauteur min 201 cm – max 220 cm (hauteur qui inclut le porte-tout).
SHELLS 100% IN FIBERGLASS
NO, THE SHELLS ARE NOT PLASTIC, NOT ACRYLIC AND NOT ABS. THEY'RE 100% FIBERGLASS!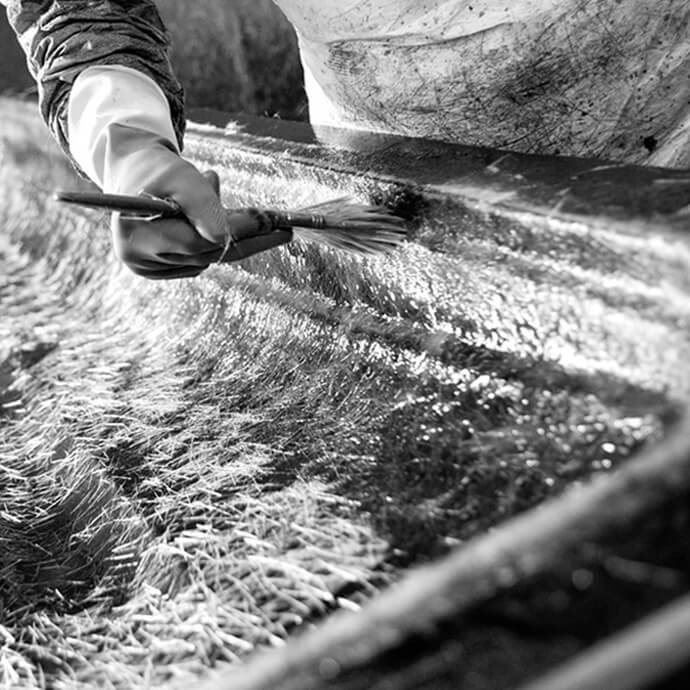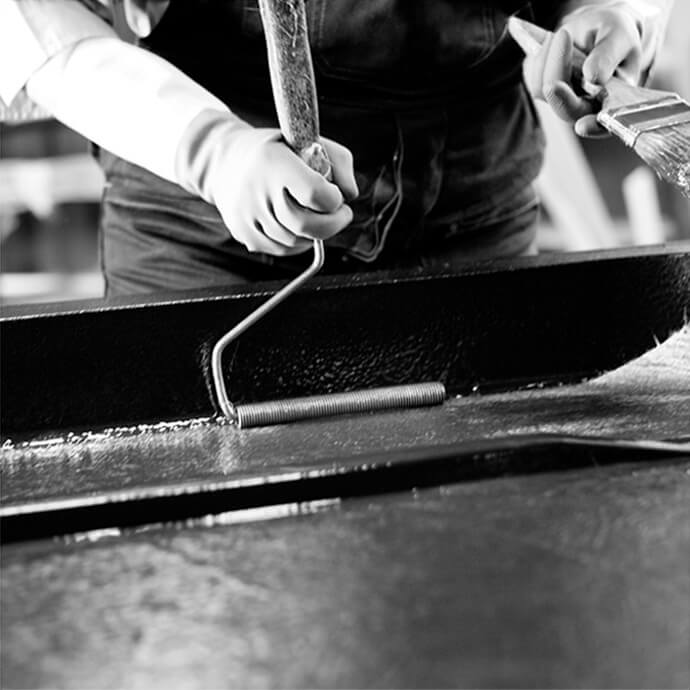 The shells are hand-made with brushes and rollers, the best technique for multi-layers.
Fiberglass shells provide excellent insulation from the heat and cold, dampen the noise of rainfall and are strong and durable. In addition, if damaged, they can be repaired with no trouble. They do not go out of shape during opening and closing of the tent or under load, with people inside.
FIBERGLASS ADVANTAGES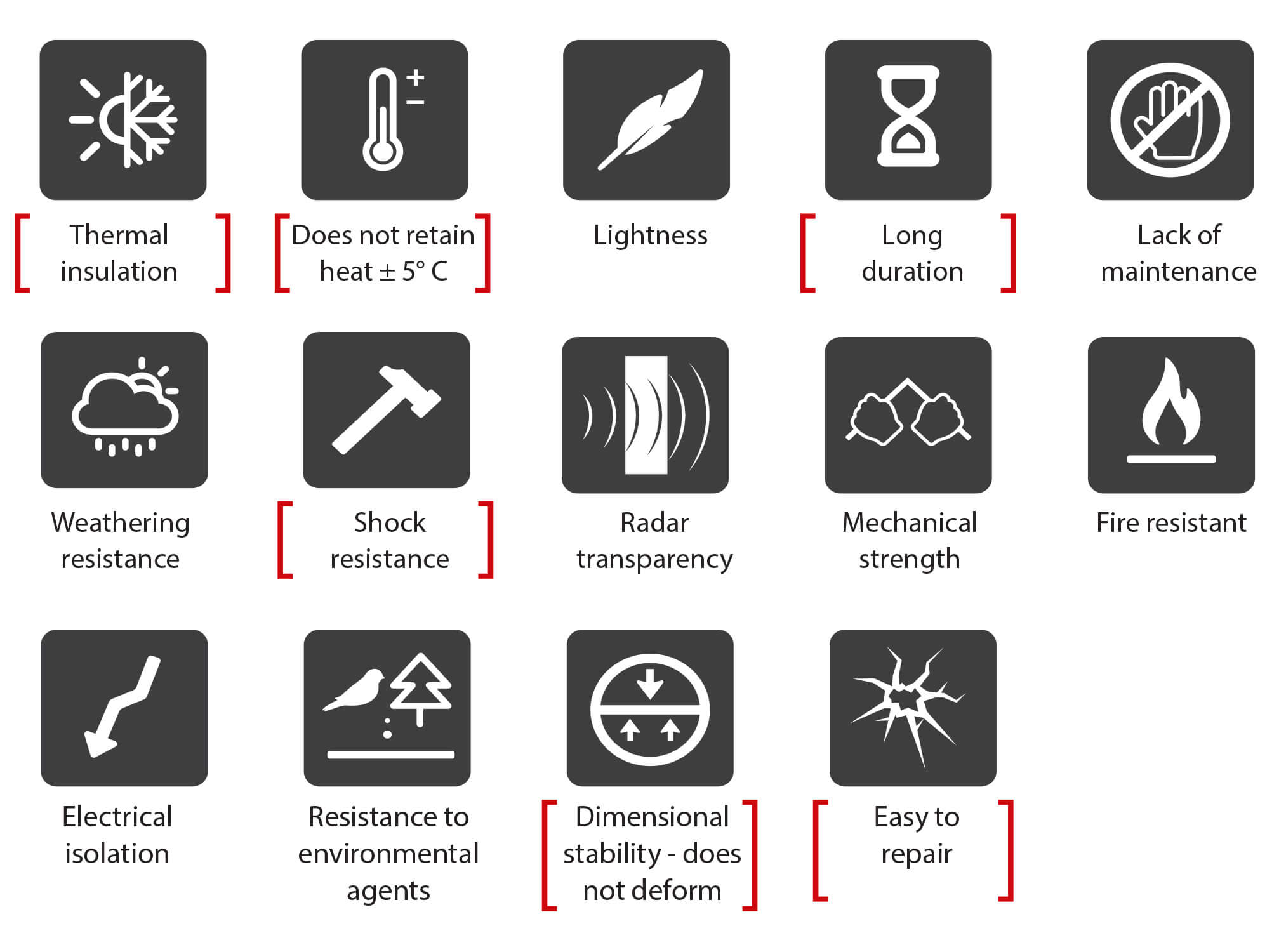 MATERIAL COMPARISON TABLE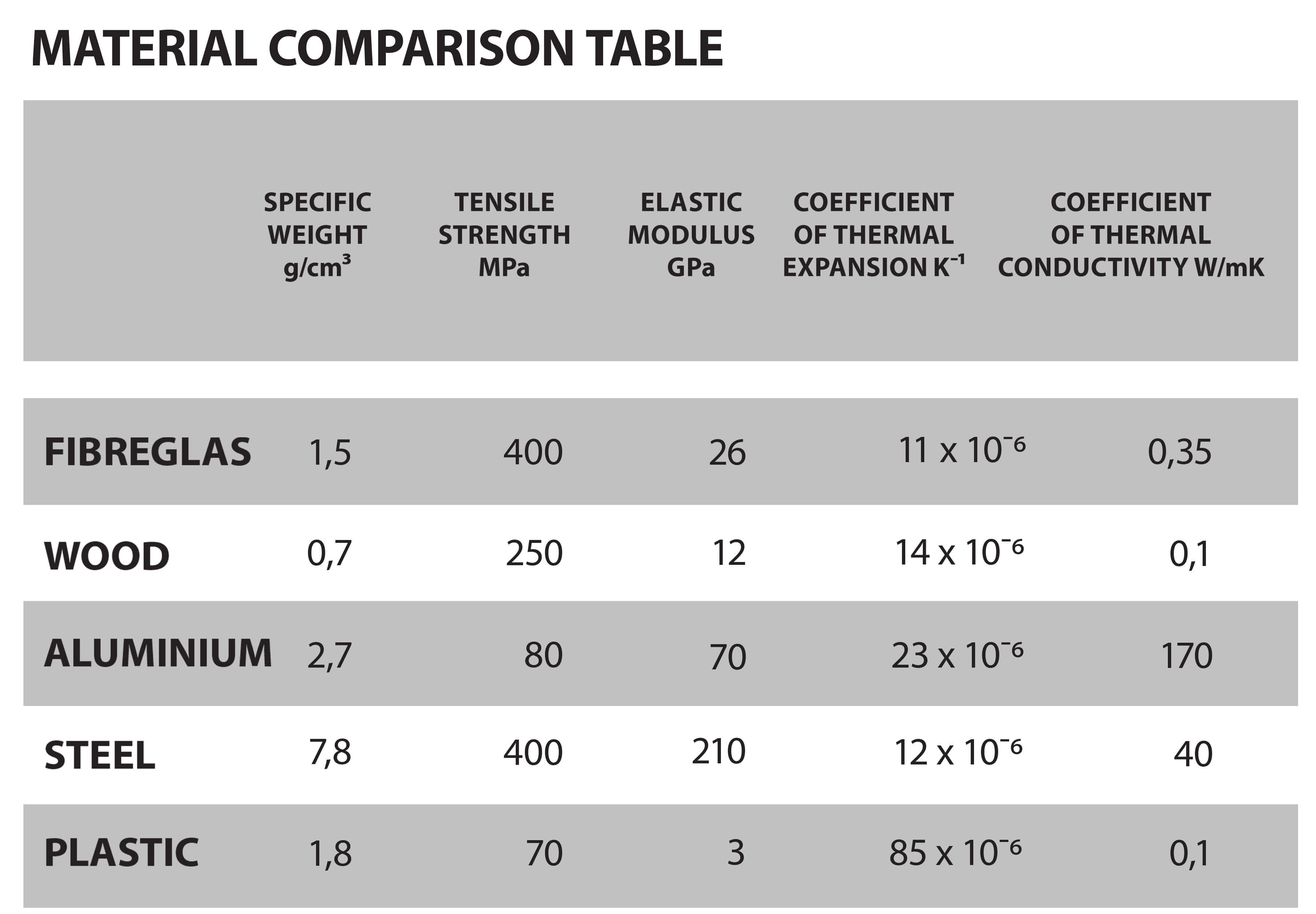 QUALITY YOU CAN TOUCH
Autohome® fabric is quite extraordinary: heavy in order to be strong to withstand the wind, yet waterproof and breathable: the absolute best for a tent, whether used in a campsite or on an adventure trip. Each tent is made with great attention to detail, assembled and sewn by expert hands.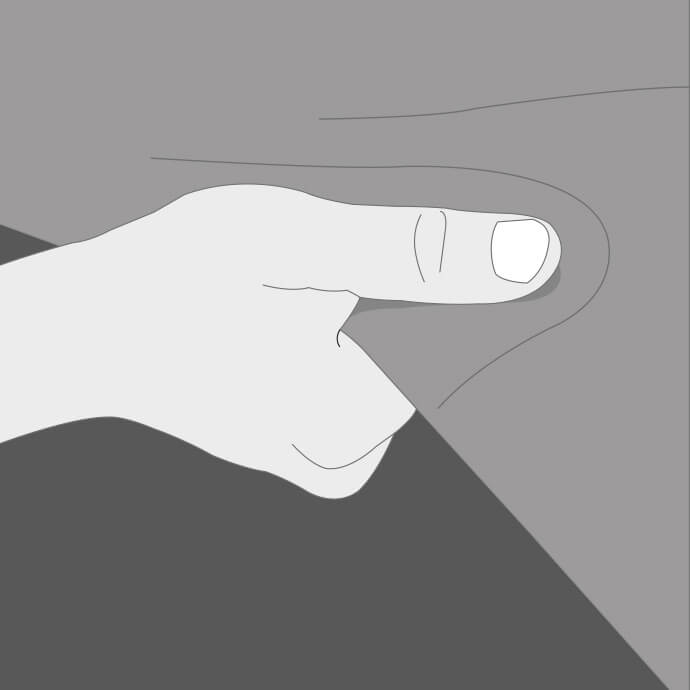 For example, the roof - the most delicate part - is sewn directly to the side walls all along the perimeter. It is also stabilized by a core of rubber sewn carefully on both sides. The result is a compact tent which doesn't flap in the breeze, like the rivals of Autohome®.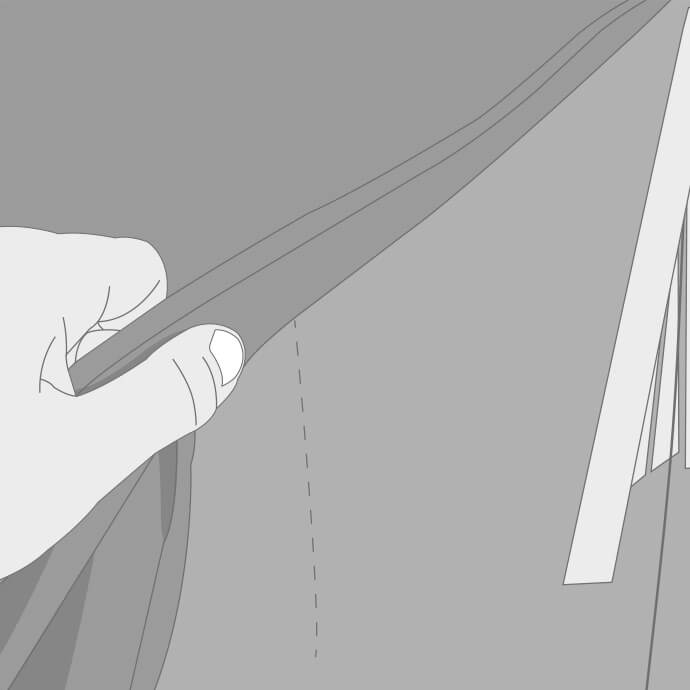 Advantages: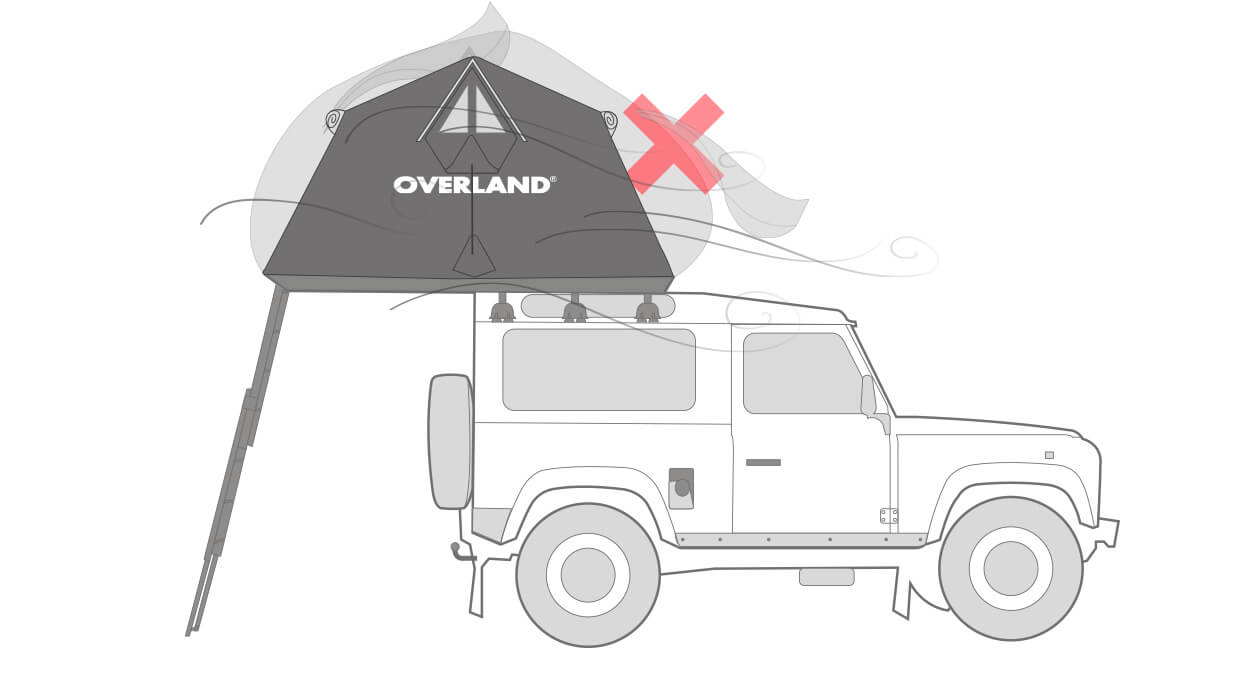 The tent is stable and does not swell in the wind. No ball or balloon effect which would be noisy and stretch and strain the stitching.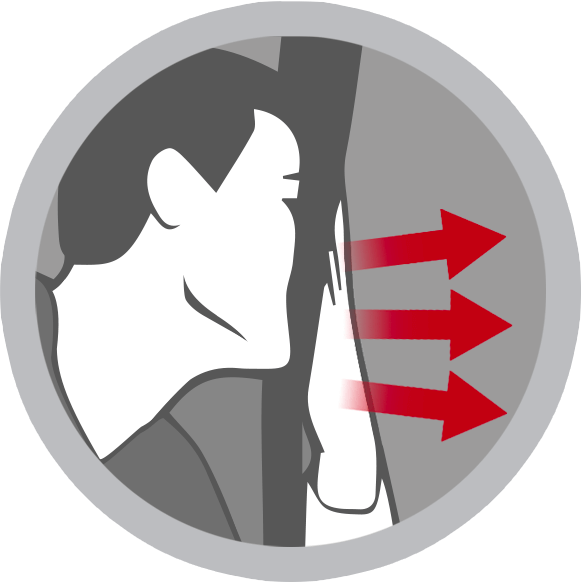 The breathable fabric reduces the heat inside the tent and, above all, keeps the tent dry, preventing condensation and unpleasant odours.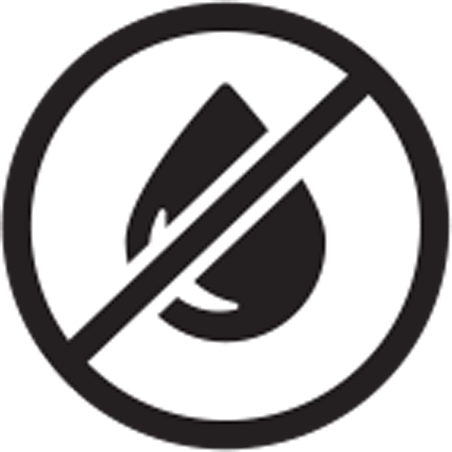 The fabric is both breathable and waterproof, keeping out heavy rain.
EXCELLENT BREATHABILITY, IMPROVED WELLBEING
AUTOHOME TENTS NATURALLY PREVENT CONDENSATION, REMOVING EXCESS HEAT AND WATER VAPOUR FROM THE TENT, 24 7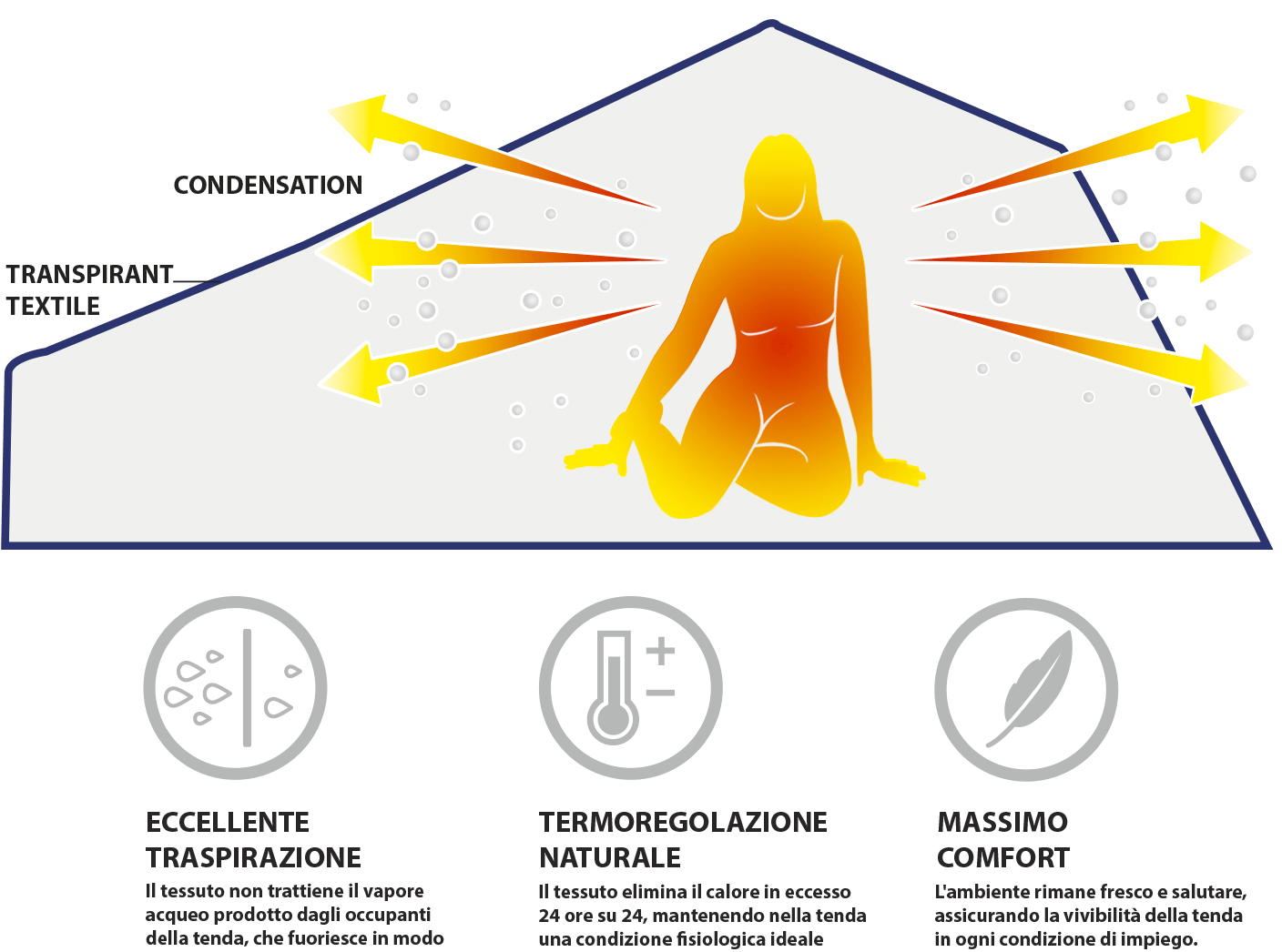 A LITTLE MORE INFORMATION…
The "breathability" effect is the result of high-quality fabrics
There are many different tent materials and systems available on the market, which give rise to problems or provide benefits according to their quality and workmanship. For example, many additional or double canvases are not much use. They simply hide condensation from view, without preventing it; and solar or battery-powered fans are also rather inefficient.
The essential feature for any tent used for camping is the fabric used, which of course has a cost but provides long-term advantages to the user.
The following factors may cause the build-up of condensation in a tent:
1. unsuitable fabric (plasticized or with too much resin)
2. the size of the environment
3. moisture from human breath
4. warmth built up during the day
5. the weather (rain and humidity)
6. the warmth produced by the human body. Overnight, on average, we lose about a third of a litre of water, in normal conditions, and this water vapour may become condensation.
Hence the importance of the fabric. Quality materials are essential for wellbeing, comfort and a satisfying outdoor life. Without noisy fans, air conditioners, suction devices and the like.


The certified values according to UNI and ISO tests show that AUTOHOME® fabrics remove humidity and condensation from the tent efficiently and naturally 24 7.
Results that give concrete proof of how Autohome tents, with their superior quality, have built up a reputation in the market for absolute excellence in the sector.



THE TENT STITCHING: WHAT LITTLE THERE IS, IS PERFECTLY SMOOTH
In a high-quality tent, the stitching is very important: there must be as little as possible and it must guarantee high-performance and reliability
Check out the stitching:
Count the number of stitches: the fewer the better.
Check the needle and thread used. Plasticized surfaces should not be stitched because the stitching makes holes which tend to get bigger and bigger.
Take a look at the fabric at the base of the tent, which should not be stitched, because this is where water could seep through.
Take the same precautions for the roofs and under-roofs of vans and campers.
The AUTOHOME choices that make the difference
There is an absolute minimum of stitching and no plasticized materials are used.
At the base the tent and the fabric are perfectly integrated, without any stitching along the perimeter. The fabric is simply folded and turned up so the rain can run off smoothly outside the tent. There is no stitching in contact with water.
The exclusive anchoring at the base uses elastic steel springs (without stitching) so the profile and base are flush. Only Autohome incorporates this high-quality feature.
No stitching for the anchoring, the most delicate part of the tent.
High up, the fabric is fixed to the tent by a dedicated aluminium rail.
And, to cap it all off, enormous versatility:
With the anchoring and fixing systems used by Autohome the fabric can be changed simply and easily.




"SILENT" WINDOWS FOR A GOOD NIGHT'S SLEEP.
UNDISTURBED BY THE WIND, OPERATED LYING DOWN IN BED.
The two windows with legendary Gidion design from 1959 are perfectly fitted to the side walls, without jutting or going out of shape. Today, as then, they are without the complicated fringes, poles or other features used by competitors.
Autohome® windows are safe, do not flap or swell up and, above all, are not noisy in the wind: ideal for a good night's sleep whether there is a light breeze or a howling gale. The tent stays perfectly taut and the "veil" effect prevents tearing and damage from the wind.
Above the windows, a practical guttering allows rainwater to drain off without entering the tent. The rubber is sewn into the fabric.
A similar rubber tube fitted inside the fabric runs around the entire tent roof for extra stability and soundproofing in the wind.
Each window has dual closing with an outer and inner blind. Lying in bed, a rope operates the window like shutters at home and you don't need to leave the tent to close the windows.
DOORS
The doors are large and provide easy access to the tent.
DIMENSIONS
The large doors are fitted with mosquito net and can be closed on both sides by a zip.
The four standard aluminium poles lift the canvas of the doors turning them into sun shades. Use when there is no wind.
RAIN COVER OVER THE WINDOWS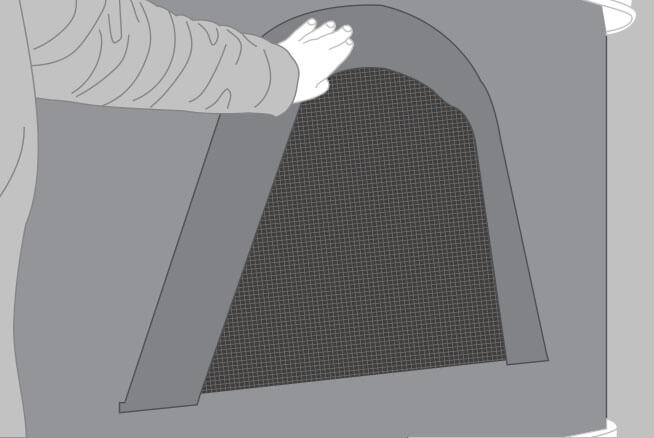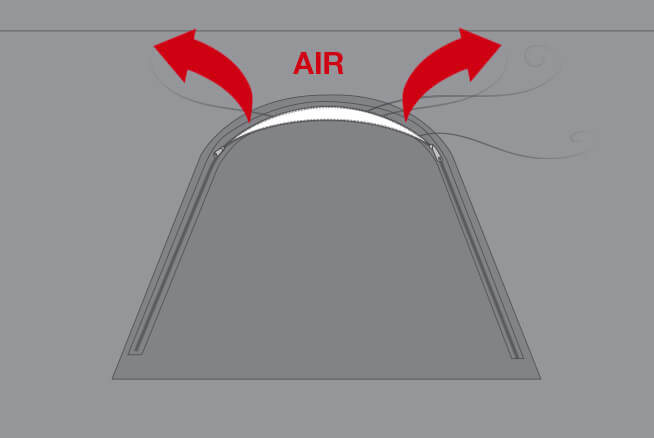 The 2 windows are fitted with a Rain Cover allowing partial opening even in the rain, essential for a natural change of air round the clock.
NEW! 2020 MOSQUITO NETS
OUTSIDE YOU CAN'T SEE INSIDE, INSIDE YOU CAN SEE OUTSIDE
2020 production will be updated! HI-TECH innovative blackout quality mosquito nets are installed on the entire series of shell blinds.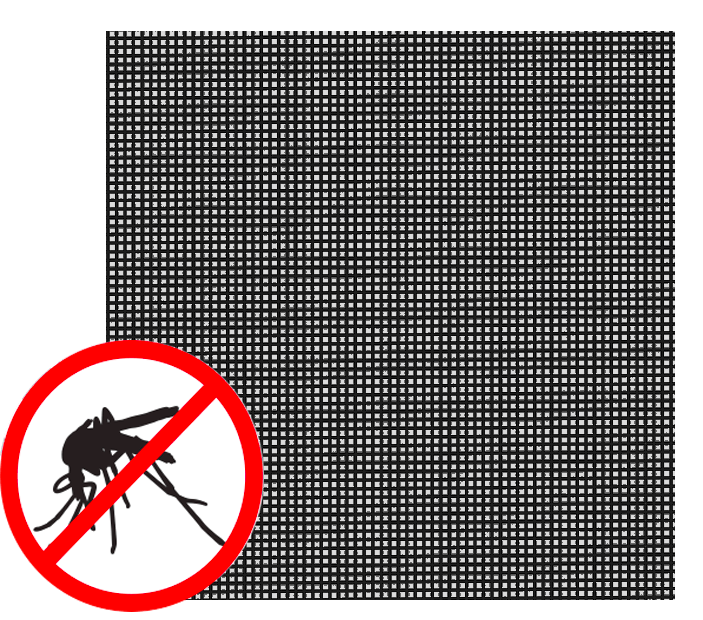 The mosquito net has an extraordinary blackout feature that provides more privacy to the occupants of the tent. Outside you can't see inside, inside you can see outside.
The mosquito net is very thick.
It is incomparable to the standard and it features an innovative weave so fine that it does not allow the passage of any kind of insects. Quiet nights in marshy areas, near watercourses, on the banks of rivers or in areas where the presence of microscopic mosquitoes is very high.
The mosquito net is very strong.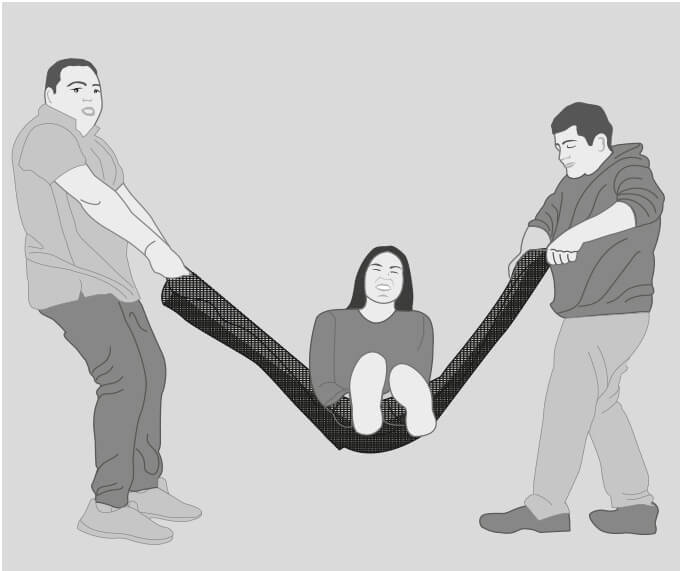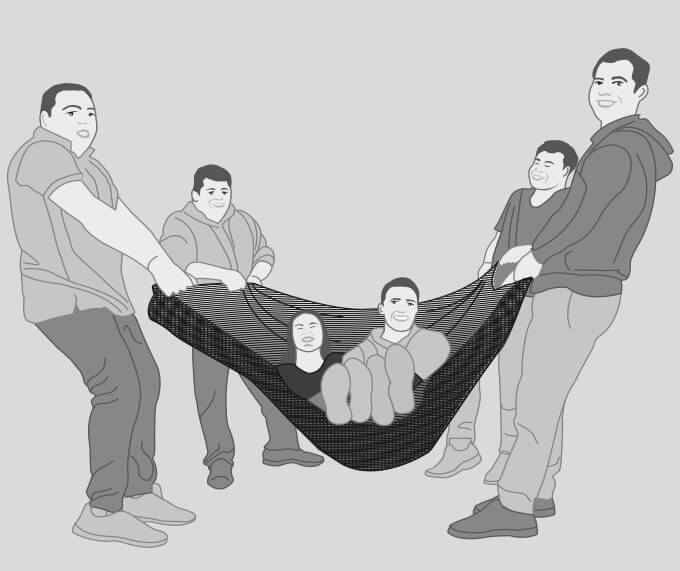 It is resistant to longitudinal tearing but also to tearing in the oblique direction.
The mosquito net is resistant to different environmental is resistant to different environmental conditions.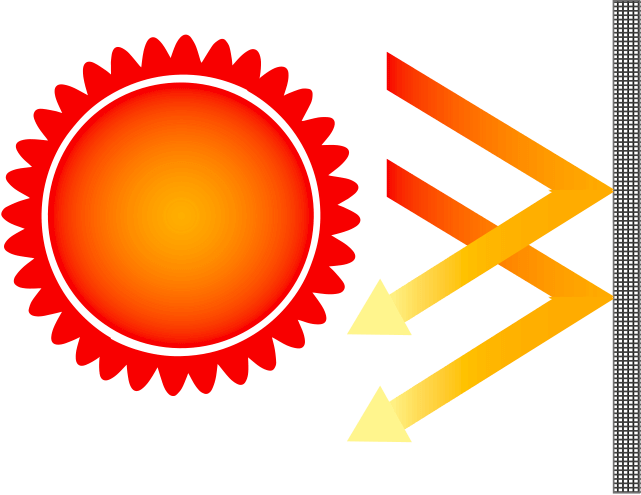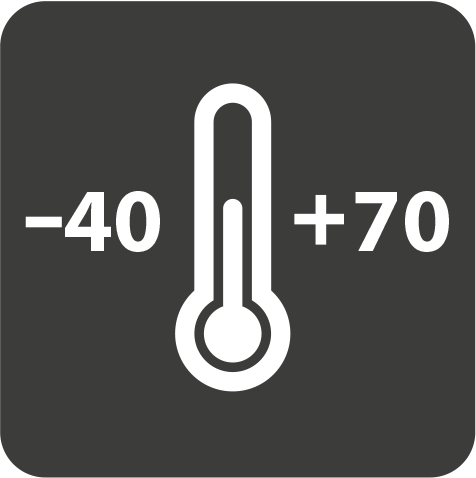 It is resistant to UV rays, saline environment and temperature changes.



ALL-PURPOSE CLAMPS
AN AUTOHOME IDEA FIRST PRESENTED AT THE EUROPEAN CARAVAN FAIR IN TURIN, 1982

The built-in all-purpose clamp system developed by Autohome – running in the C-shaped guides in the base of the tent – provide quick anchorage to the roof rack.
The installation can be customized and adapted to roof racks of different sizes and distances between the bars, without the need for cumbersome changes or holes in the tent shell.
The tent can be fixed to two or more bars as well as to smooth roofs.
Called the UNIVERSAL SYSTEM, this Autohome idea was first presented to the general public at the European Caravan Fair in Turin.
Many have copied it and even today the Autohome® system complies with auto regulations and is TÜV quality-certified: proof of safety and a trouble-free product for customers and retailers of Autohome® roof tents.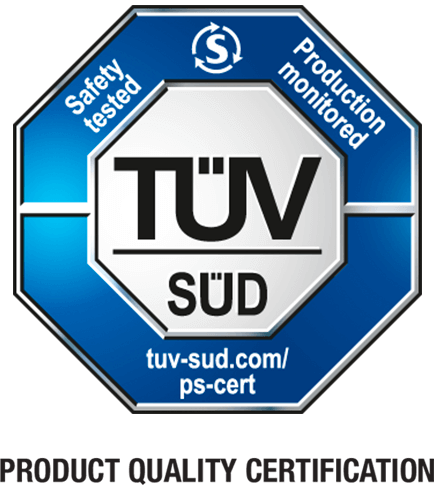 FLYWHEEL OPENING
AS ALWAYS THE DISTINGUISHING FEATURE OF THE AUTOHOME RANGE
A device that is both practical and reliable, showing how Autohome applies quality to every detail of its products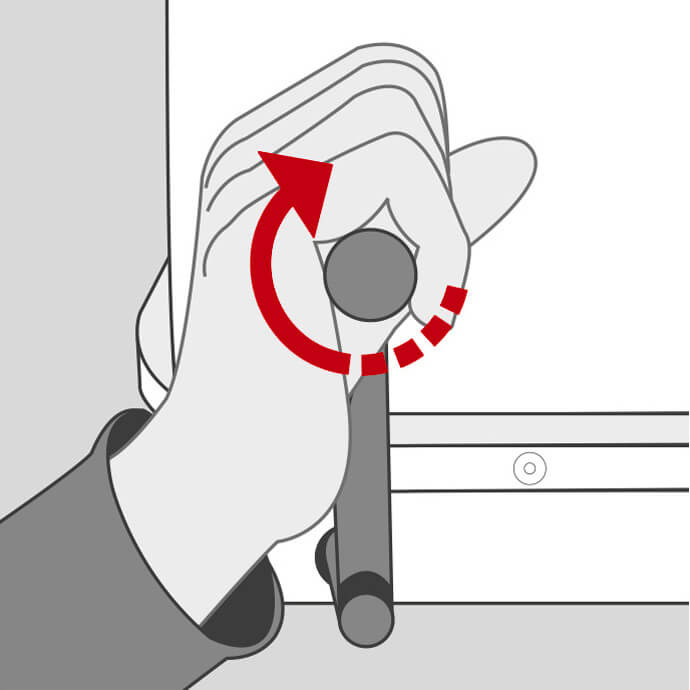 The reasons behind the distinctive choice:
Flywheel opening is acknowledged as safe, reliable and durable. It is used for camper awnings and large canvas protections, in sports and in prestige residences. Not surprisingly it one of the features that has contributed over the yeas to the success of Maggiolina Autohome®, a product may have tried to imitate.
The flywheel is a practical way of opening the tent, but useful for closing too: you don't have to climb up over the vehicle to close the tent!
The mechanical flywheel is safe and doesn't require maintenance. It is greatly appreciated by users of 4WD vehicles and tall vans.
The flywheel can be used to adjust the tension of the tent, making it perfectly taut: even after years of service the fabric does not loosen. In addition, it is "creaseless" and allows the rain to drain off quickly whilst standing up to the wind.
And lastly the flywheel is like a house key…
Close the tent, remove the flywheel and it is just like locking your front door. Without the flywheel the shells cannot be opened or closed. Keeping your bags, beauty cases, rucksacks and their contents, along with other valuables, safe and out of harm's way.
As standard, the handle can be operated on the rear section of the passenger side.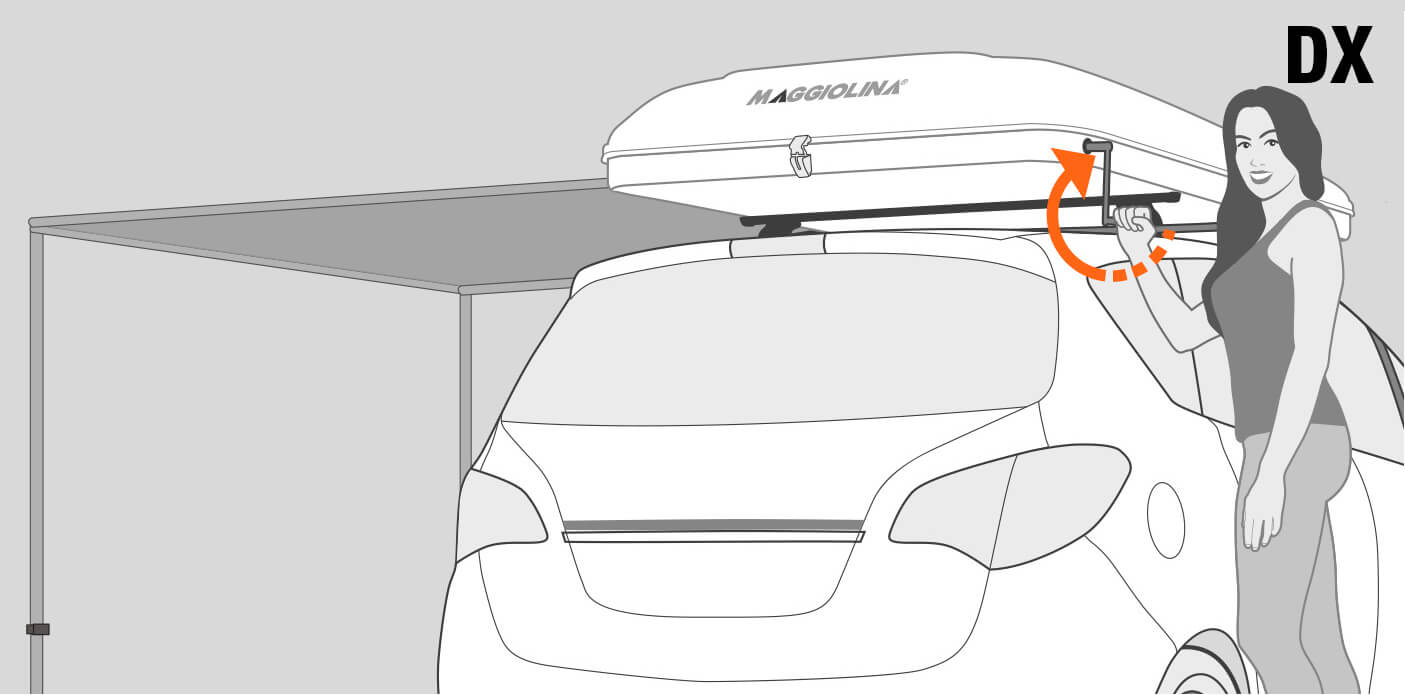 On request, when ordering, it can be arranged to be operated on the opposite rear section, driver side. This position is necessary when the space is occupied by awnings or other accessories installed on the side of the roof tent.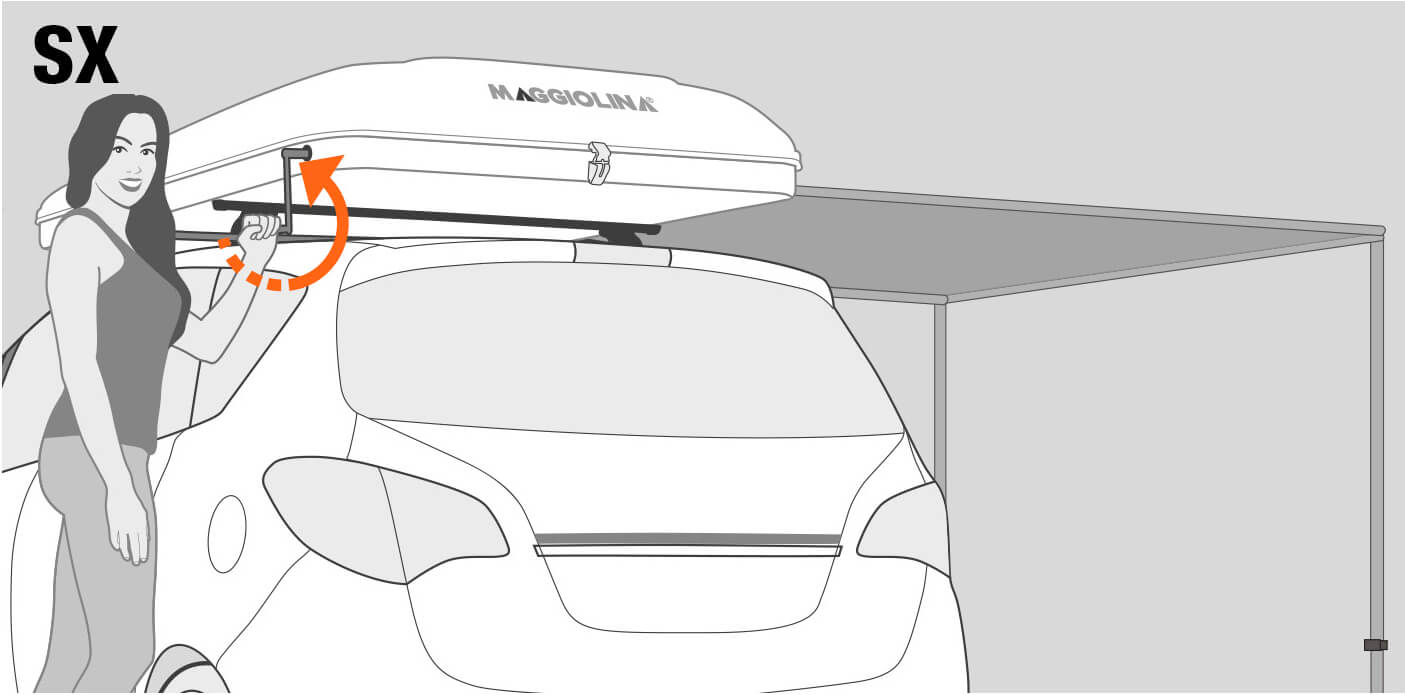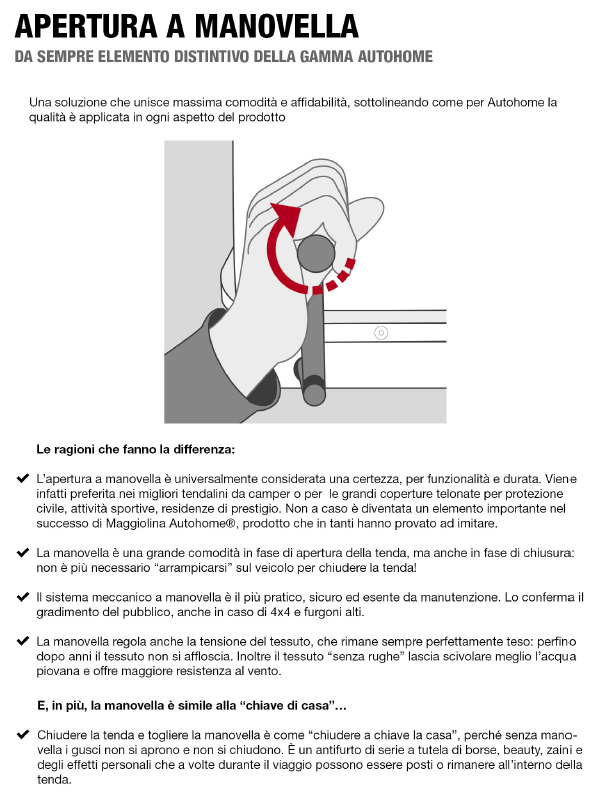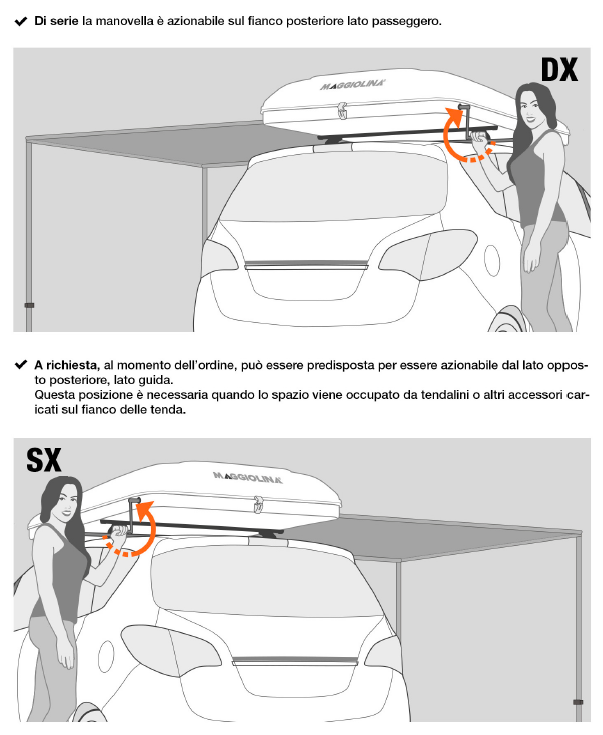 HIGH-TECH PERFORMANCE
INSULATED ROOF TESTED - UNI EN ISO
The dual Autohome roof comprises an original fiberglass shell and a special honeycomb panel pre-perforated by laser technology. This exclusive "structural" system creates an "air cushion" preventing 24 7 the formation of moisture and condensation inside the tent.
INSULATED ROOF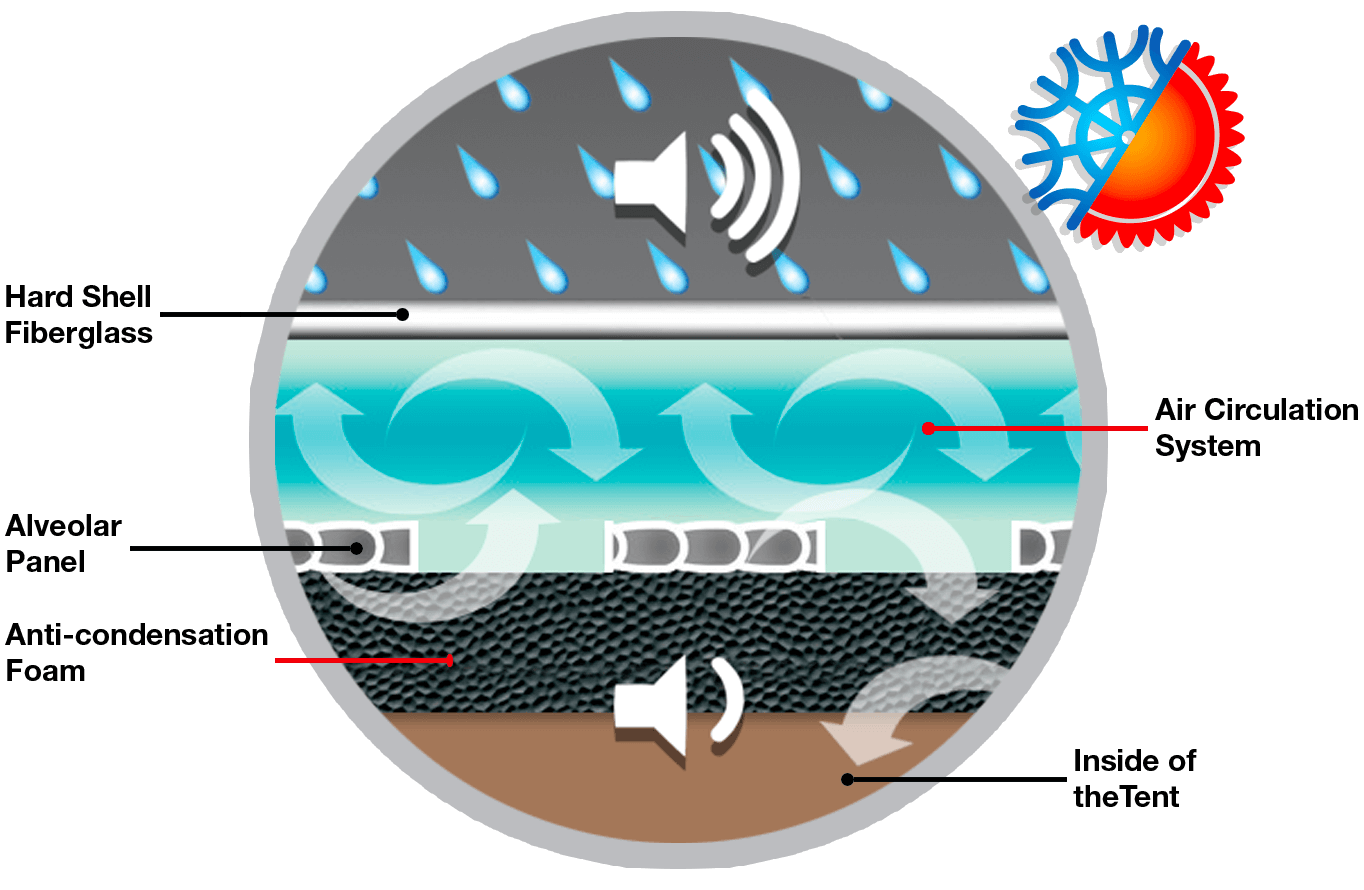 THE ORIGINAL AUTOHOME "INSULATED ROOF": HOW IT WORKS

The insulated roof uses the same principle as applied by the building industry to the rooftops over lofts: an air cushion is created forming an interspace connecting the inside and outside, providing extra insulation against the cold and noise, but also keeping off the heat and humidity. The result is a quiet, healthy environment when it rains.
Also important is the thick "anti-condensation foam" system adopted by Autohome for the lining under the roof. Experience has taught us that for the outdoors this is an essential feature for wellbeing inside the tent.
NO OTHER DEVICES ARE NEEDED

With the advanced design of the Autohome® roof, no other devices – noisy and inefficient dehumidifiers and fans or solar chimneys and the like – are needed.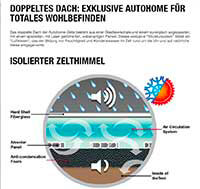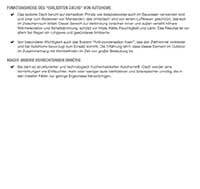 COMFORT IS A STANDARD FEATURE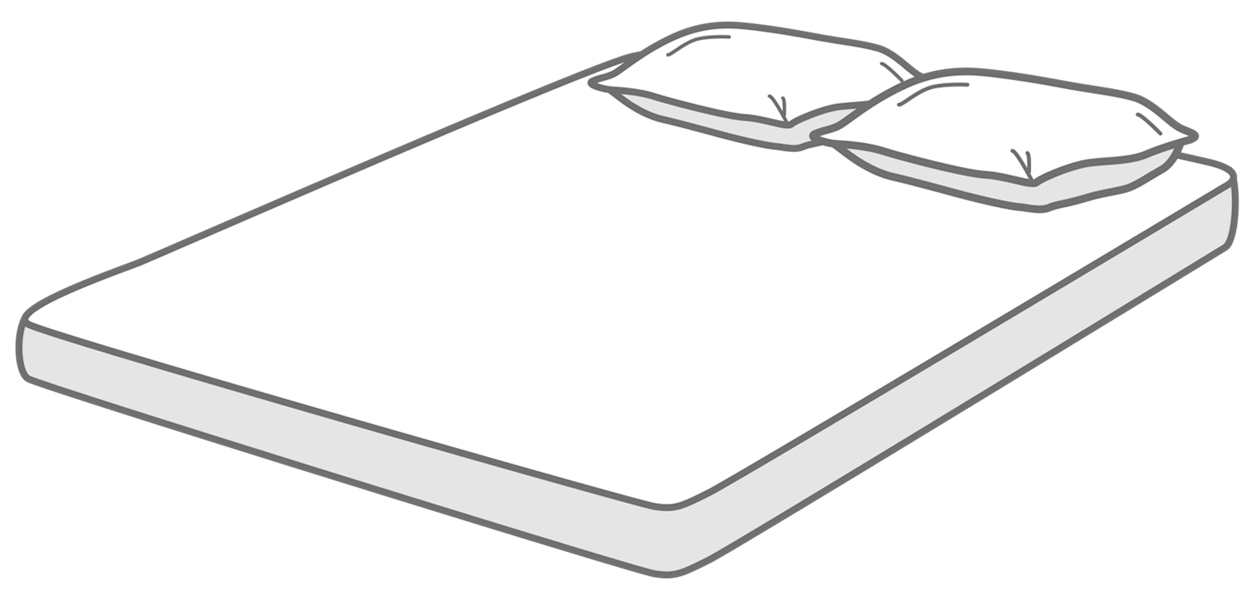 Autohome® mattresses ae of the highest quality and density of 25-30 kg/m³. The sponge rubber, with removable polyester/cotton lining, is comfortable and does not go out of shape.
Depending on the type of tent, two, three or four pillows are provided, which are stored inside the tent when closed.
N.B.
Autohome® tents are supplied complete with fittings. No extra price for pillows or the standard aluminium ladder.
INCLUDING ADJUSTABLE LAMP WITH LEDs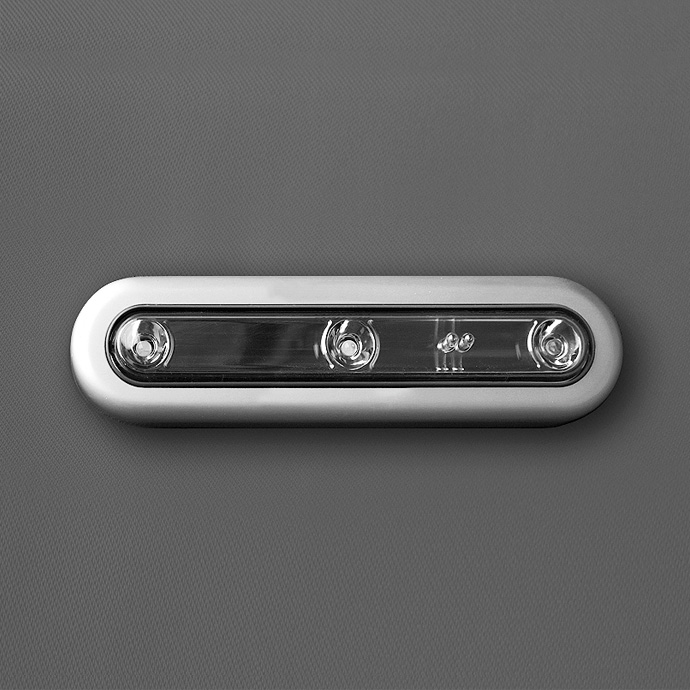 Touch lamp (18 x 5 cm) with 3 Led ultra-bright leds, an adjustable spotlight and batteries.
The lamp can be removed from the roof to replace the batteries or use as emergency lighting.
LADDERS IN DETAIL
Not impressed by the huge variety of ladders on the market, Autohome® produces its own ad hoc aluminium ladders to tight specifications: light, compact, a perfect match with the tent.
Ladders available on the market are not used. Nor are low-cost mass-produced ladders. Each one comprises two halves, one sliding over the other, held together by Arnitel supports: an extremely strong plastic designed and manufactured by Autohome® to ensure sand, dirt or mud is not trapped in the sliding mechanism and the ladder works perfectly in all conditions.
The ladder can be placed at the entrance as you want, and locked automatically in position with the built-in "Security Lock". No ugly and impractical hooks.
A bag is supplied for the ladder.
SECURITY LOCK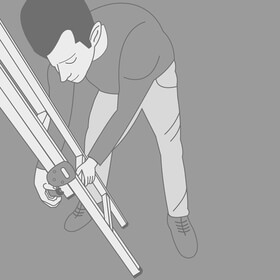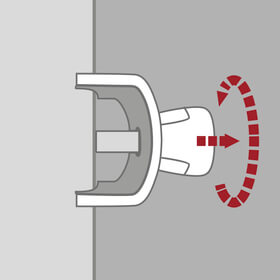 The automatic spring in the "Security Lock" locks the two parts of the ladder in position for perfect stability and, above all, safety.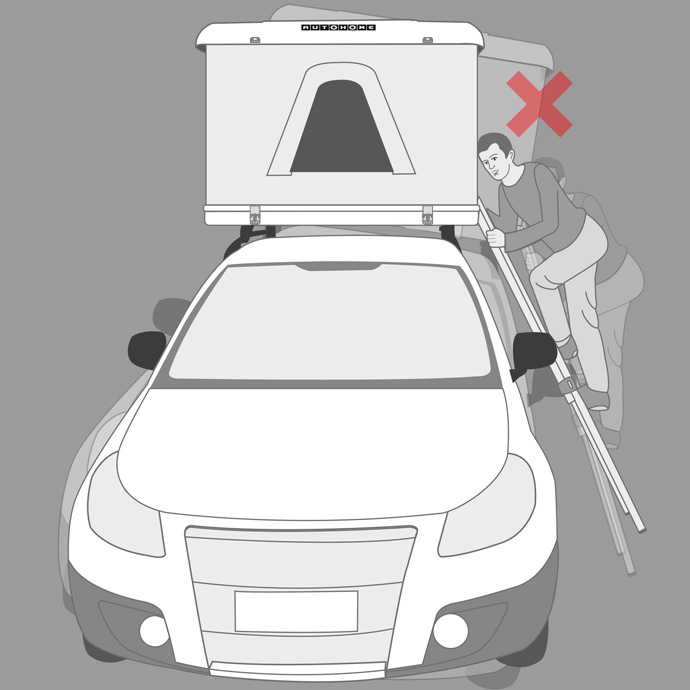 The "Security Lock" and attachment at the top of the ladder ensure that, climbing up or down, there is no weight on the tent. This is safe and prolongs the life of the tent.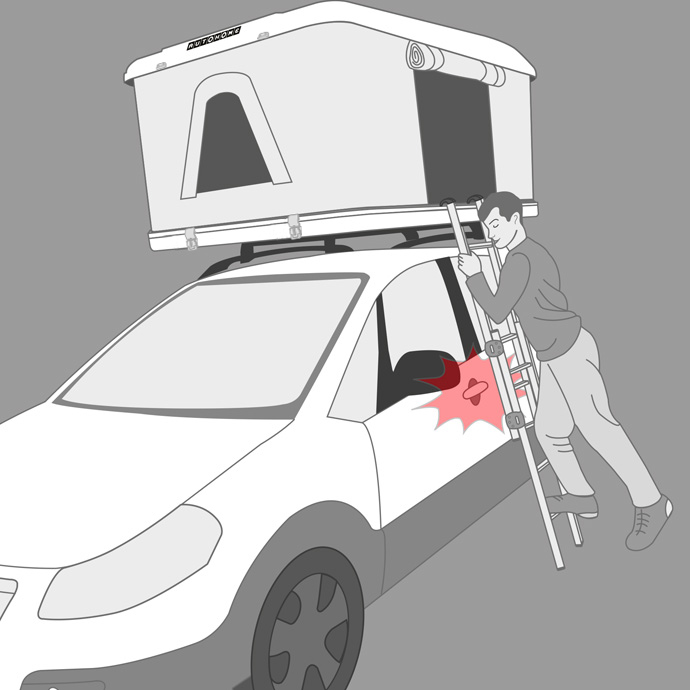 With the "Security Lock" the ladder cannot slip and slide or bump against the bodywork.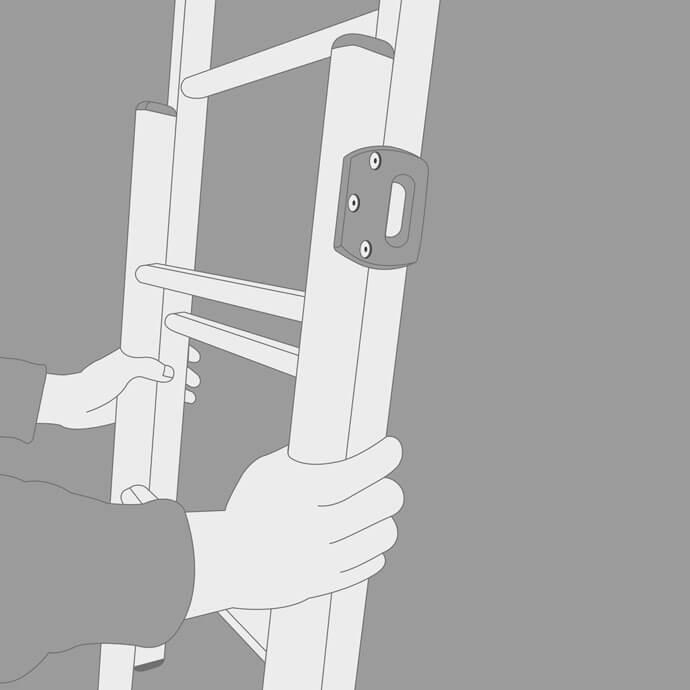 Ladders are designed ergonomically with rounded aluminium profiles for easy use.
The steps are oval with anti-slip surface and can be climbed with bare feet.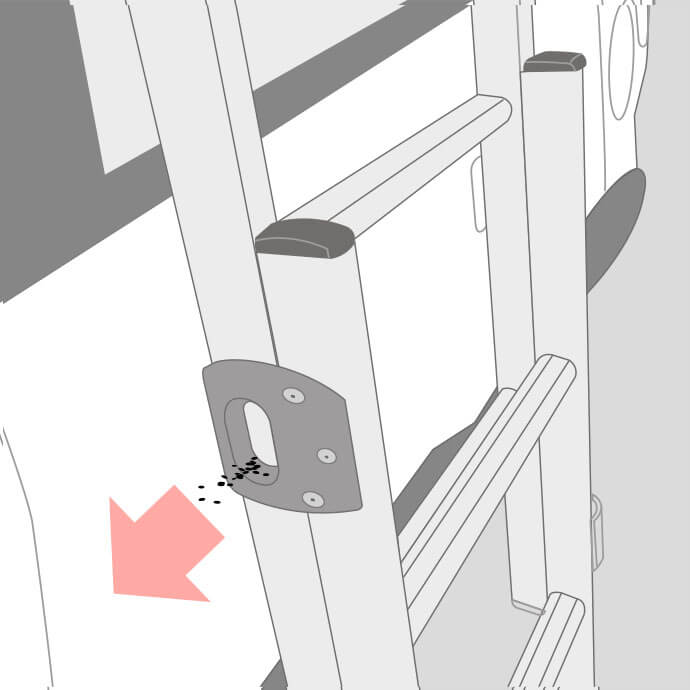 The two parts of the ladder are held together by Arnitel plastic supports designed to be "open" to remove dirt ensuring a smooth sliding mechanism even on a sandy or muddy terrain.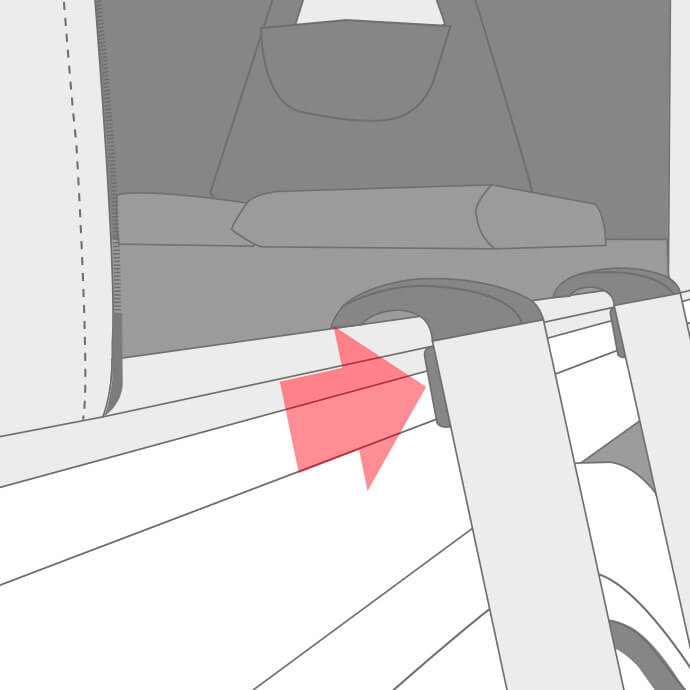 The built-in strut has the dual function of preventing oscillation and protecting the vehicle roof or drip surface (where the ladder is used, for example, with a Lan Rover Defender).
Simple, practical, without ugly and clumsy hooks.
The ladder has no fixed position at the base of the tent and so can be placed to the left or right or at the centre of the entrance, as you wish, depending on the opening of the vehicle door.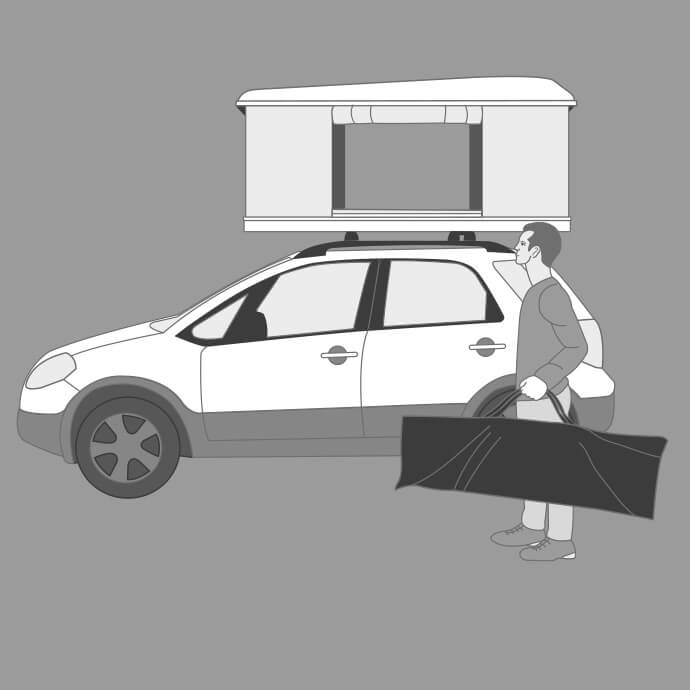 A bag is supplied for the ladder.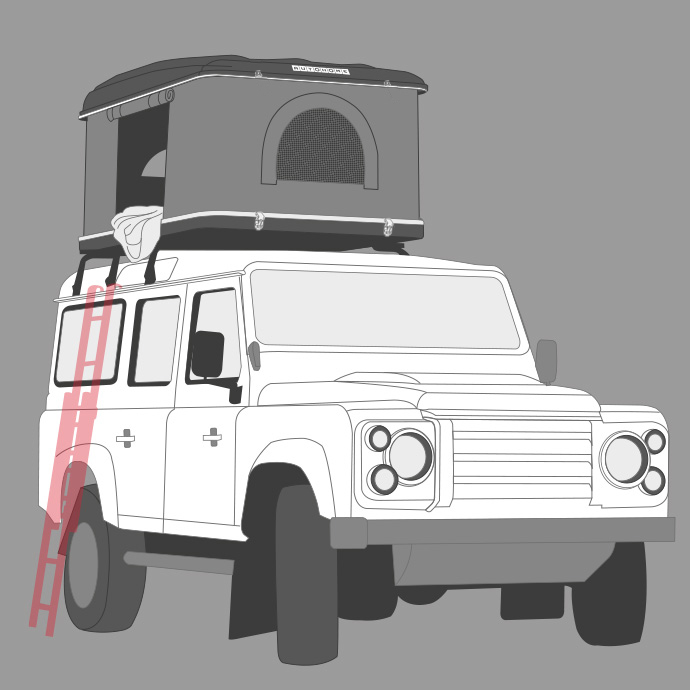 For some vehicles the tent can be attached directly to the vehicle roof runners. Rubber is fitted specifically for this purpose to prevent damage to the bodywork.
Ladders are available with the following lengths: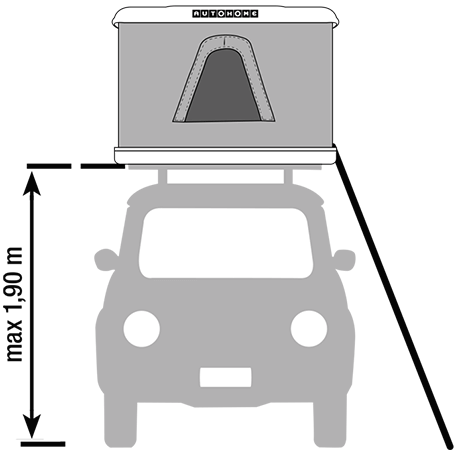 STANDARD
Art. 113 / M-ALL
Closed
120 x 8 x 34 cm
Open
209 x 8 x 34 cm
Max. vehicle height
190 cm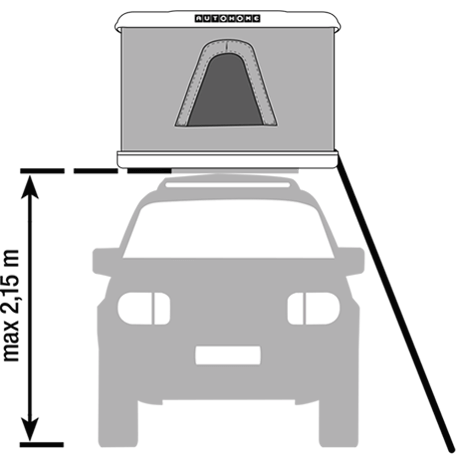 4WD LADDER
Art. 114 / M-ALL
Closed
130 x 8 x 34 cm
Open
232 x 8 x 34 cm
Max. vehicle height
215 cm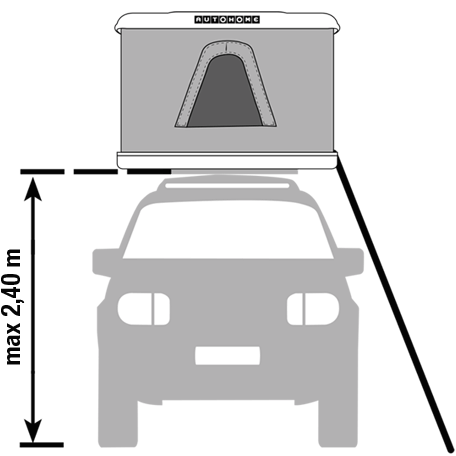 EXTRA LONG LADDER
Art. 115 / M-ALL
Closed
147 x 8 x 34 cm
Open
257 x 8 x 34 cm
Max. vehicle height
240 cm

N.B.: when travelling all ladders can be placed inside the closed tent except the EXTRA LONG ladder, which is too large for the shell.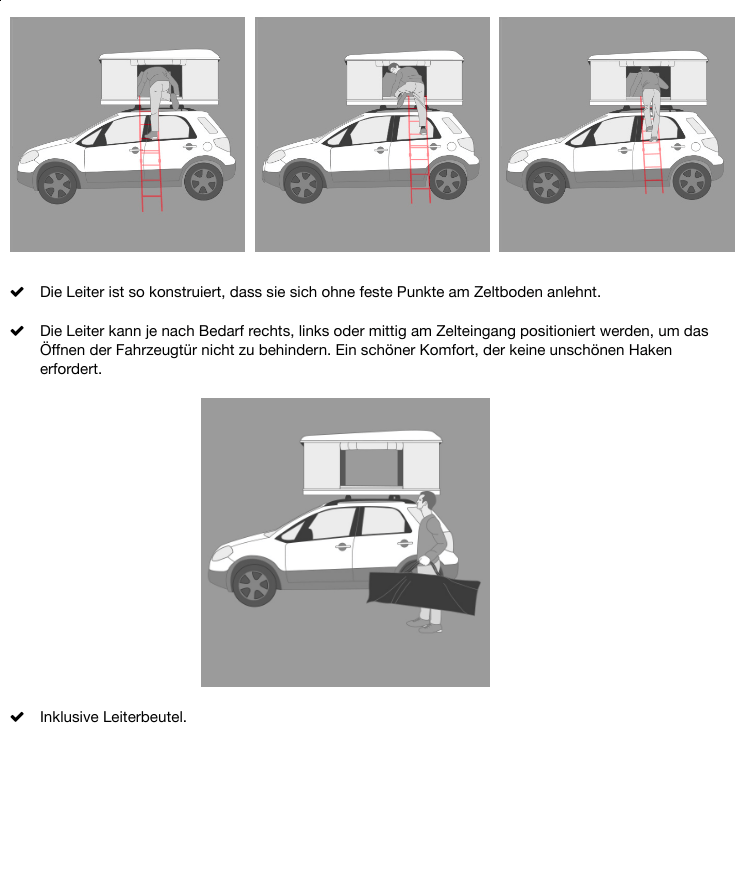 INTERNAL ELASTIC
HELPS TO FOLD AWAY THE TENT WITHOUT WRINKLING THE FABRIC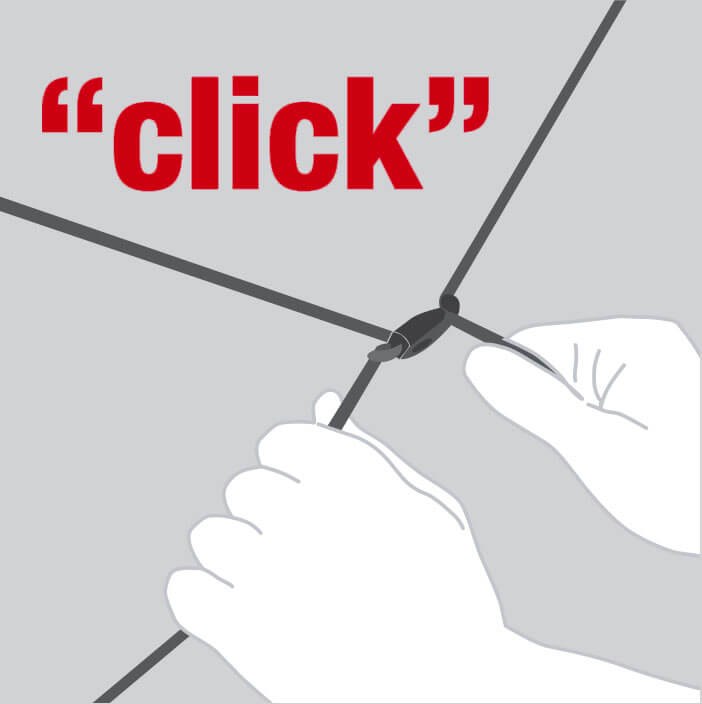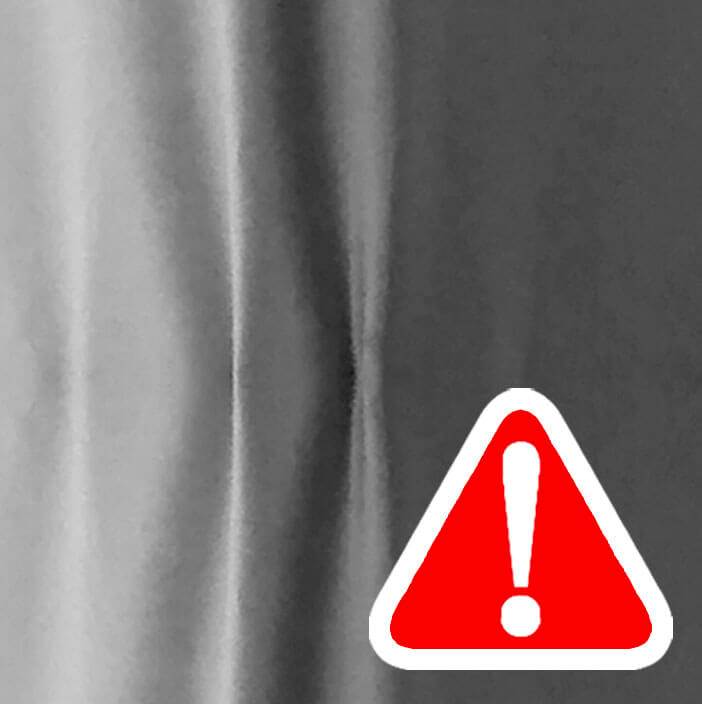 Hooking up the elastic the fabric is drawn towards the centre of the tent, making it easier to close. This is especially advantageous when the tent is installed high up on a camper, 4WD or van roof.
The elastic works independently, is not sewn directly to the fabric and does not cause wrinkling or other defects. The result is an attractive fabric that is waterproof, stable and durable.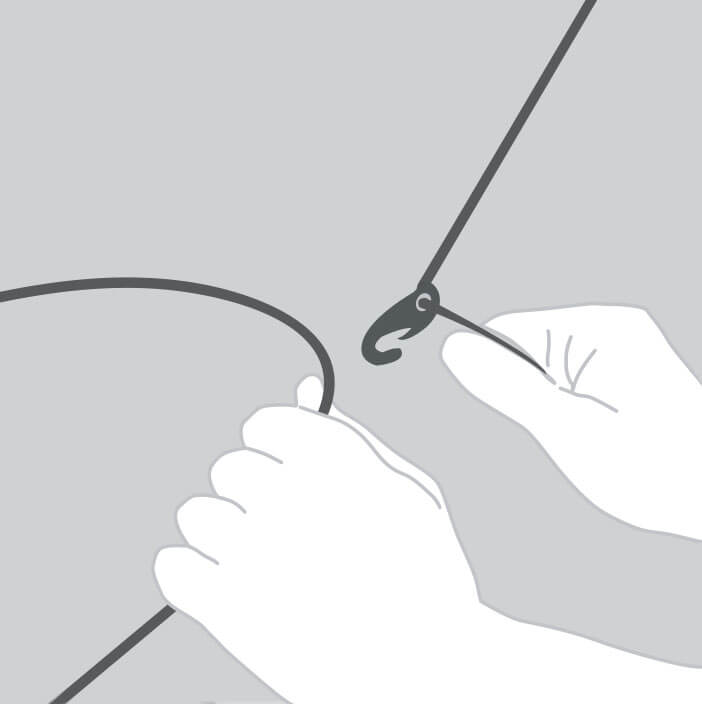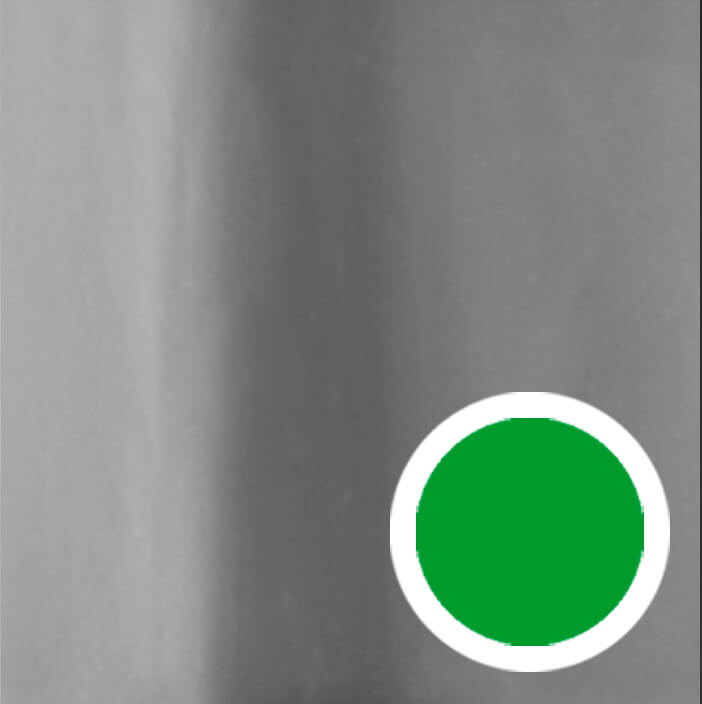 Unhooked, the fabric is taut and unwrinkled, as experts have repeatedly testified.
AUTOMATIC SAFETY LOCK
THE DEVICE BLOCKS THE ANGLE OF THE LADDER PREVENTING SLIPPAGE OUTWARD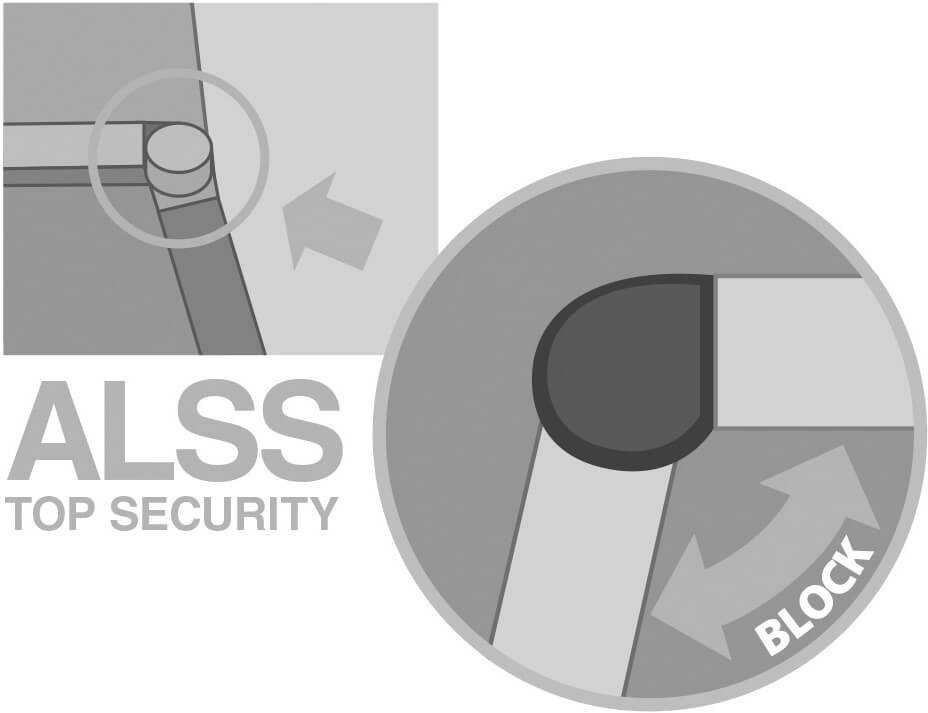 The special ALSS knuckle at the base of the tent is a safety lock for the ladder, making sure it doesn't slip outward. Indispensable on the tarmac and smooth or slippery surfaces.
Ladder dimensions: h closed: cm 110 – h open: cm 230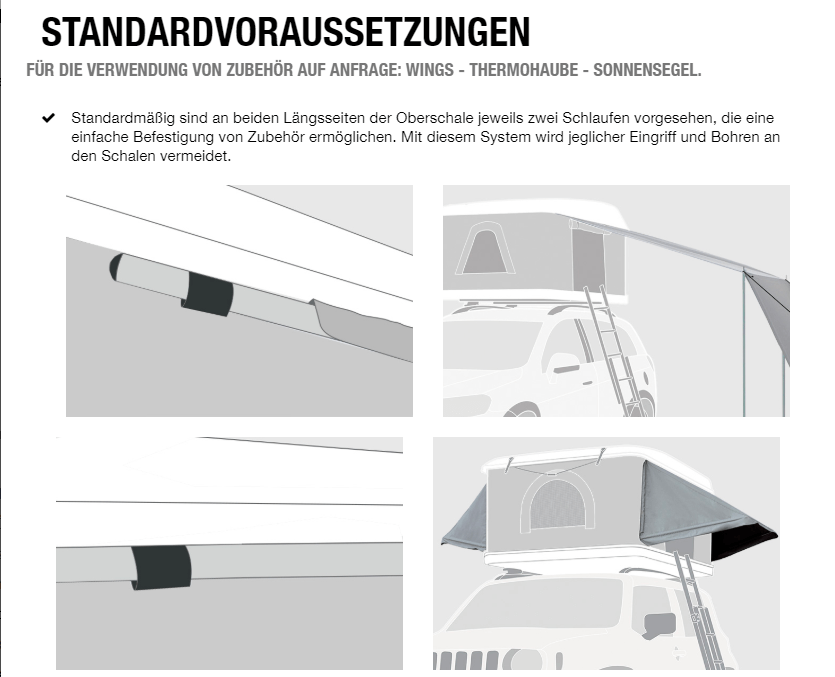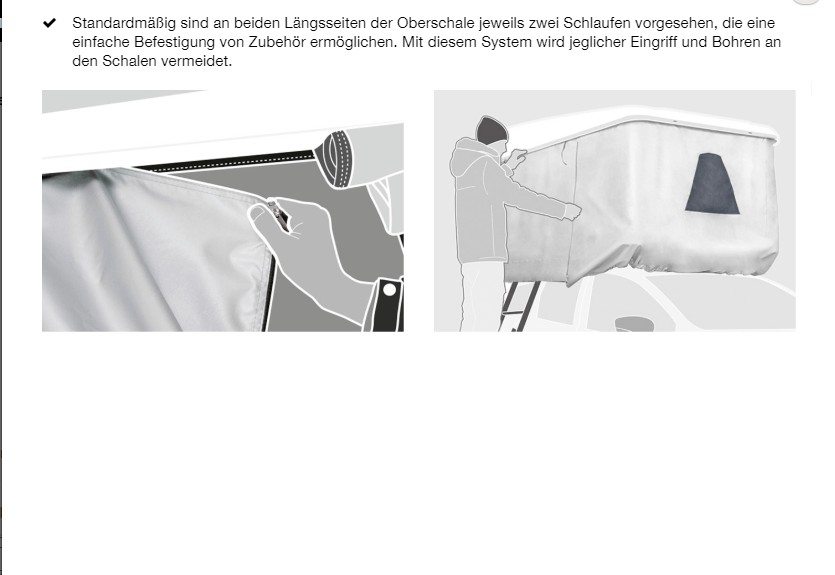 AIR CAP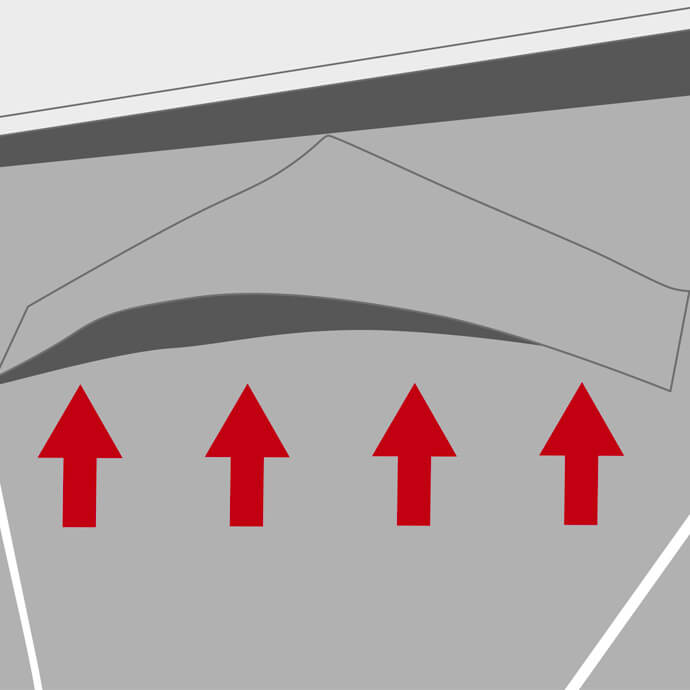 Columbus incorporates the exclusive AirCap ventilation system designed for the ergonomics of this tent. The AirCap intake is at the top of the canvas, sheltered from the weather and protected by a mosquito net, improving ventilation and preventing the formation of condensation.
COLUMBUS: OPENING AND CLOSING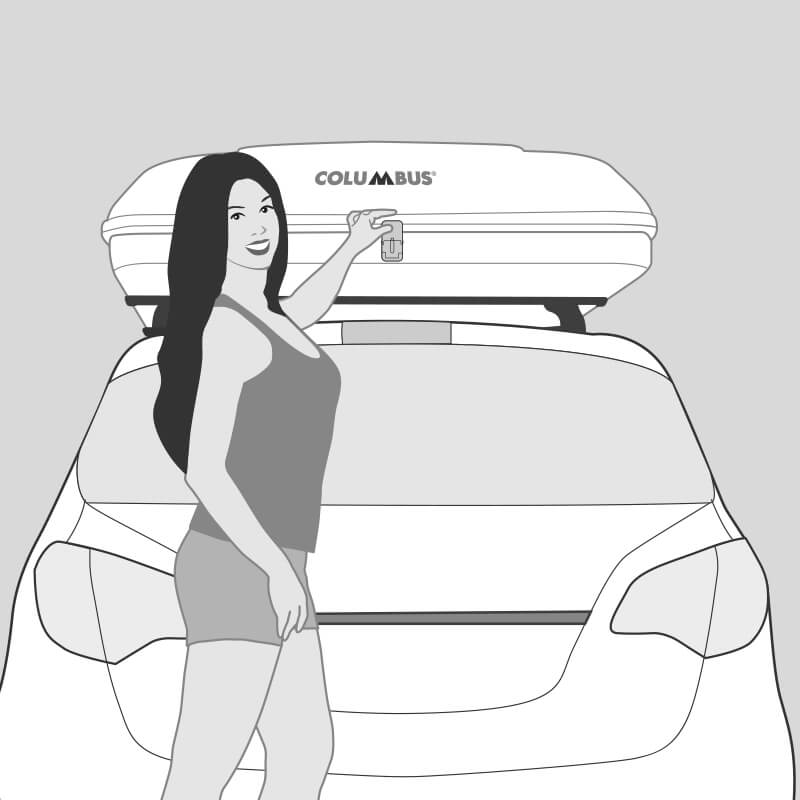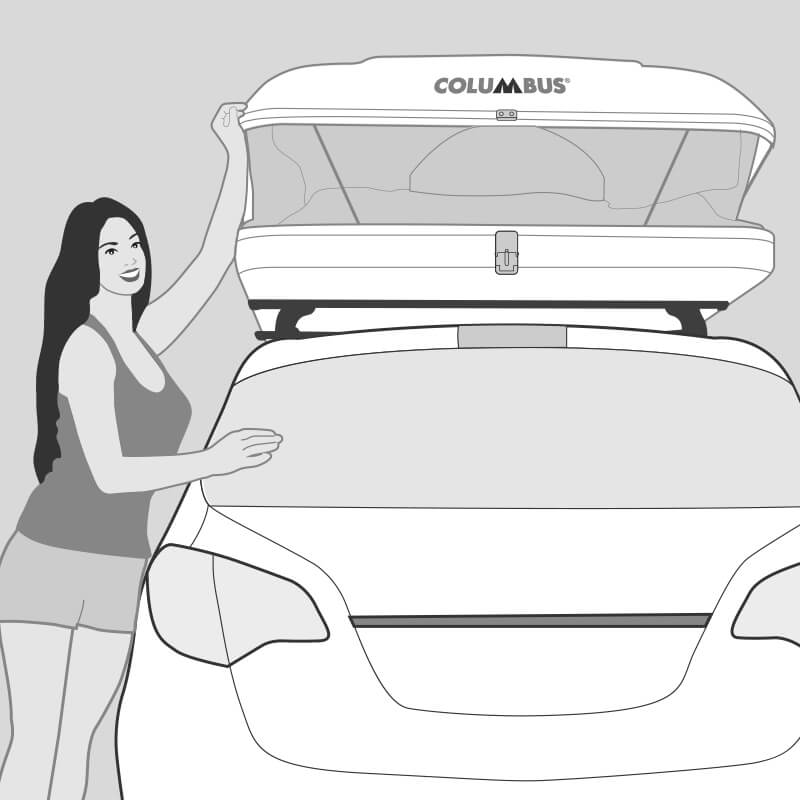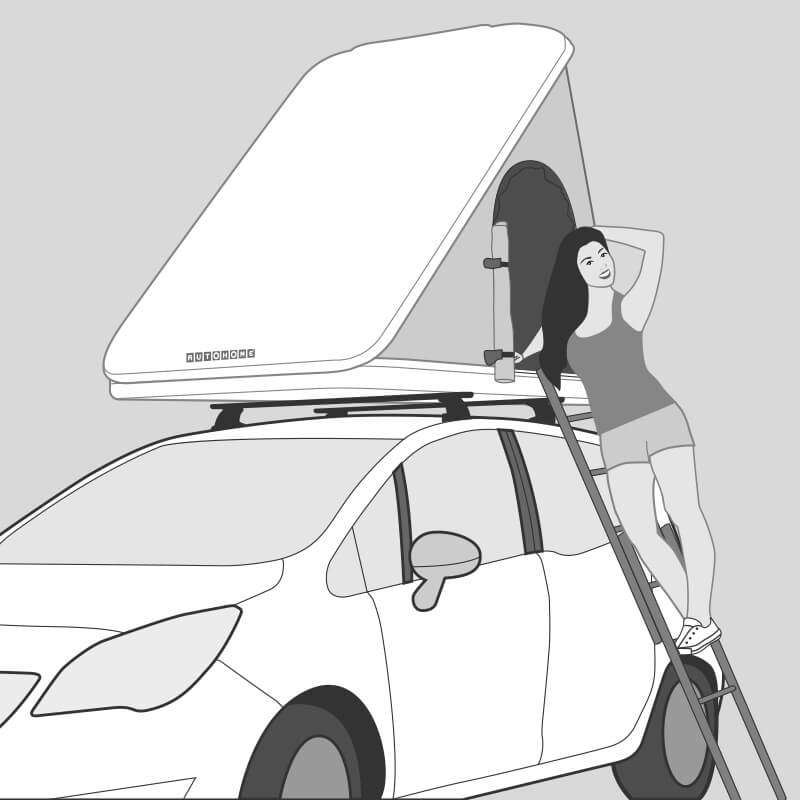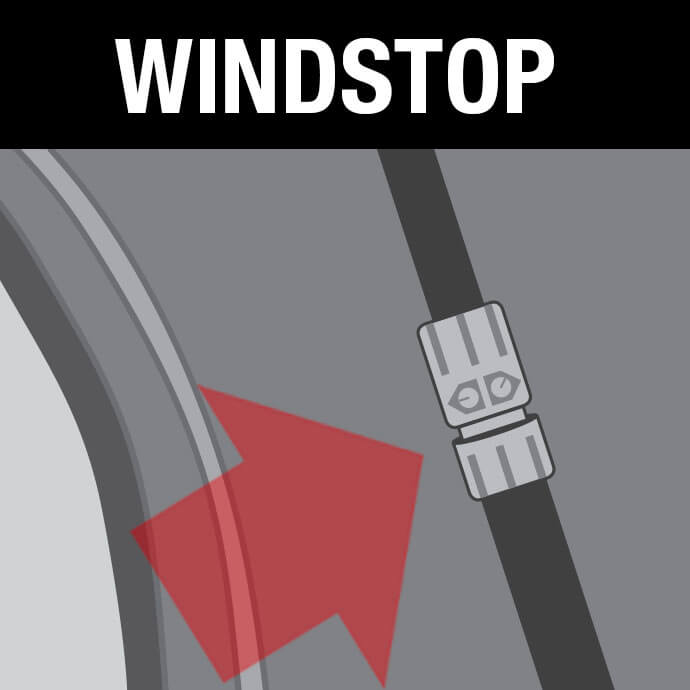 The opening and closing system used for Columbus has made history in the sector and has been imitated time and time again in various camping and caravan applications. Hoisting of the tent is very easy: two gas springs raise the shell which has a front hinge. Simplicity is often the best way and in this case made the Columbus range a world beater.
The tent opens in an instant, and closes quickly too. Just pull a rope and the shell closes without climbing onto the vehicle. Columbus is the top-of-the-range for frenetic globe-trotters, ideal for high vehicles and nowadays popular for family saloon cars.
The gas springs are fitted with Windstops to lock the spring supporting the upper shell, making for greater stability in strong winds.
Open, Columbus is the highest tent of all: great space inside for maximum comfort.
AUTOMATIC SAFETY LOCK
THE DEVICE BLOCKS THE ANGLE OF THE LADDER PREVENTING SLIPPAGE OUTWARD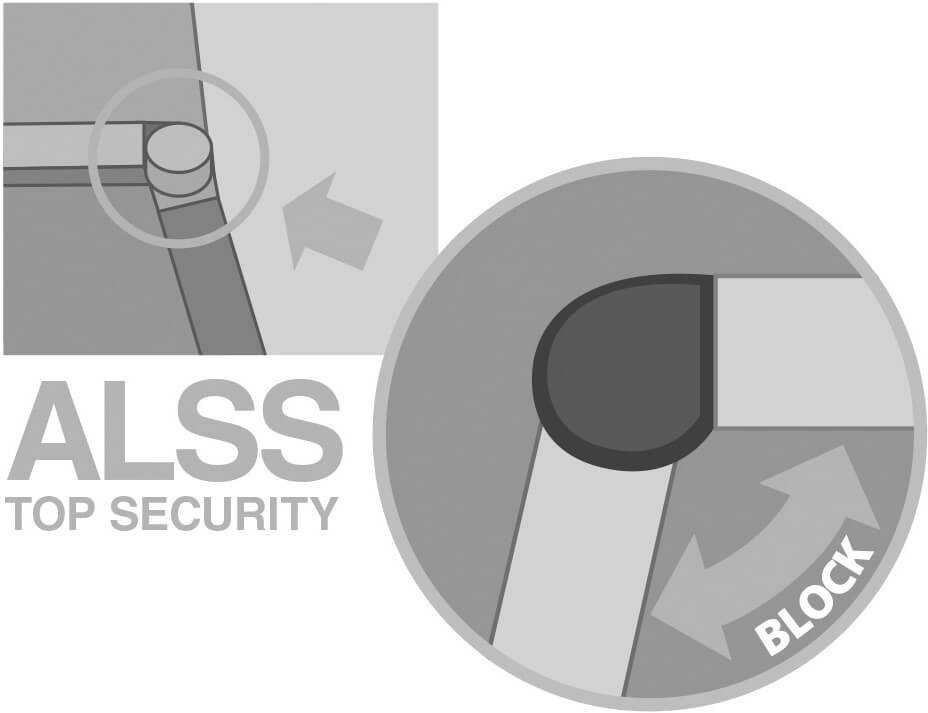 The special ALSS knuckle at the base of the tent is a safety lock for the ladder, making sure it doesn't slip outward. Indispensable on the tarmac and smooth or slippery surfaces.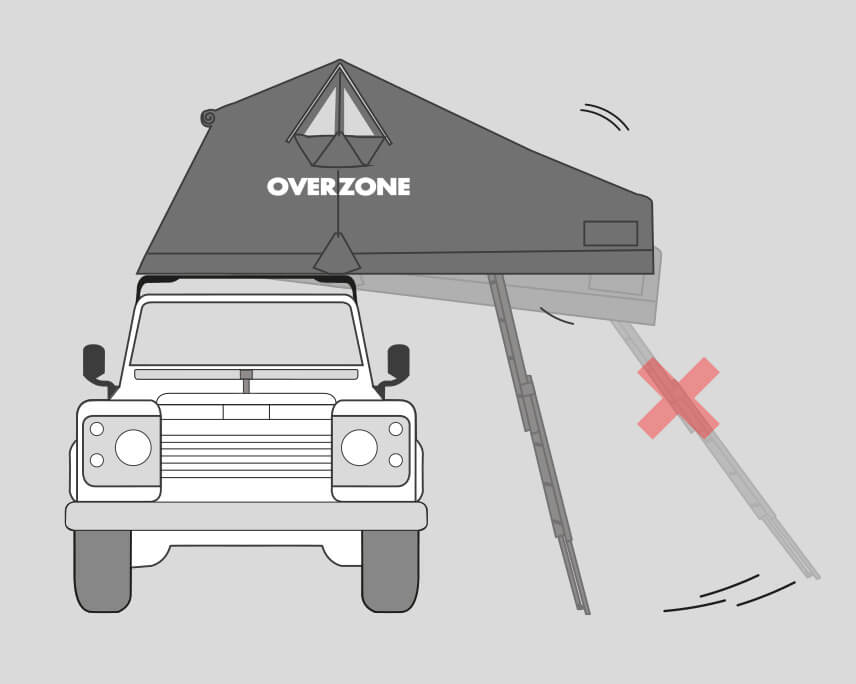 FIXING THE ELASTIC HOOD COVERING THE TENT
THE MOST RELIABLE SYSTEM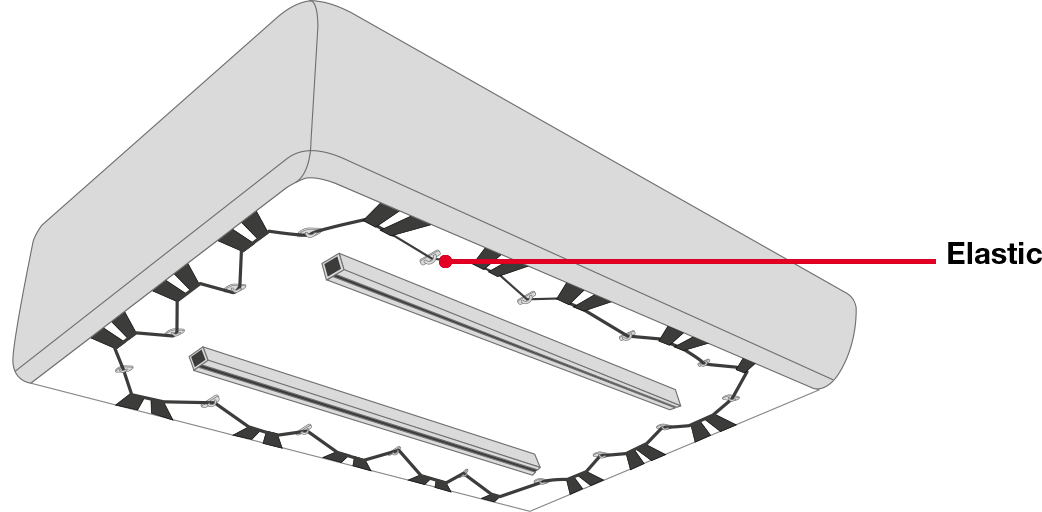 A strong tear-proof hood protects the tent when it is closed and while travelling. The hood covers the tent and is fixed by elastic around the perimeter, fitting onto hooks under the tent.
Elastic was chosen way back in 1959 and still today is the most practical and reliable system.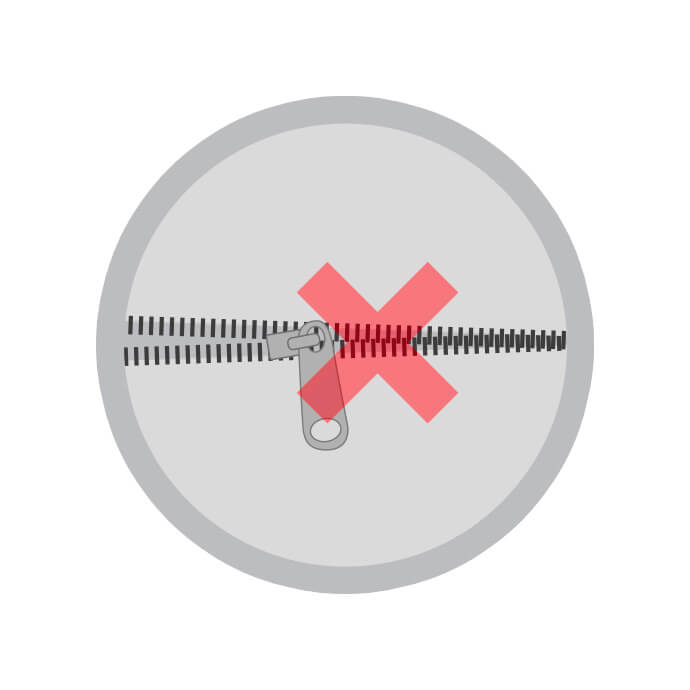 Other closing systems failed to pass Autohome tests for functioning and reliability. Not even a zip around the perimeter will do, because desert sand or Australian dust as rarified as talcum powder can clog the mechanism.
The hood is made of strong electro-welded PVC with additional internal reinforcements.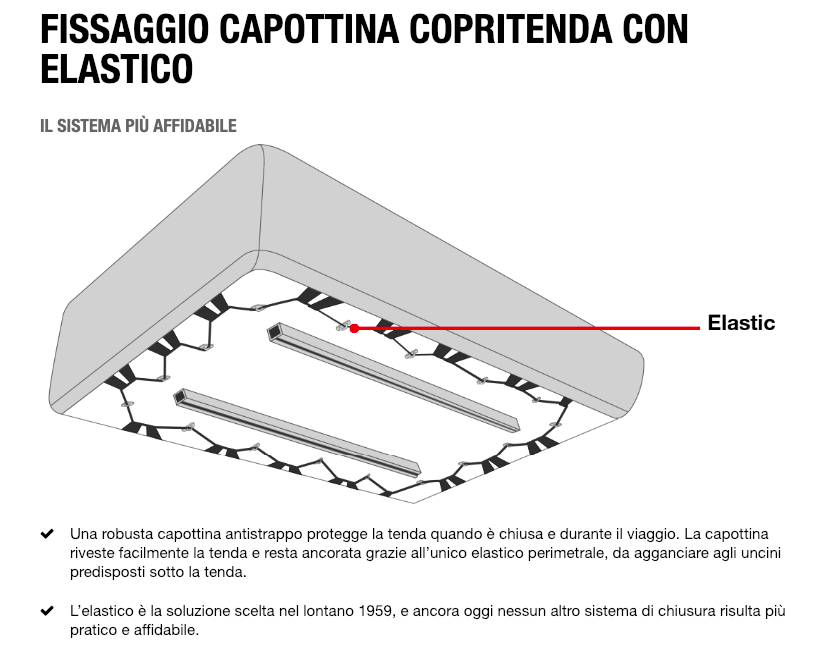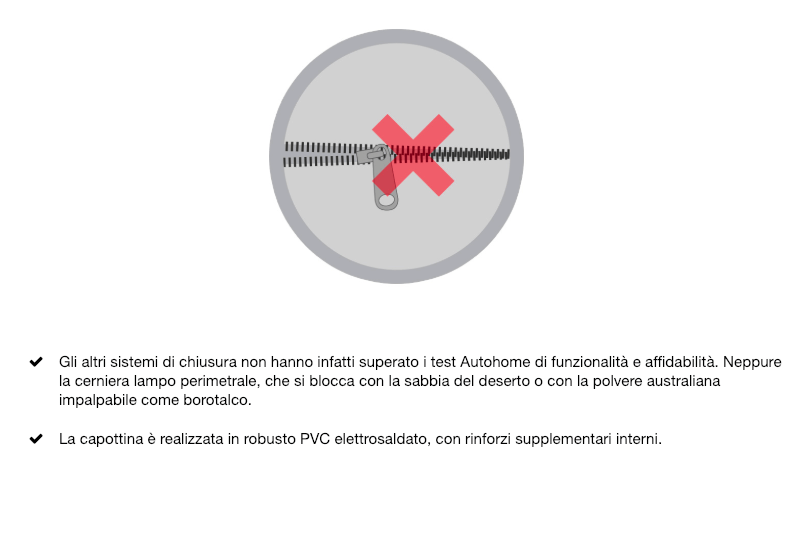 OVERCAMP
DOUBLE UP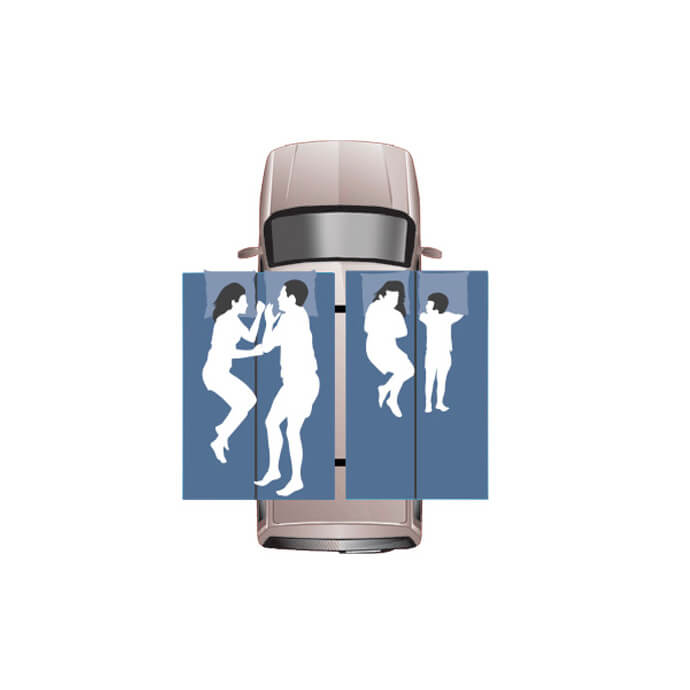 Side positioning: the tent will occupy only half of the car roof space.
You can fit: Small + Small, Medium + Small or Medium + Medium on large vehicl
OVERCAMP
STANDARD POSITIONING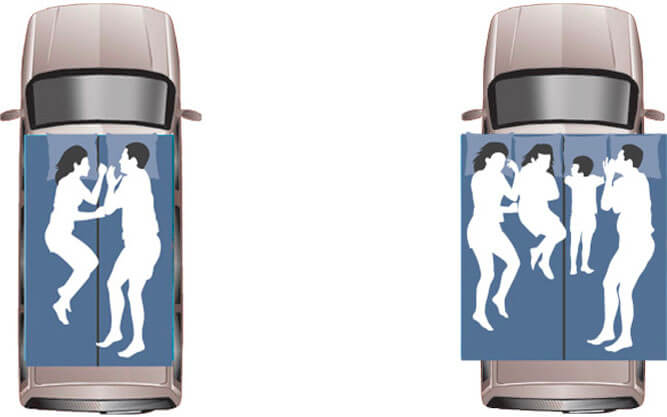 Open, the tent covers the whole vehicle roof without jutting over the hedge.
In this way, it can be used in rest areas and car-parks, not only in campsites.
THE RIGHT TENT FOR SPORT

Surfboards, a canoe, bicycles or tools for your favourite sport can be placed on the roof rack, thanks to the compact design of Overcamp, which takes up only half of the roof.
SUN SHADES
The two large doors can easily be turned into sun shades, using the standard aluminium poles.
The two poles on either side of the entrance with the ladder are fixed to the base of the tent, whilst the two on the opposite side can be removed.
N.B. Do not use the sun shades when it is windy.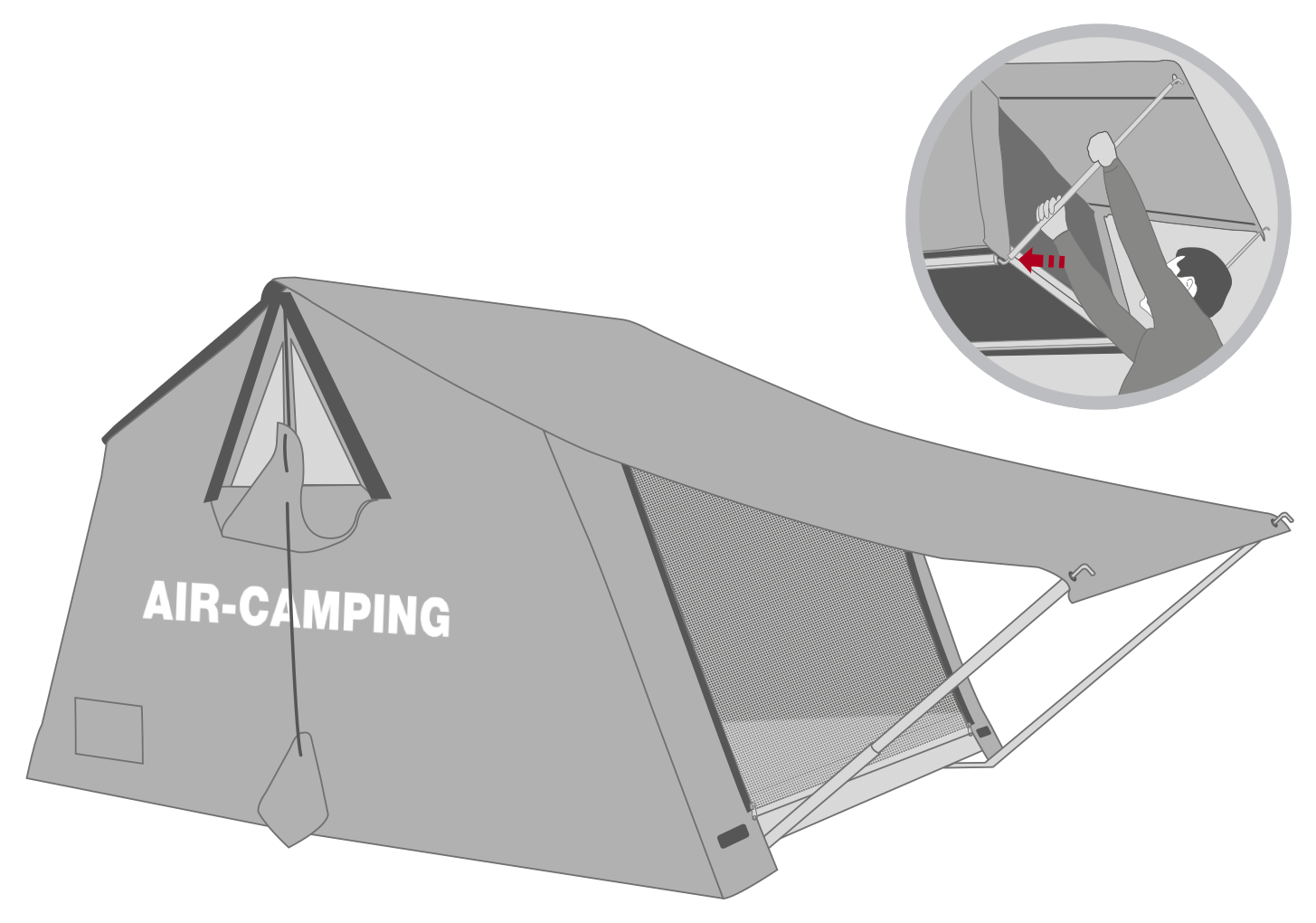 WINDSTOP
AN AUTOHOME EXCLUSIVE MAKING ALL THE DIFFERENCE INDISPENSABLE IN STRONG WINDS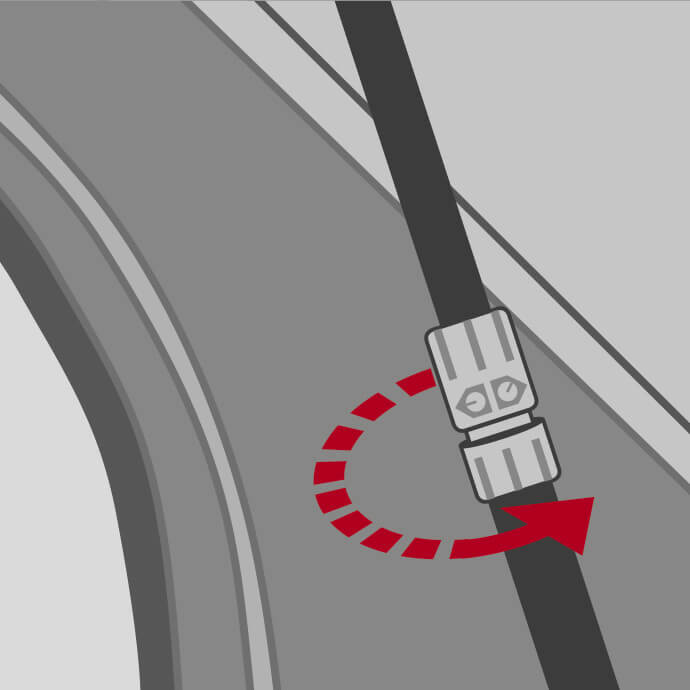 A new feature we have waited years for and presented by Autohome® for the first time in Germany, at the Düsseldorf 2017 Caravan Salon. It was appreciated by the most important buyers and travelers of various nationalities.
WINDSTOP is an easy-to-use device applied directly to the gas spring to provide Columbus and Airtop tents with additional stability.
Every tent with gas spring opening is fitted with WINDSTOP.
ADVANTAGES:
Easy to use for extra stability in strong winds.
No tedious manual operations to stretch out the tent or fold up support arms every time the tent is opened or closed.
Two-step opening and closing guaranteed, for easy use.
BUILT-IN CARRIER
FOR LONG TRIPS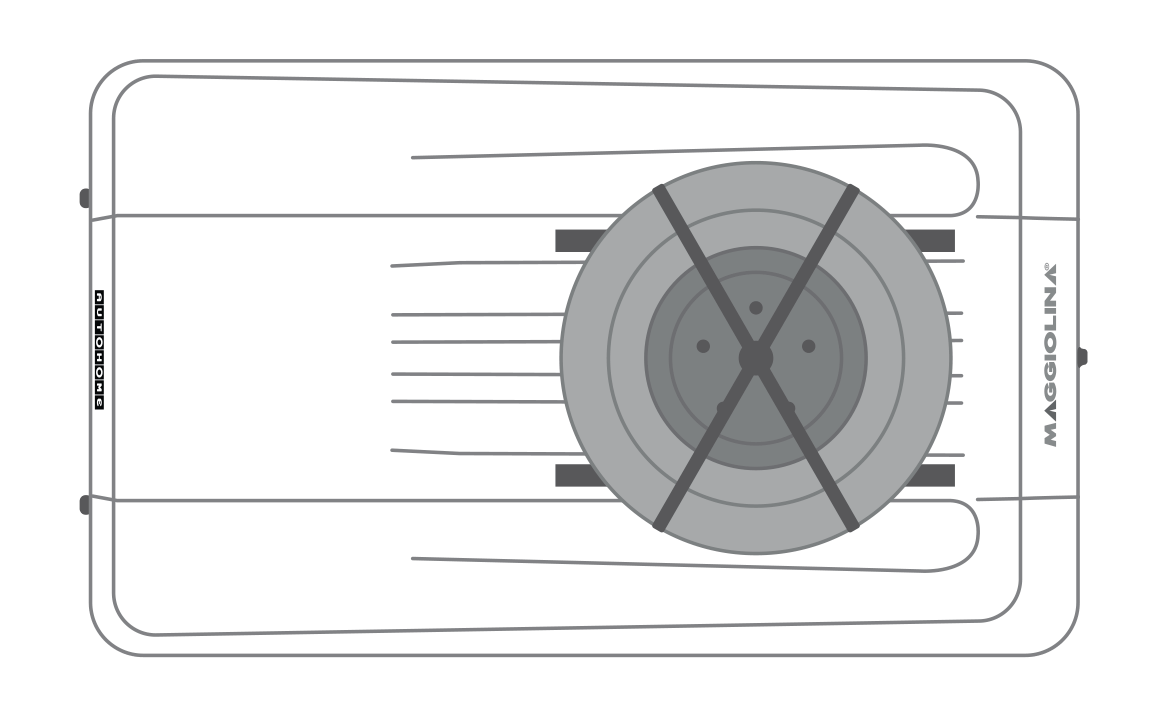 The upper shell has an exclusive design and the guides fitted to the structure allow for a maximum roof load. The adjustable bars are perfect for large loads such as a spare tyre, fuel tanks, timber and tools.
Max. load 25 Kg. (See operating instructions)
SHELLS IN FIBERGLASS
A SUPER LIGHT ROOF TENT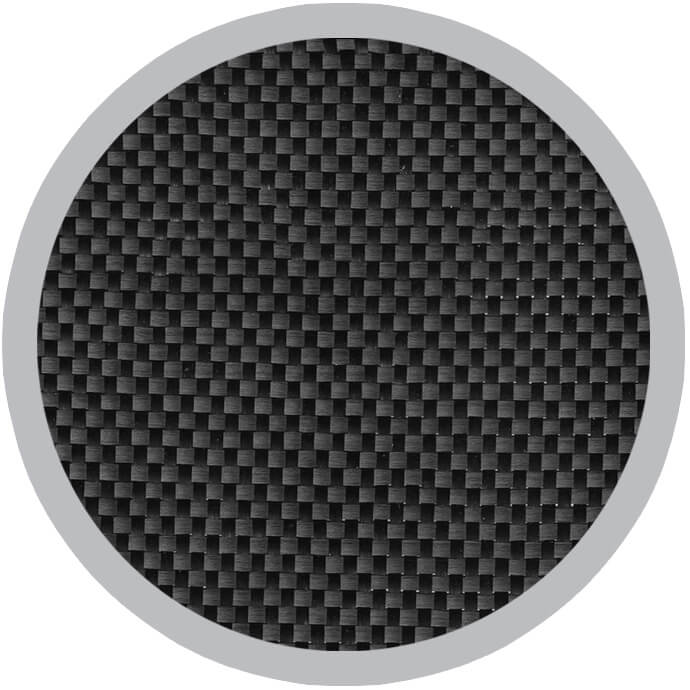 The Innovative and exclusive Autohome® production of fiberglass shells makes for a decidedly lighter tent.
Fiberglass is a compound material, obtained from sinking carbon threads into a special resin. After solidifying, fiberglass is incredibly strong and light.
Because it is difficult to dent or deform, fiberglass is used in many motor sports.
Fiberglass shells for Autohome® tents are made by laying out layers of carbon fiber in special moulds, and impregnating them with special resin for hardness.
The advantages of fiberglass shells include great strength, their weight (up to 20% less than conventional shells), heat insulation and their ability to withstand huge changes in temperature.
The colour of our Shells
is an integral part of the fiberglass
The special GELCOAT is a natural colour amalgamated directly into the fiberglass. Totally unlike conventional paints, it ensures maximum strength and in unalterable.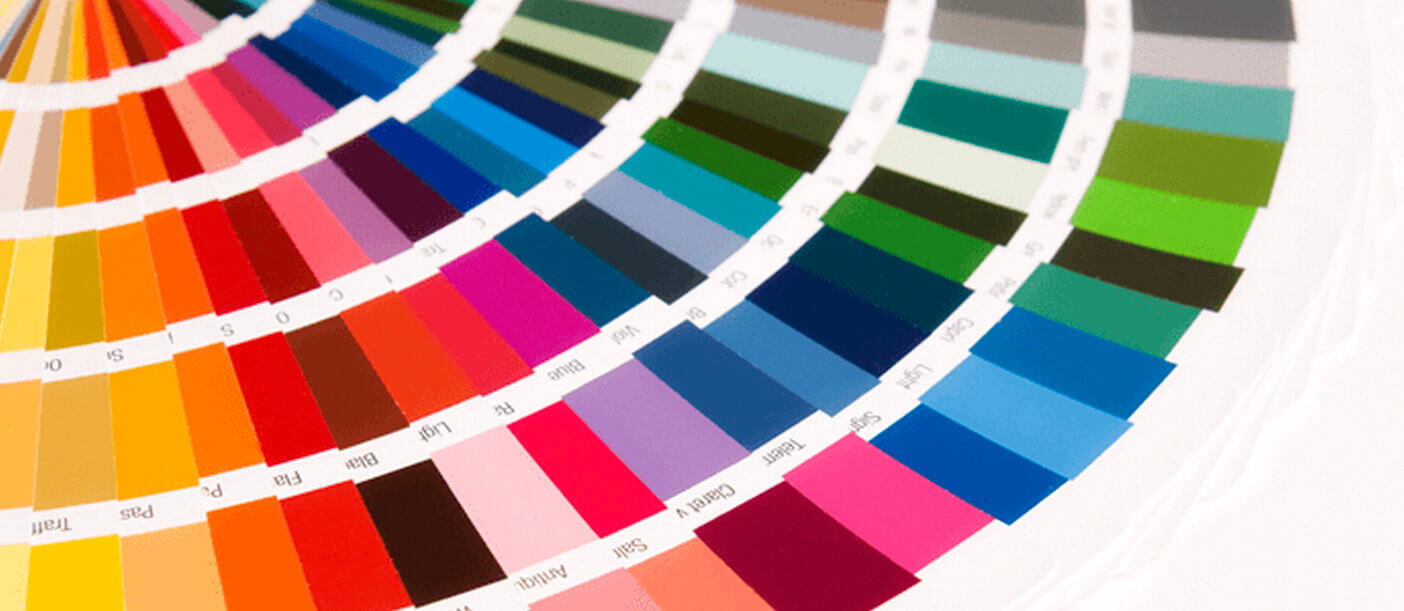 For our shells, Autohome chose the highest quality and most reliable procedure for the paint. Gelcoat, which amalgamates with the fiber, is as durable and tough as can be.
That is why it is used for fiberglass vessels which need to withstand an aggressive salty environment and multiple situations of stress.
Unlike conventional paints used for bodywork, Gelcoat is applied thickly in the mould during stratification, so it amalgamates perfectly with the fiberglass.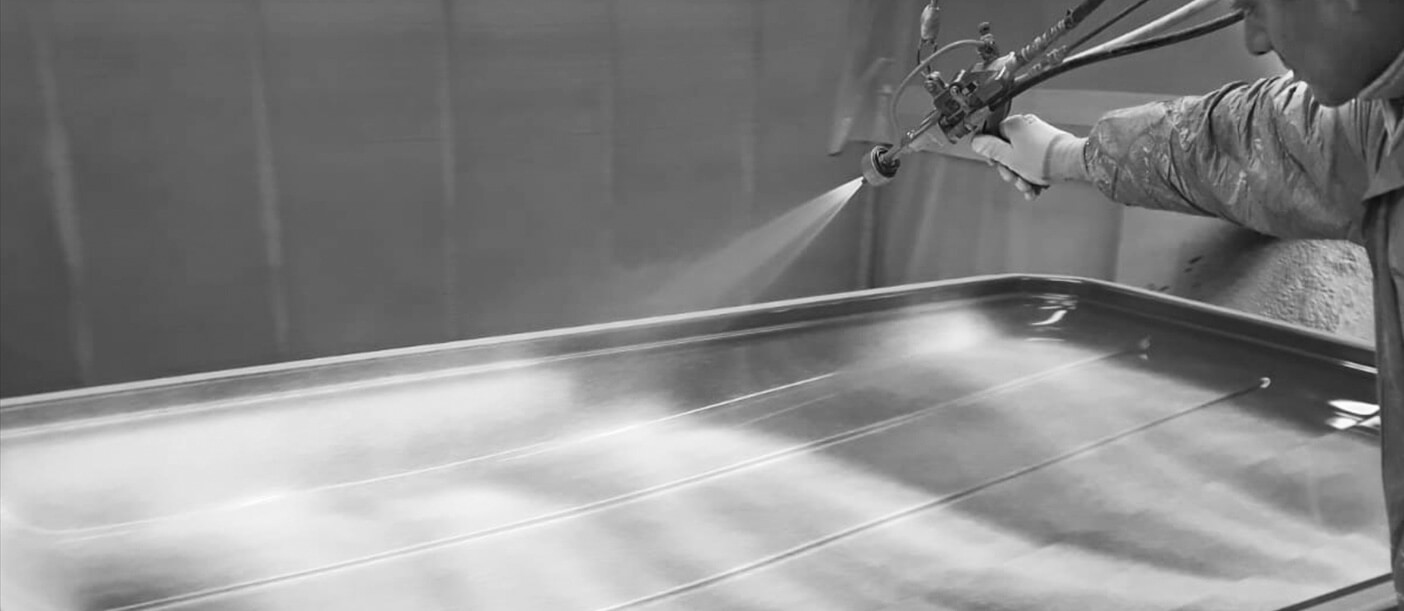 The result is a tough paint, resistant to UV rays, heat, salt water and salty air, as well as aggressive solvents. It can handle just about anything.
Whereas painting the shells would make them more likely to scratch, dent and become damaged during the journey. Painted, the fiberglass peels and is less long-lasting.
This is why Autohome® doesn't customize the paintwork. Because the shell ISN'T painted at all.
But, on request, a particular shade of Gelcoat can be chosen from international colour charts (for orders of 70/100 units).

So that's the secret of Autohome's colour. It is part of the shells, not painted on! Painting a shell reduces its strength. Unalterable Gelcoat preserves it.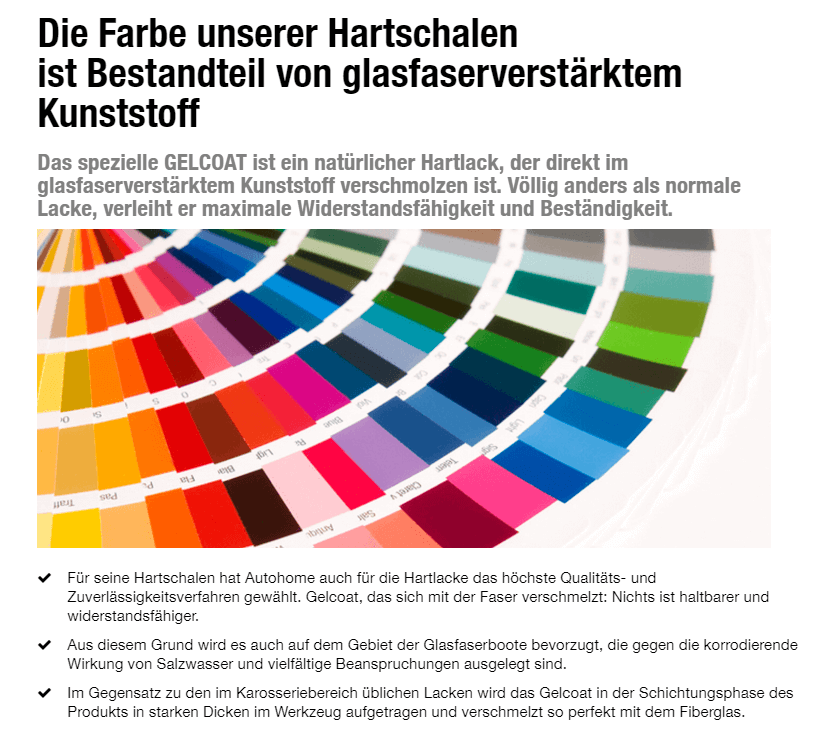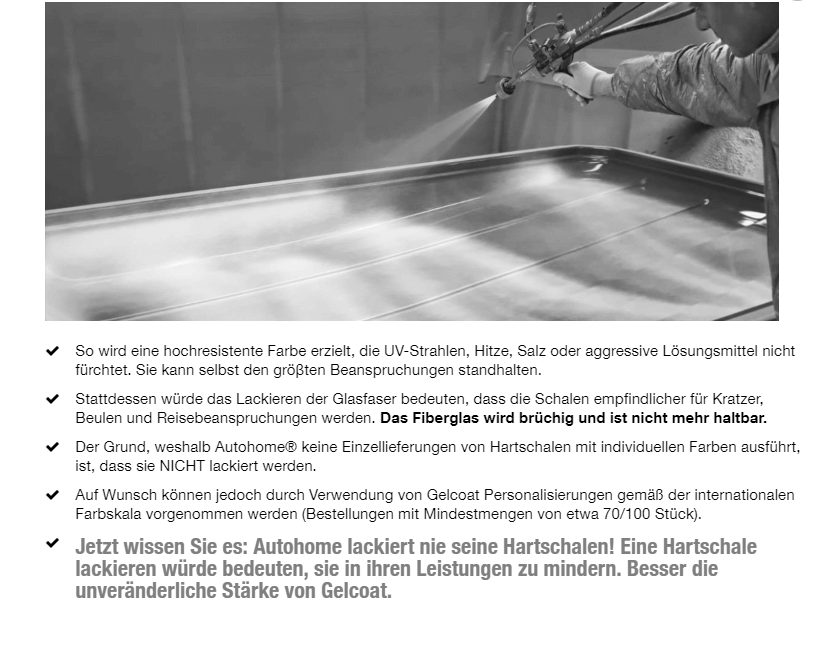 NEW
NO MORE NOISE FROM THE WIND!
AUTOHOME ELIMINATES THE PROBLEM OF DANGLING HANDLES AND NIGHT NOISE.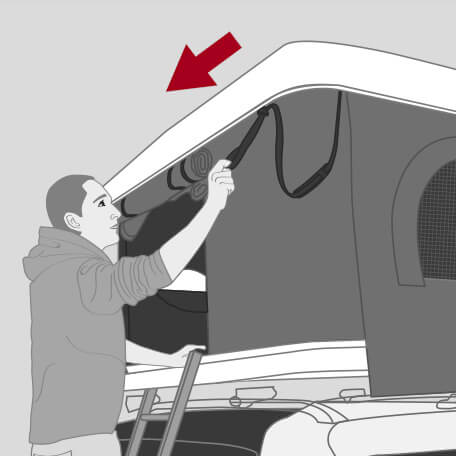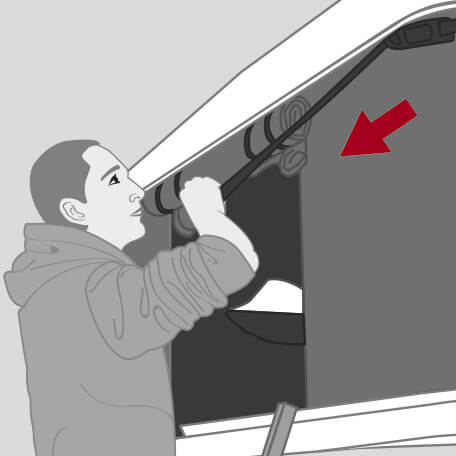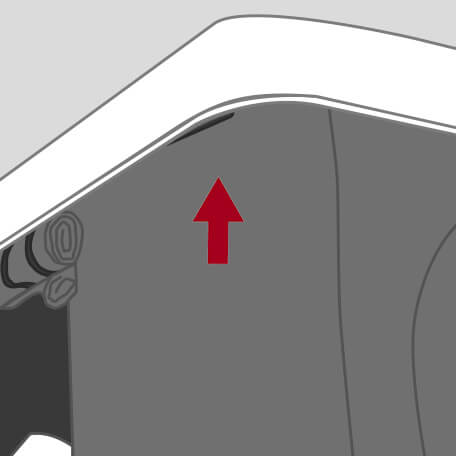 Dangling handles in tent shells are noisy at night due to the wind, one of the most common complaints in the sector. With its experience and the quality of its vision, Autohome was unlikely not to come up with a solution.
Now, tie-rods and handles on the edges of the shell can be whisked away with a simple gesture, eliminating the irritating noise caused by the wind. It also improves tidiness and the look of the tent interior, with nothing dangling awkwardly.
BUT THAT IS NOT ALL! AUTOHOME HAS ALSO MADE THE ZIP CURSORS "WIND-PROOF"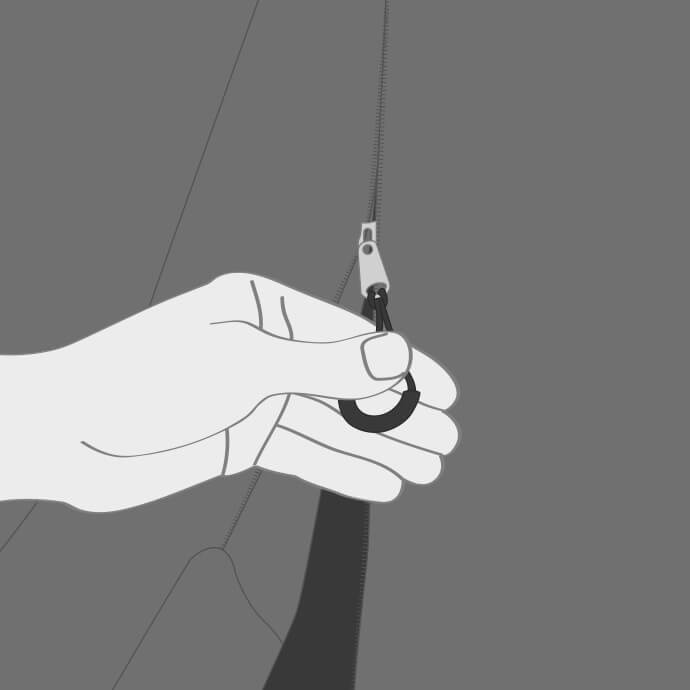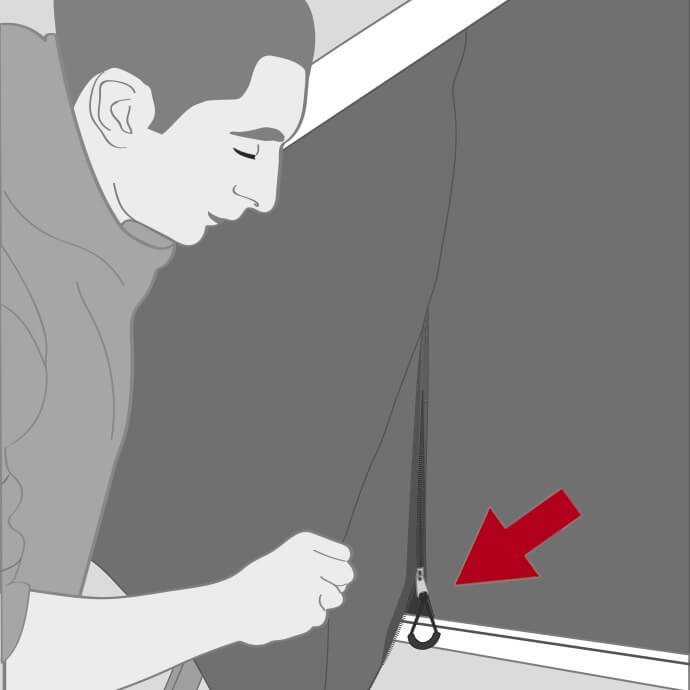 A rubber ring silences the movement of the zip cursor even in high winds and makes zipping and unzipping even easier.
ALSO BANDS AND CLIPS ON DOORS ARE WINDPROOF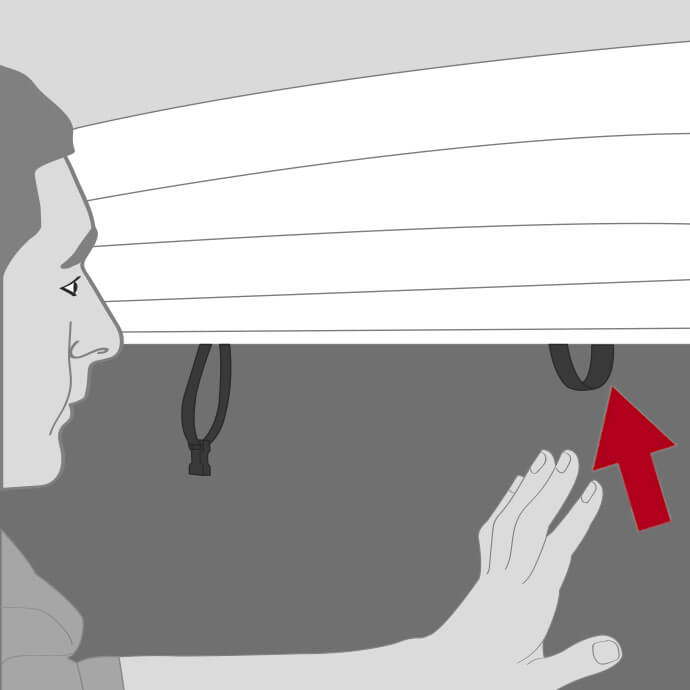 The double clip prevents the bands from hanging off, thus avoiding the annoying tinkling caused by the breeze and the wind.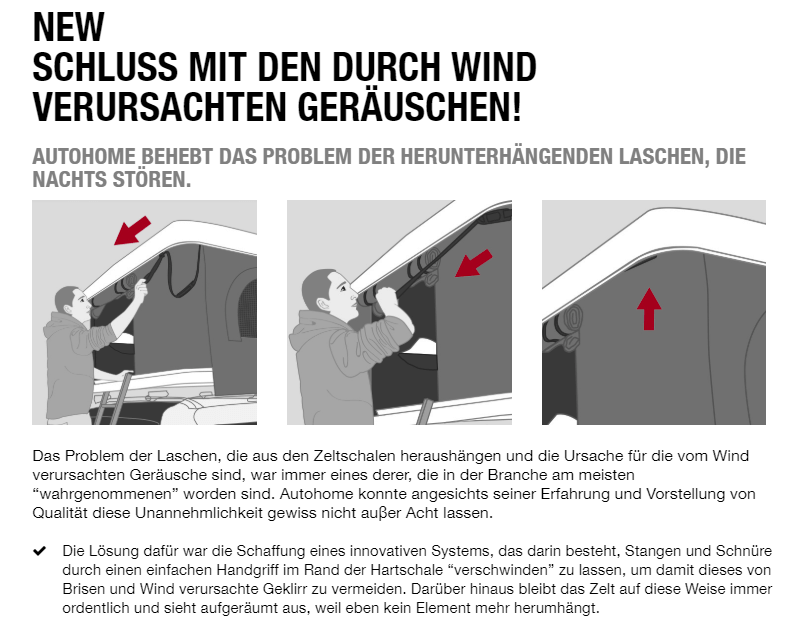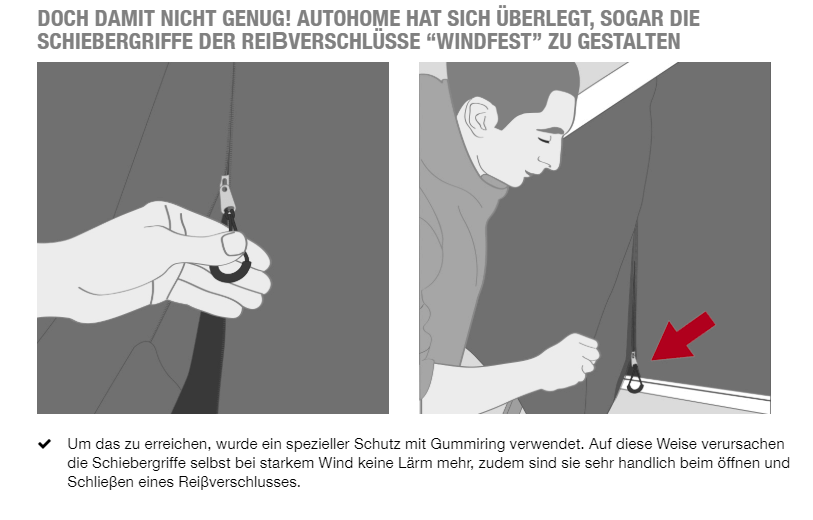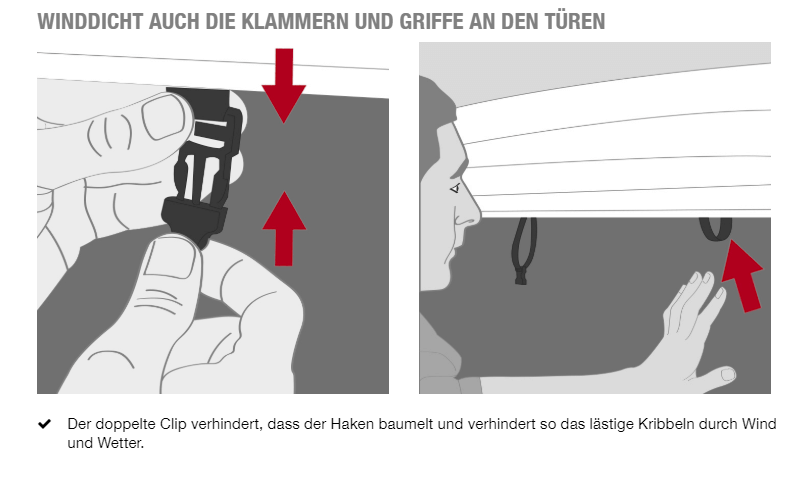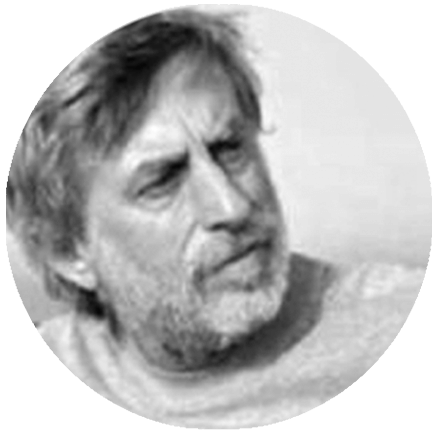 PAOLO MARIN
Paolo Marin, born in the Veneto region of Italy but, by choice, a citizen of the world, is the founder of the well-known and much appreciated Photo Challenge "A trip everyone can manage". For many years he has been considered an expert in adventure travel. He has a passion for the desert and Libya is constantly in his heart. A tour leader, he teaches off-road driving and lives in Padua when he isn't driving through the desert.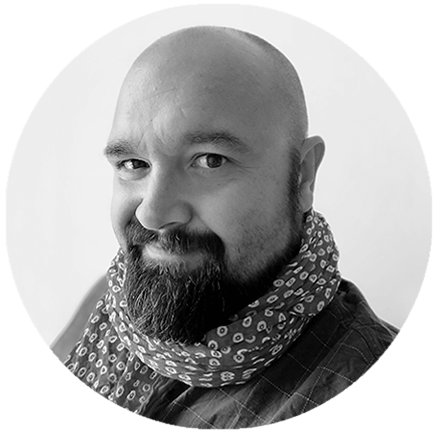 ROBERTO MASCHIETTO
"Sono appassionato di fuoristrada, organizzatore di eventi Land Rover e non per ultimo innamorato del viaggio che spesso mi ha portato lontano dalle rotte comuni del turismo. Oggi per il mio primo giro del mondo in solitaria ho scelto una tenda da tetto Autohome, modello Columbus Variant, da installare sul mio Defender 110. Ho incominciato con una vecchia Maggiolina degli anni 80 ristrutturata più volte ma che ancora oggi è una validissima compagna di vita all'aperto. Sono un estimatore dei prodotti Autohome che ho testato personalmente. Spesso mi sono trovato nella situazione di dare consigli allo staff tecnico dell'azienda: l'ho fatto con entusiasmo e orgoglio. Credo di avere acquisito una buona esperienza sul campo, seguo da anni il mercato delle tende sul tetto."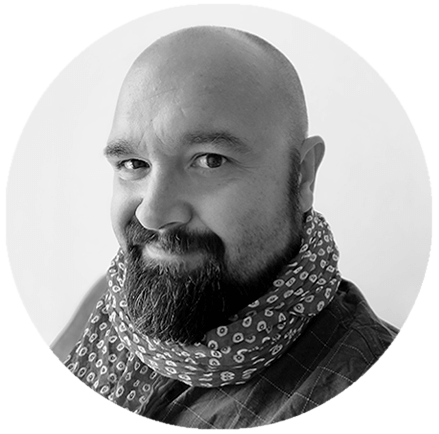 ROBERTO MASCHIETTO
AN EXPERT'S ADVICE
"HARD SHELL ACTIVE" - PART 1
There are several roof tents on the market, but the differences in quality are consistent... Better to know them. AUTOHOME shell tents are defined by the most authoritative experts in the field "ACTIVE HARD SHELL". Namely "Tent with active roof." A description that well represents its identity and best-in-class quality. Let's see together what it means... Let's start by talking about the top shell: it is not only the cover of the tent when you are moving, but it is the tent roof itself when it is open.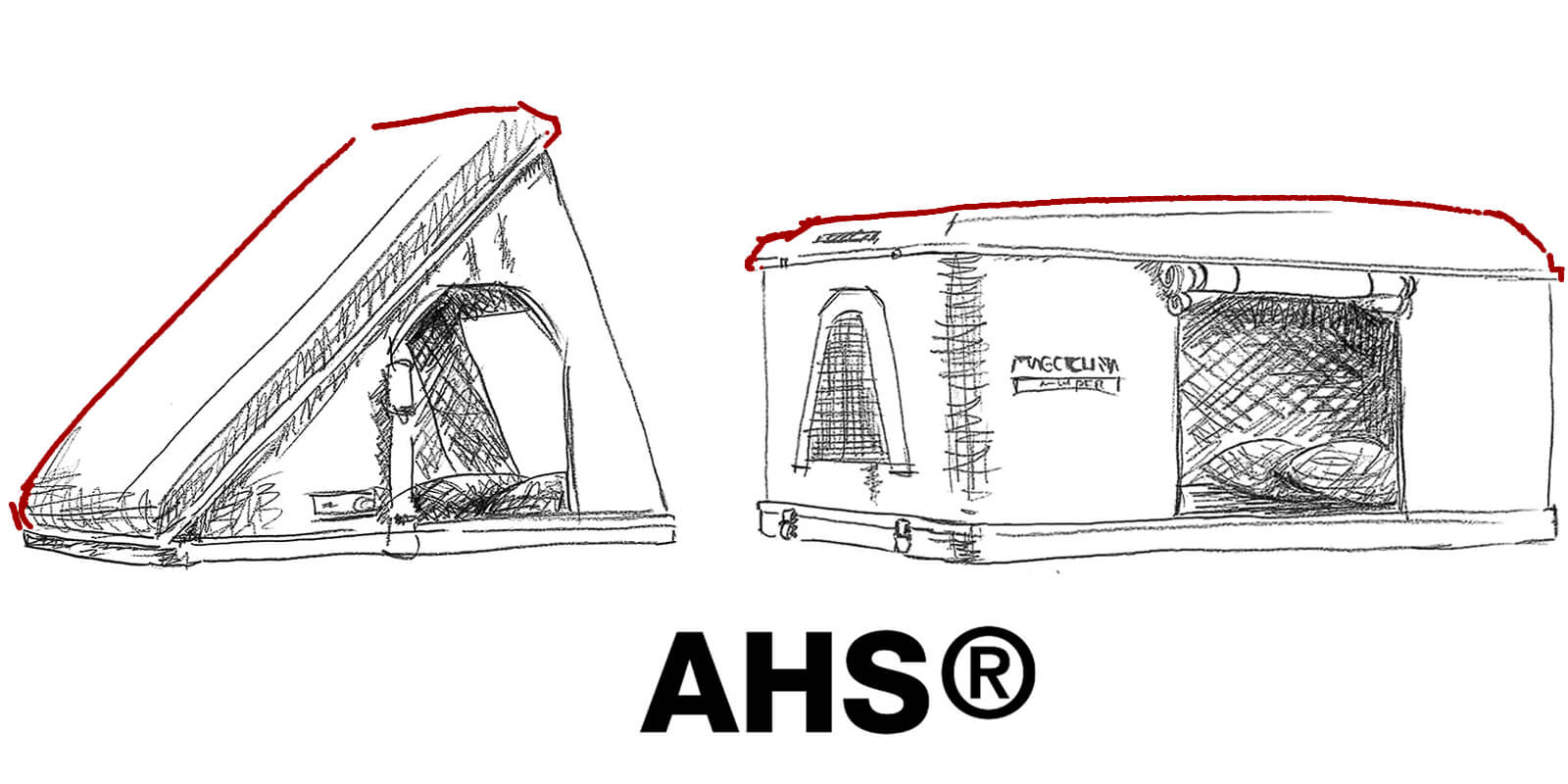 This leads to greater reliability, because the shell, when lifted, fully and actively protects the underlying environment. So, it is not a trivial passive element, a sort of wall, a simple cover without utility: it is in all respects the TRUE roof of the tent! That is why Autohome hard roofs are ACTIVE HARD SHELLS. The roof plays an active protective role. Let's now consider the advantages that this choice entails... the reasons that make Hard Shell Active an advanced project, which allows you to sleep well protected. FIRST: The roof keeps the underlying environment isolated from the heat and cold, thus less moisture and condensation. SECOND: The fabrics, thanks to the action of the roof, are less exposed to the weather. This ensures more waterproofing, protection and durability THIRD: With a similar "active" roof, the walls of the tent are also more stable and supportive. For all these reasons Autohome stands for Hard Shell Active: the difference starts from the roof!
"HARD SHELL ACTIVE" - PART 2
Always in shape with the car With Autohome when the tent is open and the roof in place, every structural element, from the fabrics to the service ladder, remains within the shape and perimeter of the car. The open tent falls within the space defined laterally by the car mirrors, so it does not undergo the conditioning imposed by parking areas and car parks.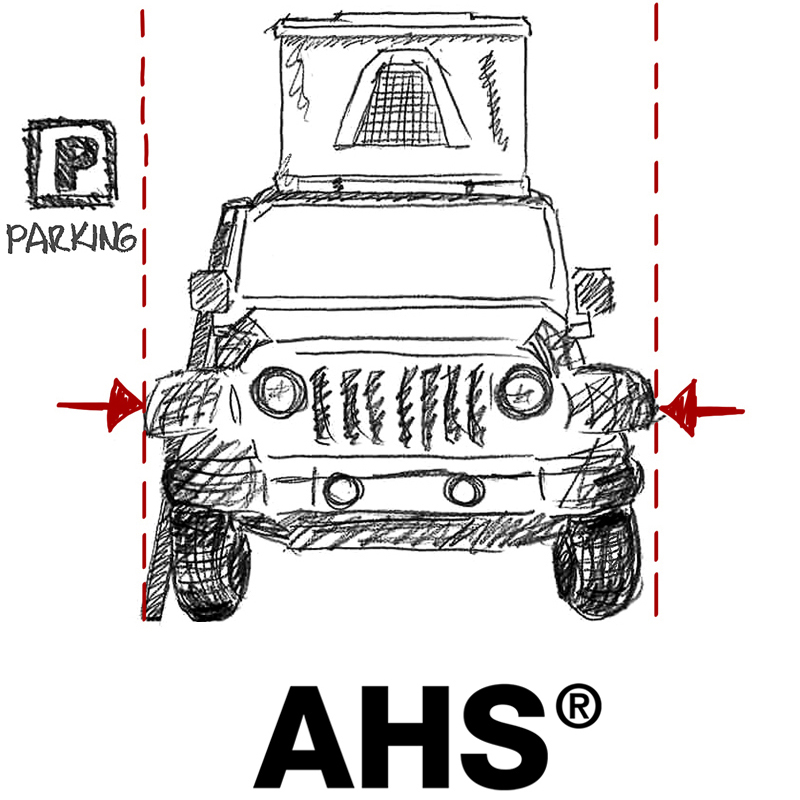 In practice, it means being able to stay anywhere, even in public areas without having to stop only at campsites. Pay close attention to this Autohome prerogative, because on the market there are shell tents or expandable models that, with a folding opening, come out of the shape of the car. They therefore necessarily require the use and overnight stay on campsites or in private areas. While with Autohome and its Hard Shell Active tents, it is possible to easily stop by a lake, a river, or the sea, in pine forests or public parks, always in complete freedom: pull the handbrake and... go to sleep! Also, for this reason with Autohome... the difference starts from the roof!
"HARD SHELL ACTIVE" - PART 3
The underside of the roof is active as well. A unique identity, justified by numerous quality elements, capable of distinguishing itself on the market.One of these fundamental elements is the shell with active underside of the roof, or a semi-rigid inner coating designed and manufactured with great care and suitable materials: its function is in fact to concretely help counteract humidity and condensation, 24 hours a day and naturally, thus keeping the environment drier and healthier.

It differs consistently from the trivial, unreliable applied upholstery that sometimes masks poor quality with imaginative designs or eye-catching colours. Even less reliable are the low-cost finishes, almost always of Asian origin. While Autohome'S ACTIVE HARD SHELL represents a constructive principle for interiors typically Made in Italy, of high-quality standard. What makes it stand out? The presence of a double shell, a double cavity insulation, a real "second skin" that actively acts, providing for the well-being in the environment below.

These are the choices that make Autohome standing out, the only one that can say... the difference starts from the roof!



"HARD SHELL ACTIVE" - PART 1
PROTECTION
AUTOHOME shell tents are defined by the most authoritative experts in the outdoor sector as "ACTIVE HARD SHELL". Namely "Tents with active roof". the top shell: it's not just the tent cover when you're moving, it's the roof of the tent itself when it's open. This leads to greater reliability, because the shell, when lifted, protects the underlying environment fully and actively. So, it is not a trivial passive element, a sort of wall or a simple lid without utility: it is in effect the TRUE roof of the tent!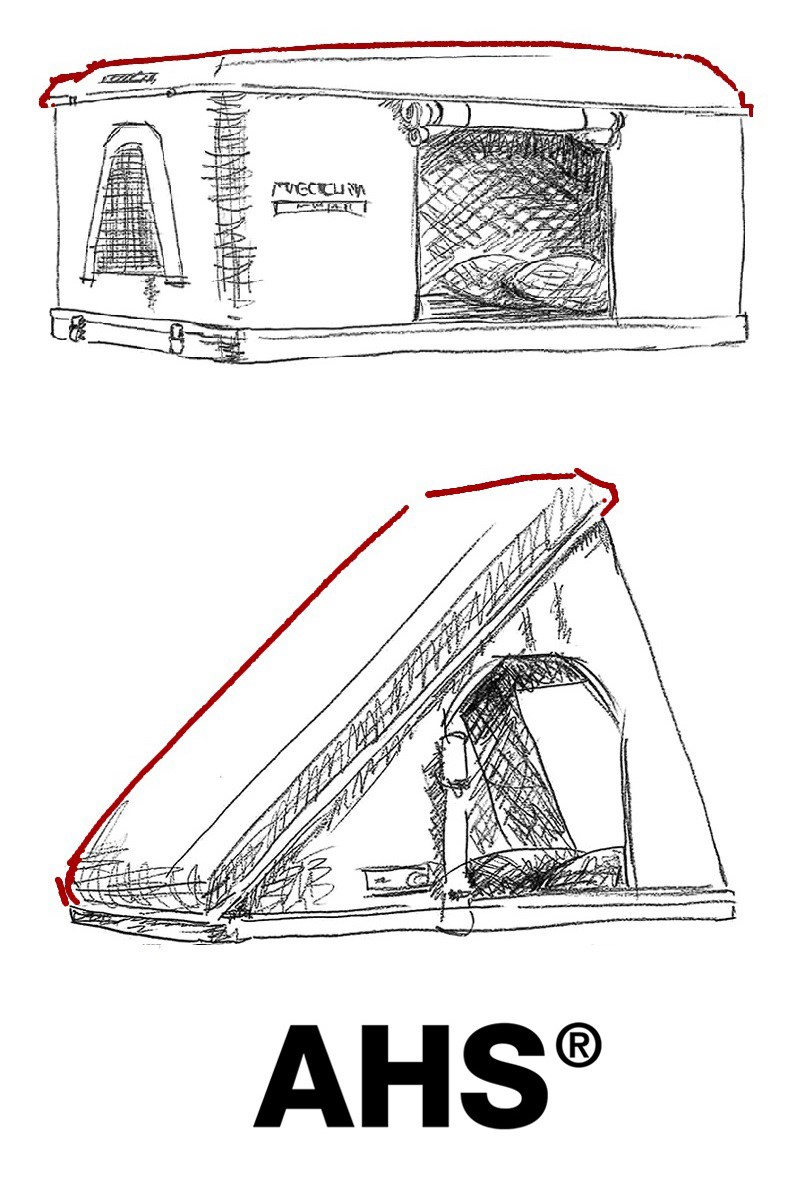 "HARD SHELL ACTIVE" - PART 2
FREEDOM
The shell tent rises vertically. The Autohome tent, when it is open and the roof in place, every structural element, from the fabrics to the service ladder, remains inside the shape of the car. The open tent fits into the space defined laterally by the car mirrors, so it does not suffer from the conditioning imposed by parking and parking areas.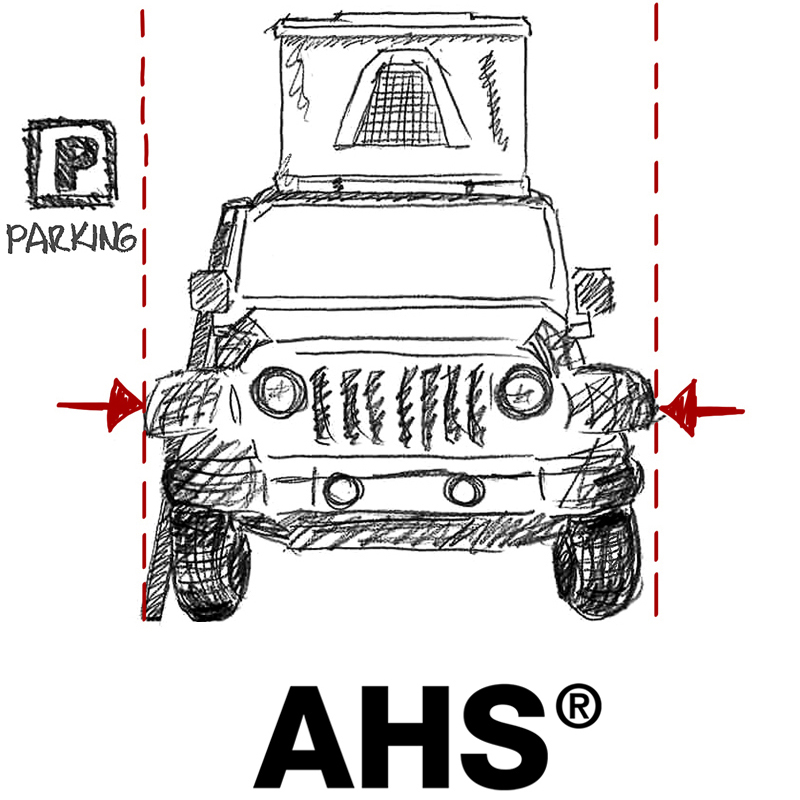 In practice, it means being able to stay anywhere, even in public areas without the obligation to stop only at the campsite.
"HARD SHELL ACTIVE" - PART 3
ISOLATION
A distinctive identity, justified by numerous quality elements, able to stand out on the market. One of these fundamental elements is the shell with an active under roof, that is a semi-rigid inner lining designed and manufactured with great care and suitable materials: its function is in fact to concretely help counteract humidity and condensation, 24 hours a day and in a natural way, thus keeping the environment drier and healthier.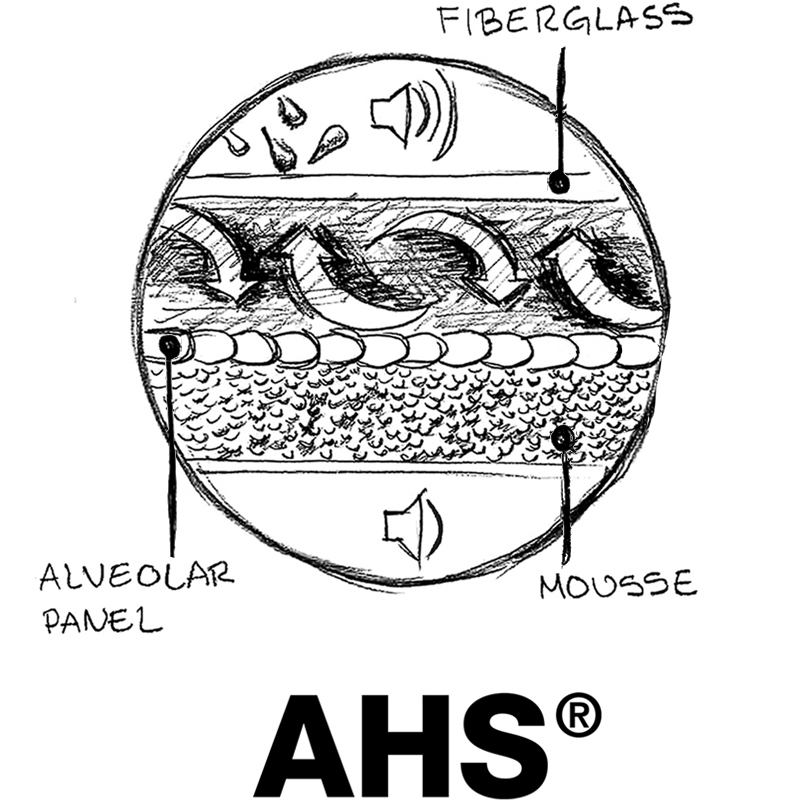 It deeply differs from the banal tapestries applied, unreliable and sometimes masking their poor quality with imaginative designs or eye-catching colours. Even less reliable are the low-cost finishes, almost always of Asian origin.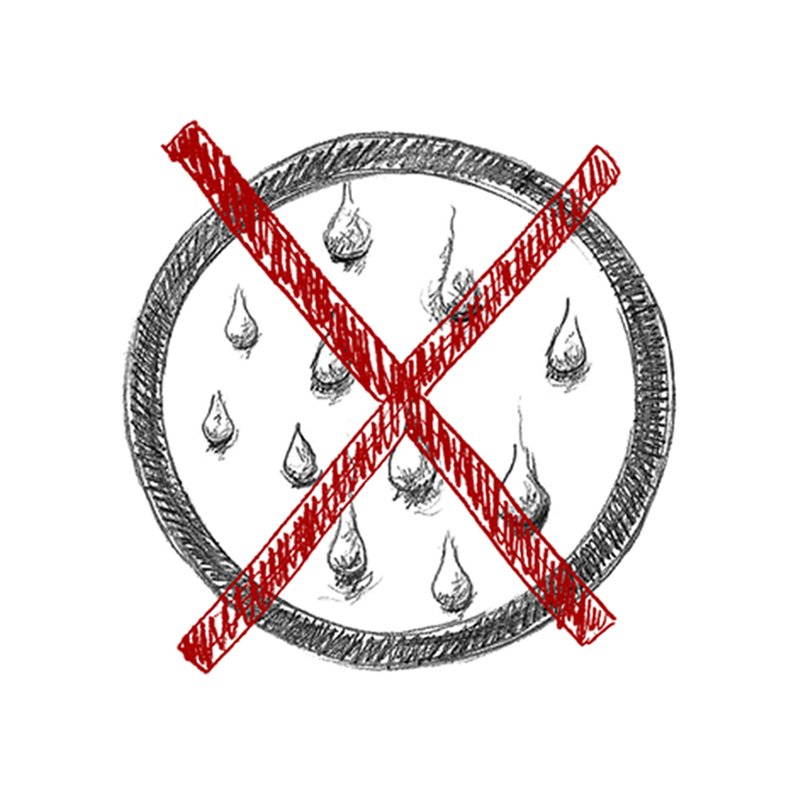 These are the choices that distinguish Autohome, the only one that can tell... the difference starts from the roof!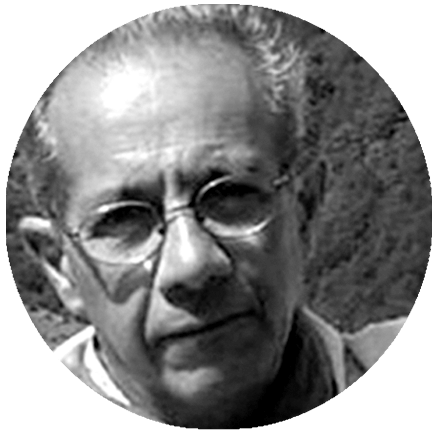 EUGENIO MARTIGNANI
Eugenio Martignani has a long track record in adventure travel on board a series of off-road vehicles. He has transformed his passion for nature and exploration of far-off lands into a profession, as a journalist specializing in 4WD autos.
For the past thirty years, he has contributed to Italian and international magazines, worked in TV as a test driver, technician, sportsman and travel reporter. He has seven Camel Trophies, years of experience in African Rally Raids, has crossed Siberia in winter and headed up the frozen Mackenzie River as far as the Beaufort Sea. And more. For work or fun, he has driven in all the Continents: from the Amazon to Mongolia, from Australia to the Polar Circle, from Indonesia to South Africa. He has written books and guidebooks for off-road vehicles and, when he has a little time, heads off to somewhere new, with a preference for deserts, which he has explored the world over. His "mission" is to leave civilization behind and explore unknown destinations, because – as he says - "the four elements of our planet are earth, water, air and fire, not asphalt or cement!"
On his off-road adventures, he has used and tested the roof tents of various manufacturers and, in particular, the wide range of Autohome products, which are able to meet even his demanding needs.
"What do I look for in a roof tent? Distance from the ground, protection against animals, rapid opening and closing and comfort inside because a good night's sleep is all important if you want to travel well."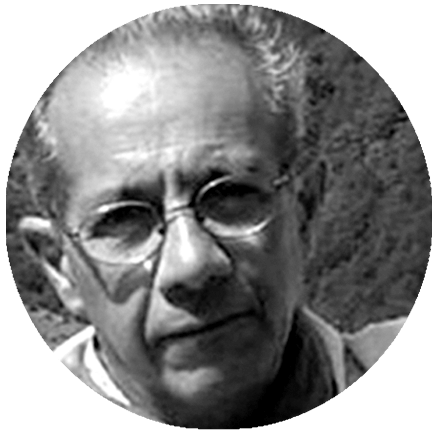 EUGENIO MARTIGNANI
AN EXPERT RATES AUTOHOME PRODUCTS
TTHE BASIC FEATURES OF AUTOHOME QUALITY
In general, they are all tents of superior quality, with manufacturing and technical features that undoubtedly place them at the top of the sector. Technically (function, performance and comfort) and in aesthetic terms, they are unbeatable.
Autohome represents "history" and the continuous development of roof tents for vehicles; the company is the market leader with products that just can't be copied. It is no accident that they were the first in the world to patent and develop this type of tent.
Since 1958 they have created a whole range of innovations and successful products. Their tents are the biggest sellers the world over, which is unusual because quality doesn't usually coincide with quantity. But with Autohome, it does.
Another added value which today is particularly important is pride in a product that bears the "Made in Italy" label, with exclusively Italian and some European suppliers.
PROFILE OF INDIVIDUAL PRODUCTS
MAGGIOLINA® (AIRLANDER - GRAND TOUR- EXTREME - EXTREME)
These are models that open and close with a handwheel, using 4 lifting poles, two at the front and 2 at the rear.
Fabrics used: DRALON® (Made in Germany) and AIRTEX (German-made, of the highest technical quality).
AIRTOP®
Airtop opens with gas springs fitted into the 4 lifting arms, in pairs on both sides of the tent.
Fabrics used: DRALON® and AIRTEX®
COLUMBUS®
Tent models opening with gas springs fitted into 2 lifting poles on the sides.
Fabric used: AIRTEX®
AIR-CAMPING® - OVERLAND®
This tent opens "like a book" with 2 platforms hinged at the sides with 3 ribs supporting the fabric.
OVERZONE®
Conceptually similar to Overland, opening like a book and again with 2 platforms hinged at the sides with 3 ribs supporting the fabric and a further adjustable rib at the entrance to the tent.
OVERCAMP®
Opening with 3 adjustable ribs supporting the fabric.
I should point out that one of the advantages of these tents is that, when they are closed, they only take up half of the space on the vehicle roof, leaving room for sports gear (for example for surfing or canoeing) or other equipment.
MY RATINGS - PERFORMANCES

= GOOD


= VERY GOOD


= EXCELLENT


= SUPER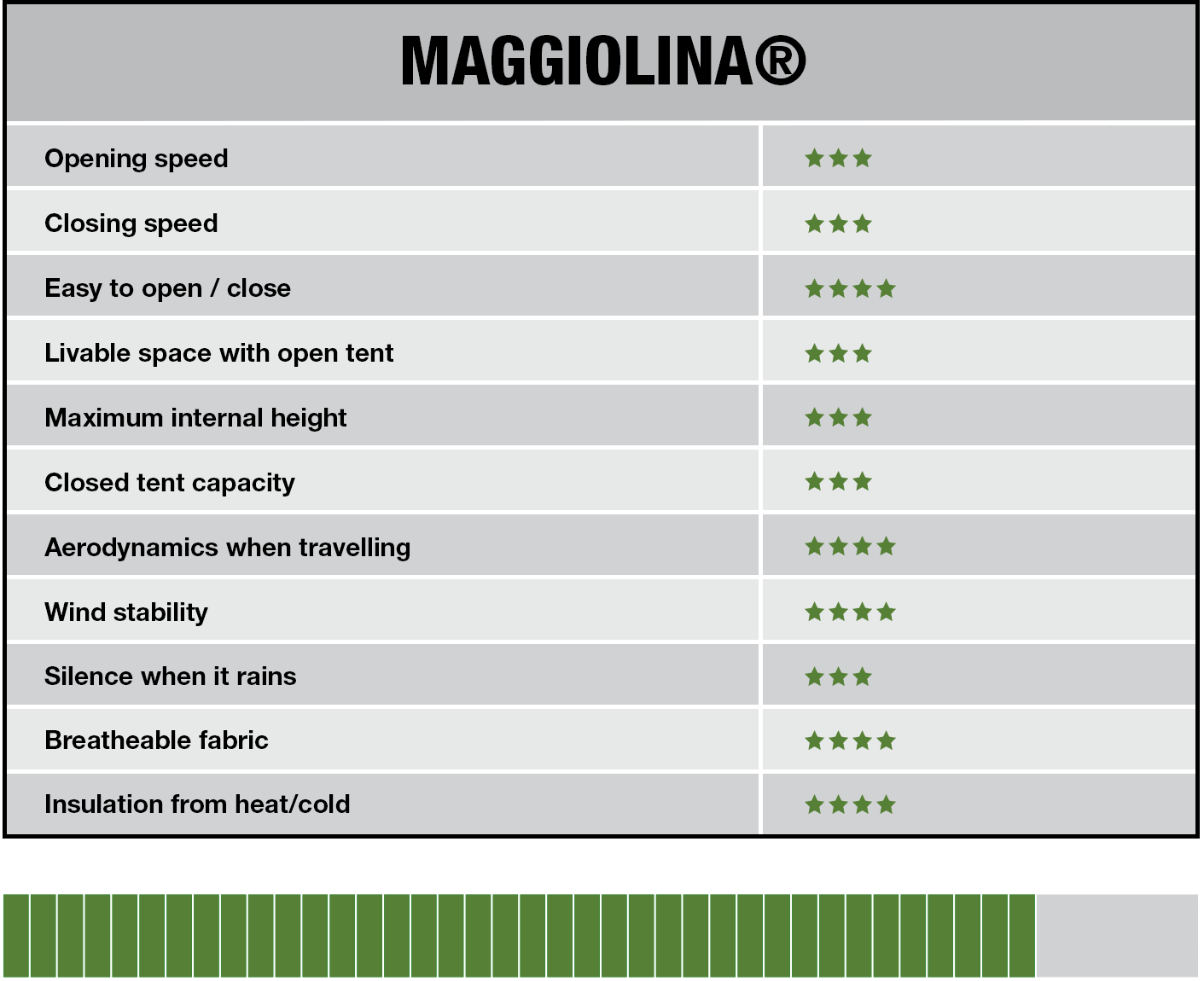 MY RATINGS - PERFORMANCES

= GOOD


= VERY GOOD


= EXCELLENT


= SUPER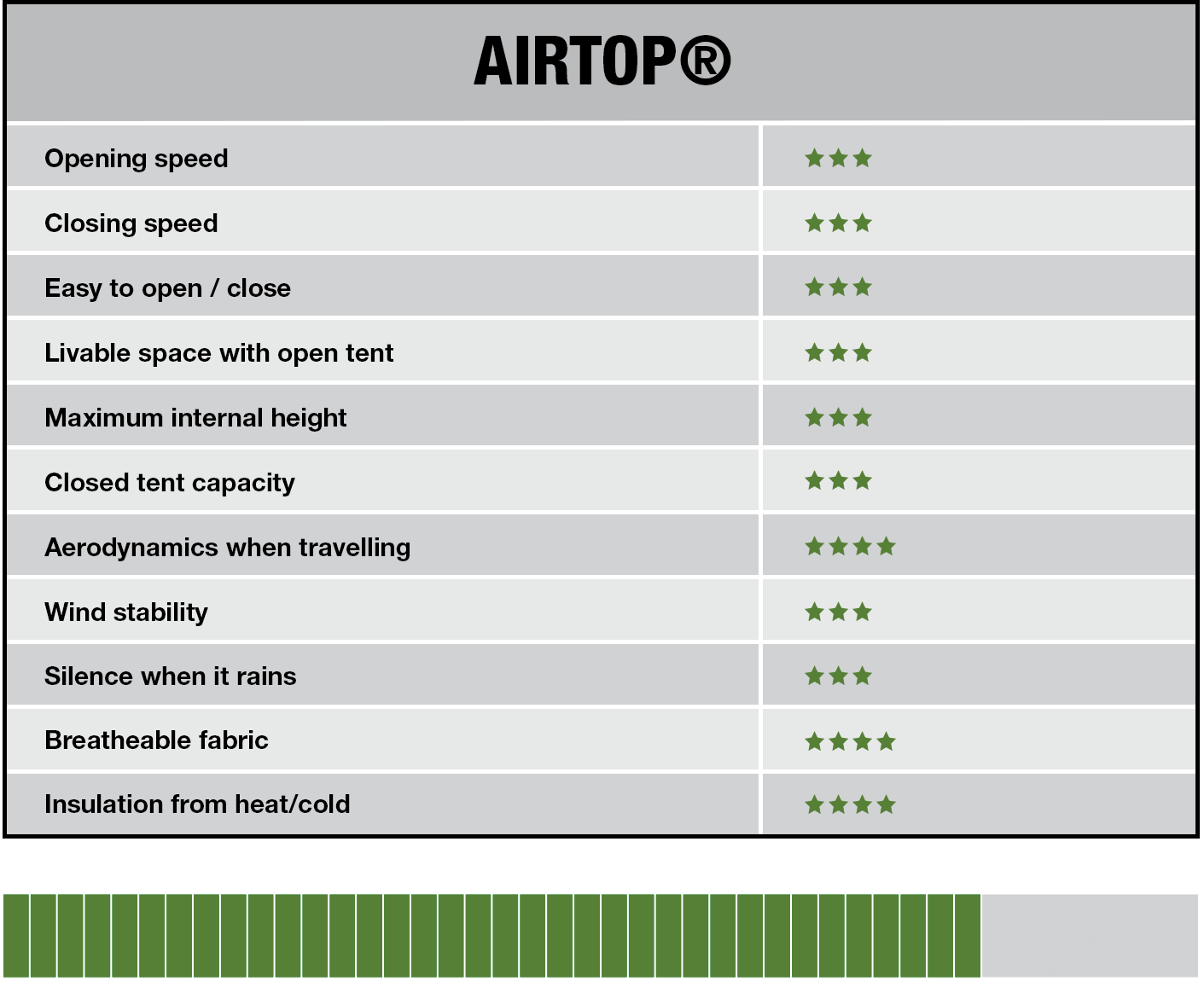 MY RATINGS - PERFORMANCES

= GOOD


= VERY GOOD


= EXCELLENT


= SUPER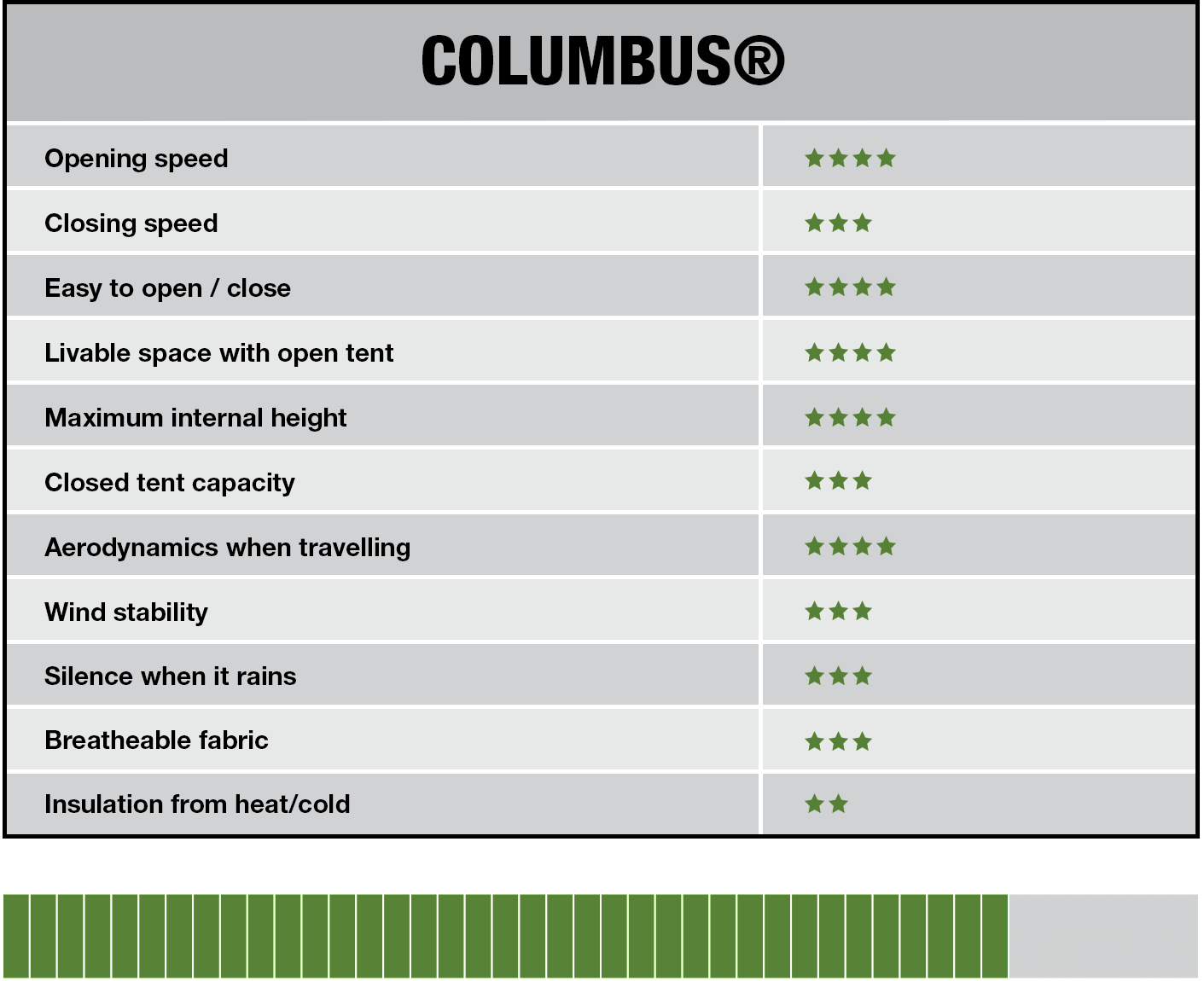 MY RATINGS - PERFORMANCES

= GOOD


= VERY GOOD


= EXCELLENT


= SUPER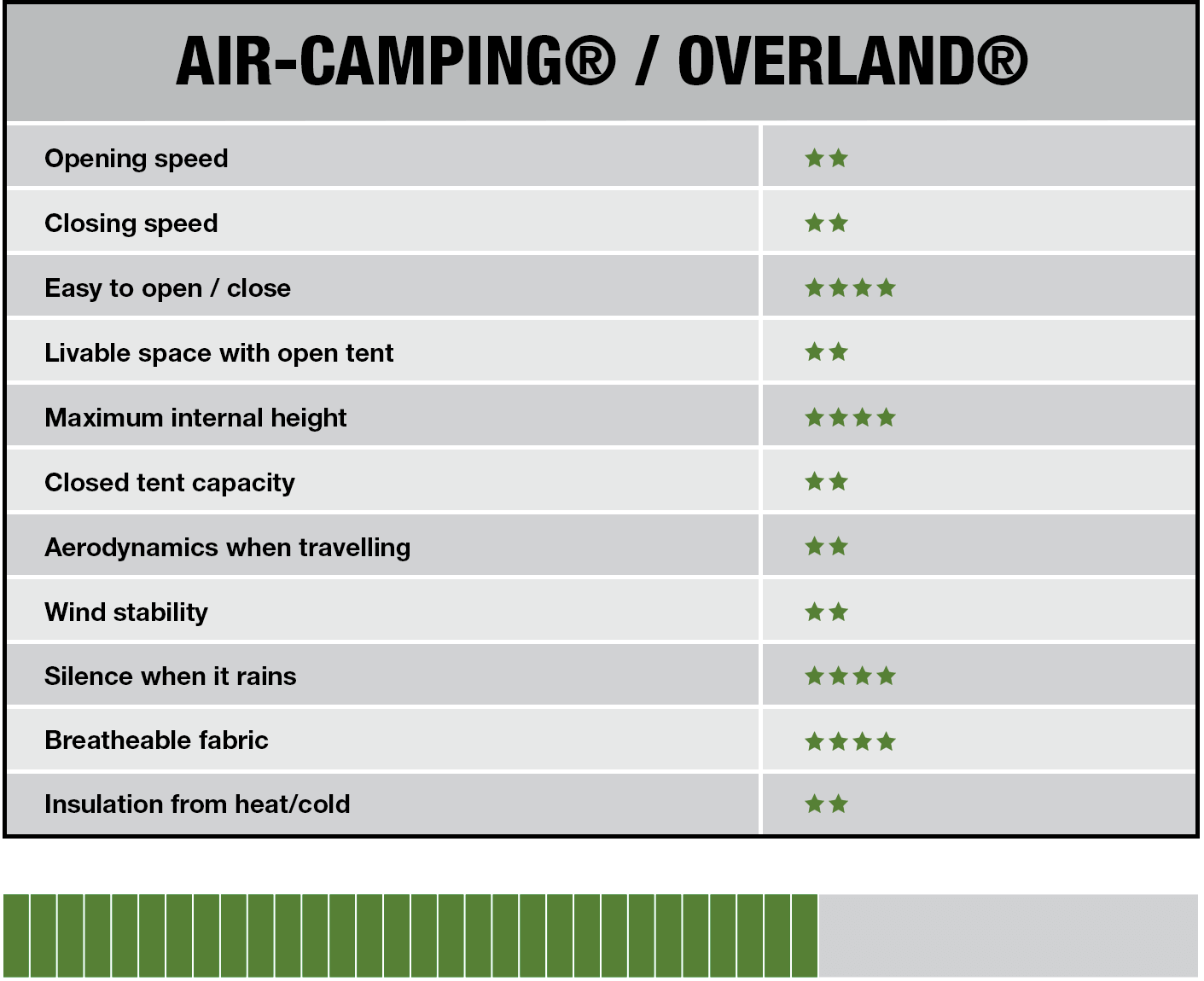 MY RATINGS - PERFORMANCES

= GOOD


= VERY GOOD


= EXCELLENT


= SUPER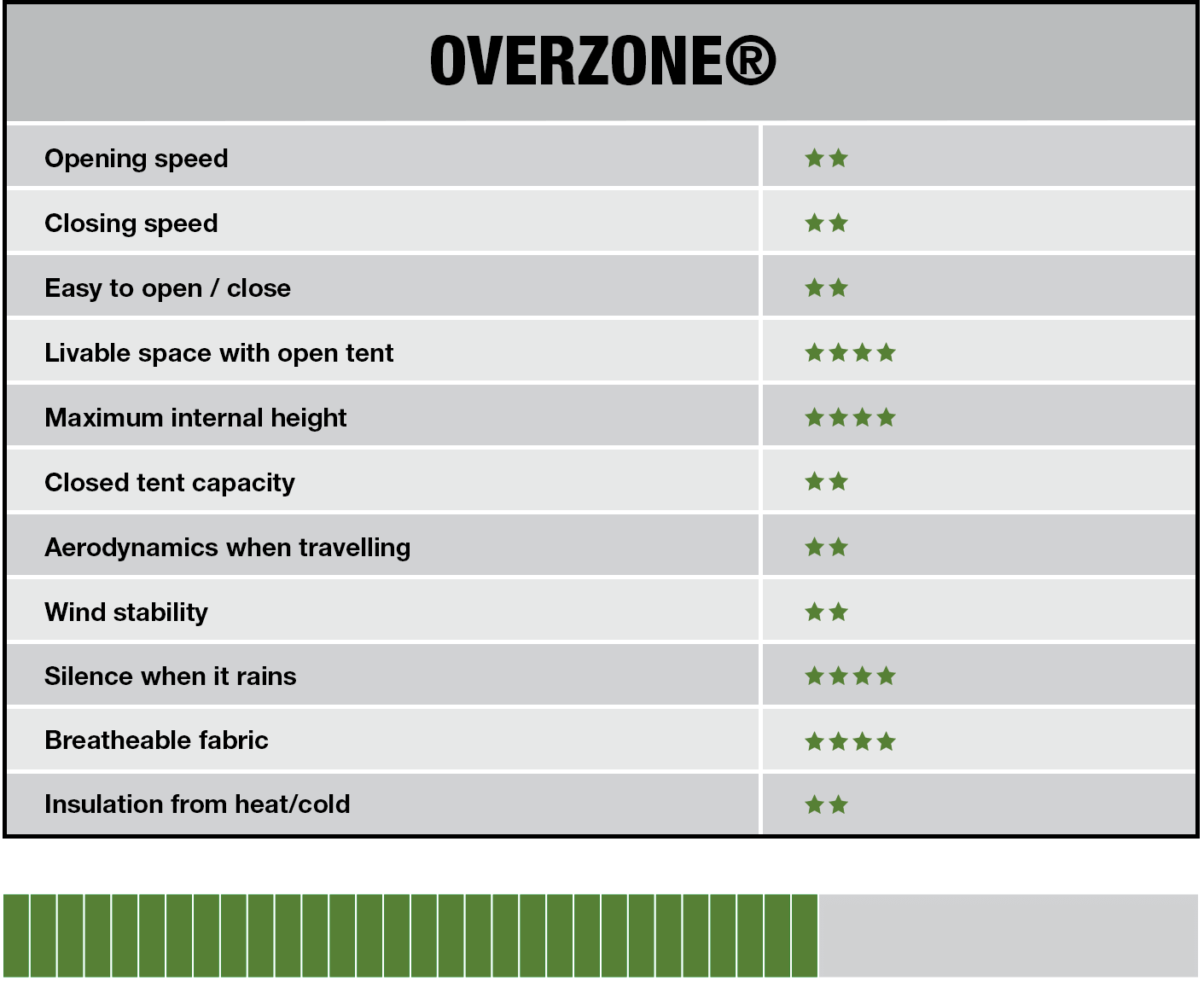 MY RATINGS - PERFORMANCES

= GOOD


= VERY GOOD


= EXCELLENT


= SUPER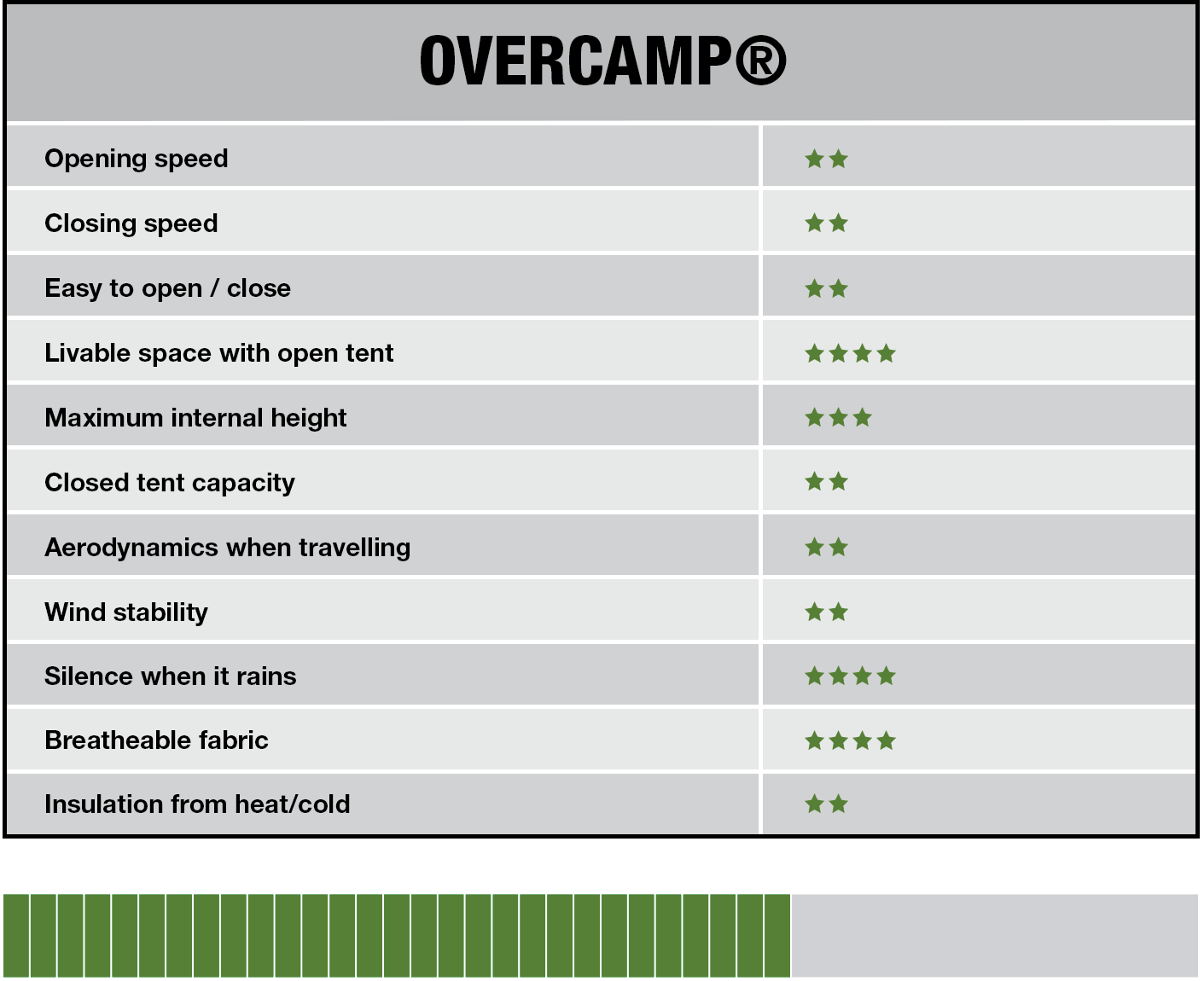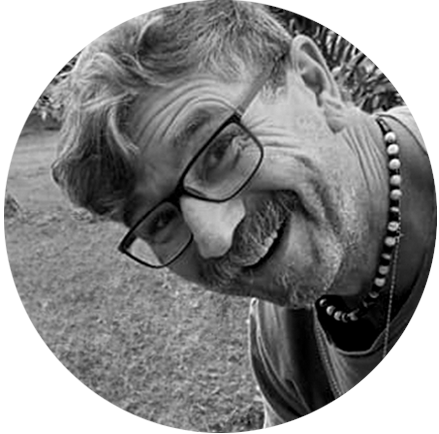 JÜRG SOLLBERGER
Jürg Sollberger is a traveller who has often done things ahead of time. A free spirit and innovator, he has worked on projects and in situations that later became a must for adventure travel. A dreamer, a rebel and certainly a man of courage: a tour leader for all kinds of destination, with every sort of itinerary.
You might think that such a man is solitary, a true loner, but Jürg is quite the opposite: to begin with, he is accompanied on his adventures by Doris Sollberger, who shares his achievements.
An explorer at the cutting edge, open to dialogue and capable of strong friendships: unsurprisingly, he is an excellent cultural and technical advisor. Including for Autohome. Indeed, he was one of the first travellers in the 90s to severely test Autohome products in Asia, contributing to the beginning of adventure travel in the Far East.
His famous tours include long trips in extreme conditions in China, Myanmar, Tibet and other countries in the Far East. In numerous expeditions and events, he has publicly thanked Autohome and spoken of its "Superior rooftent". A significant homage to the products her himself uses on his adventure trips.
Since 1986, he has been an expert instructor in the trans-Africa tour, but his lasting passion has been for the silk-road, which he often uses to illustrate his "no limits" journeys.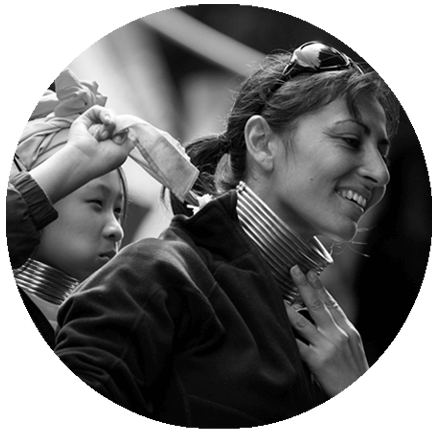 VULA NETOU
The story of Vula Netou and how she took up adventure travel is fascinating. She is a young, passionate woman, full of life with a history in dance, first as a performer, then as a choreographer. For many years she has worked in the theatre as a dance teacher. Gradually, she fell in love with the freedom of adventure travel and shared the dream of Akis Temperidis to travel the world for nearly four years. Because of her legendary round the world tour, she can be considered an ideal tester, particularly in relation to the needs of women on arduous journeys of this kind.
The figures speak for themselves: 168,000 km covered in 1,177 days, visiting 67 countries in 5 continents. Over 70 articles have been written about the tour, and there have been over 150,000 clicks. More than 200 hours of film are available, edited into a docufilm released the world over.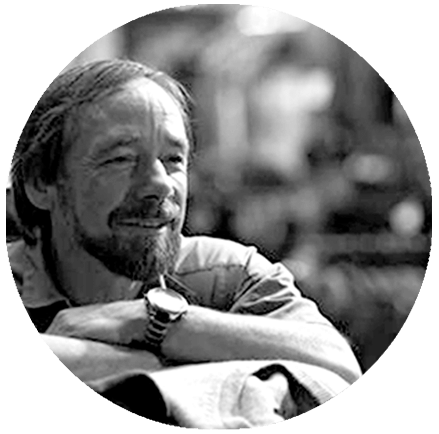 BERND WOICK
For many years, Bernd Woick has managed shops specializing in outdoor clothing, tents and technical products for trekking, mountaineering and adventure travel. With his professional skills, he is well-known for his expertise in the sector and someone who personally tests his products and is familiar with the opinions of his clients. His company was founded in 1982 in Filderstadt, Germany and now has stores in other German cities. With the help of trusted colleagues, in recent years Woick has decided to dedicate more and more time to travelling, in the form of tours based on a strong spirit of discovery in out-of-the-way locations ensuring maximum contact with nature. He particularly likes to travel in a properly equipped vehicle, tested personally for his type of trip with no limits, and consulting in the auto sector obviously helps. His motto is: "Travel means living your dreams". This combination of professional experience and passion makes him an ideal tester for Autohome products.
Autohome and Woick: growing together
From its creation, I've watched Autohome grow and followed its developments through the products I sell in my specialist stores. We immediately understood the philosophy of Autohome and its technical and manufacturing decisions based on excellence and distinguishing itself in a market where improvisation sadly still exists today. Whereas Autohome aimed straight for excellence and reliability, so we chose it as a flagship manufacturer for our stores. And we were right. Autohome has been increasingly successful for us even with the most demanding and expert clients.
I've always believed in the concept of a roof tent
The advantages of an excellent roof tent are so obvious it seems strange that it took so long for the idea to be accepted. And yet it did! I've always recommended roof tents, right from the start, over twenty years ago, because I knew they were practical, comfortable and safe. Roof tents are practically immediately available, they are practical and are an excellent shelter from the weather when you're sleeping outdoors. They make cars more useful and competitive compared to the alternatives for sleeping at night. Today, the concept is largely but not completely accepted. Some people still don't really understand the difference a roof tent can make and here, the quality of products like Autohome is very persuasive. You don't change your mind after an Autohome tent, as many of my clients have proved. And, indeed, as I can personally testify.
From consultant to user
These days, I travel most of the year. I can consider myself justifiably a "citizen of the world", because I've been to every continent. Yet there is still so much to explore and discover! Since I use Autohome roof tents so much, I think I can be considered a top tester. I have been able to personally appreciate how the technical and manufacturing decisions of Autohome truly make the difference. In the past, I have given technical and theoretical rather than practical advice, but now it's the other way round. I know from experience that Autohome roof tents last longer and provide far more protection than any other in the sector. I could sum it up like this: an Autohome tent is the best investment a traveller can make. It provides wellbeing, safety and comfort.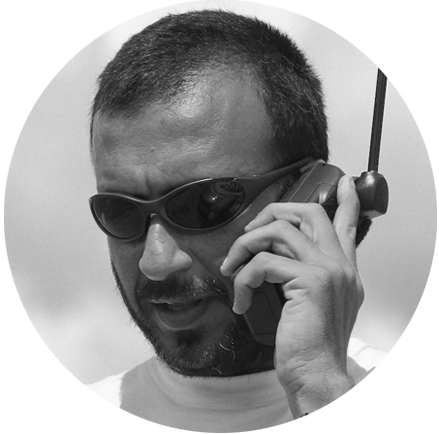 AKIS TEMPERIDIS
NOBODY LIKE HIM
Akis Temperidis is one of the greatest of all contemporary travellers. The figures are clear: the "auto record-man", as unsurprisingly he is called, drove 168,000 km in 1,177 days, covering 67 countries and 5 continents. On the record tour he was accompanied by his life partner Vula Netou. Akis is a journalist by profession, specializing in travel, motor sports and adventure activities. After a long career as a tester and documentary writer, he decided to turn his dreams into reality by travelling the world. This was the beginning of the The World Offroad project. Today too, Akis is working on numerous projects as a partner of auto makers, photographer and publicist, in particular as a freelance correspondent for travel magazines and the adventure car industry.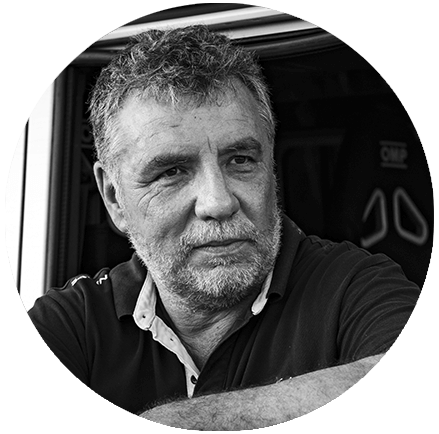 ROBERTO MANOCCHI
Roberto Manocchi: the Off-Road "guru"
This is how they would call him if he were born in India: guru. Instead, he is a Venetian from Venice, as he likes to call himself. For this, everybody actually calls him the "mechanic of dreams": with his skilful hands even the most extraordinary world tour projects come true. After all, in his career which started far back in 1990, he has been accompanied by many titles and appellations: engineer, tour leader, maestro… But he is always the one and only Roberto "the wizard" of the mechanics shop, capable of transforming a vehicle into something that will be able to withstand challenges reaching beyond imagination. Today he is a consolidated reference especially in the world of Land Rovers, because, as everyone knows, his soul always travels and lives in a Defender.
An intelligent and sensitive auto preparer, his job always starts from the expectations of the person that will travel rather than from the technical components. And yet he really masters technology! Very few know all about 4x4s like him. He knows how to be the friend who wisely gives advice and, at the same time, the super expert without excessive triumphalism and senseless ideas. His driving force is surely passion, but he does not let it take control. This is why he is sharp, rational and very meticulous, an exceptional auto testerman, sought-after in all Europe: merciless judgements, but always well justified.
With his profile and background, Autohome wanted him to be the verifier for its innovations: products, systems, accessories. Now his presence has become a consolidated tradition: nothing passes unless approved by Manocchi. The most recent test where he was protagonist was the one performed on the new closures that Autohome intends to introduce on all hard shell tents starting from 2020. After exhausting tests on the field, the Wizard of the auto workshop declared: "A very innovative closure makes the concept of functionality in the sector take a giant leap forward. It is a reconfirmation of the commitment and top quality which makes Autohome stand out even with regards to the technological elements."
Take the word of the guru.
WARRANTY UP TO 2/5 YEARS
Every single Autohome product has been studied in detail and carried out by utilizing the most suitable materials for its expected use. The fifty-year experience concerning the products allowed the Company to choose suitable materials tested in any different weather and travel conditions.Strict "Autohome Quality" controls assure that the product is faultless both concerning materials and construction.The tents used the world over by Tour Leaders and Explorers, for extreme car rallies and expeditions, are identical to the standard production: the same product anybody can buy.Each Autohome roof tent is marked by a Serial Number (label on the internal side of tents' inlet door), which distinguishes the tent and indicates the quality controls it has undergone.It is recommended to carefully read the general instructions for use and maintenance, which are an integral part of the product and are supplied within its packaging. Pay attention not to lose them! In case of loss, ask for them to the point of sale or to info@autohome.it> More Info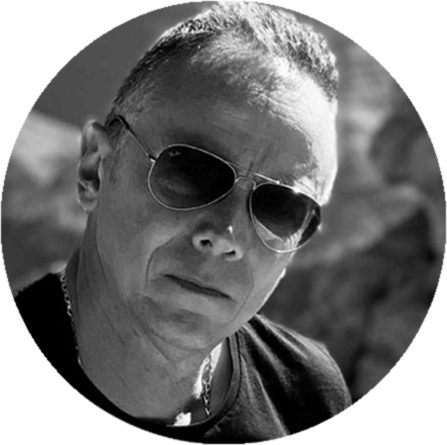 GIUSEPPE FERCODINI
CO-FOUNDER AND OWNER OF AUTOHOME®
INTERVIEW
Roof tents: how to choose them? A dialogue on the principles that characterize a mythical product of the journey in freedom, the roof tent, with the advice of Giuseppe Fercodini, founder and owner of Autohome.
Let's start by getting to know Giuseppe Fercodini first than the main product of our dialogue. Why have roof tents become an integral part of your life? I recently turned 60 and I can safely say that much of my life was devoted to knowing, improving and promoting our product "roof tents". Over the years, my brother Giacomo and I, with Autohome, always aimed at making people understand first of all what quality means in our sector. A commitment which we still consider to be a priority today. Indeed, today perhaps even more than once! We were pioneers in our field and we had in mind, since we designed the legendary Maggiolina, that quality, which then means practicality, livability and durability of the product, should be our must-haves. We built our market positioning on these principles. That require honesty and transparency. Because quality is a concept that goes beyond brands. The same applies to Autohome. There are elements that are essential. Either you adopt them or you don't adopt them. Period. Here's the difference. We apply them. But I say just as clearly: I am not aligned with one model or another, I have no particular preferences. I still consider myself a "craftsman-entrepreneur". I am not a trader, let alone an accountant or importer of Asian products. I'm just a perfectionist, that's what they say about me! I think I am a person who loves beauty and beautiful things, created by man and nature. I have two passions that I believe in: freedom and travel. Each tent has its own soul, a story to tell. Our job is to help achieve this goal: to travel freely. I don't even know exactly how many models and combinations we have in Autohome, sizes and colors, maybe we exceed 100 variants. But I know that everyone is inspired by these values. If Autohome did and continues to do the history of roof tents, it is because since 1958 it has always been consistent with these principles.
What fascinated you in the roof tent product? give. Whatever the type of trip, discovery, adventure, relaxation, from the big raid to stopovers to the short weekend, the roof tent can be fast and easy, transforming the vehicle into a home in seconds, wherever you are. The real roof tents, and I stress true, are stable and safe in the wind, do not undergo installation constraints. They always allow comfortable accommodation in the front row: by the sea, by the lake, by the river, in the pine forest... however in direct contact with nature.
What do users currently prefer? Let me take our offer as an example: Autohome shell tents are exported to more than 40 countries and account for 70% of sales; the remaining 30% belongs to fabric tents. Only a few years ago the sales division was exactly the opposite. Because fabric tents are the origin of the product. Even just a few years ago, "pure and hard" adventurers stood out, including Saharans, prone to folding fabric tents.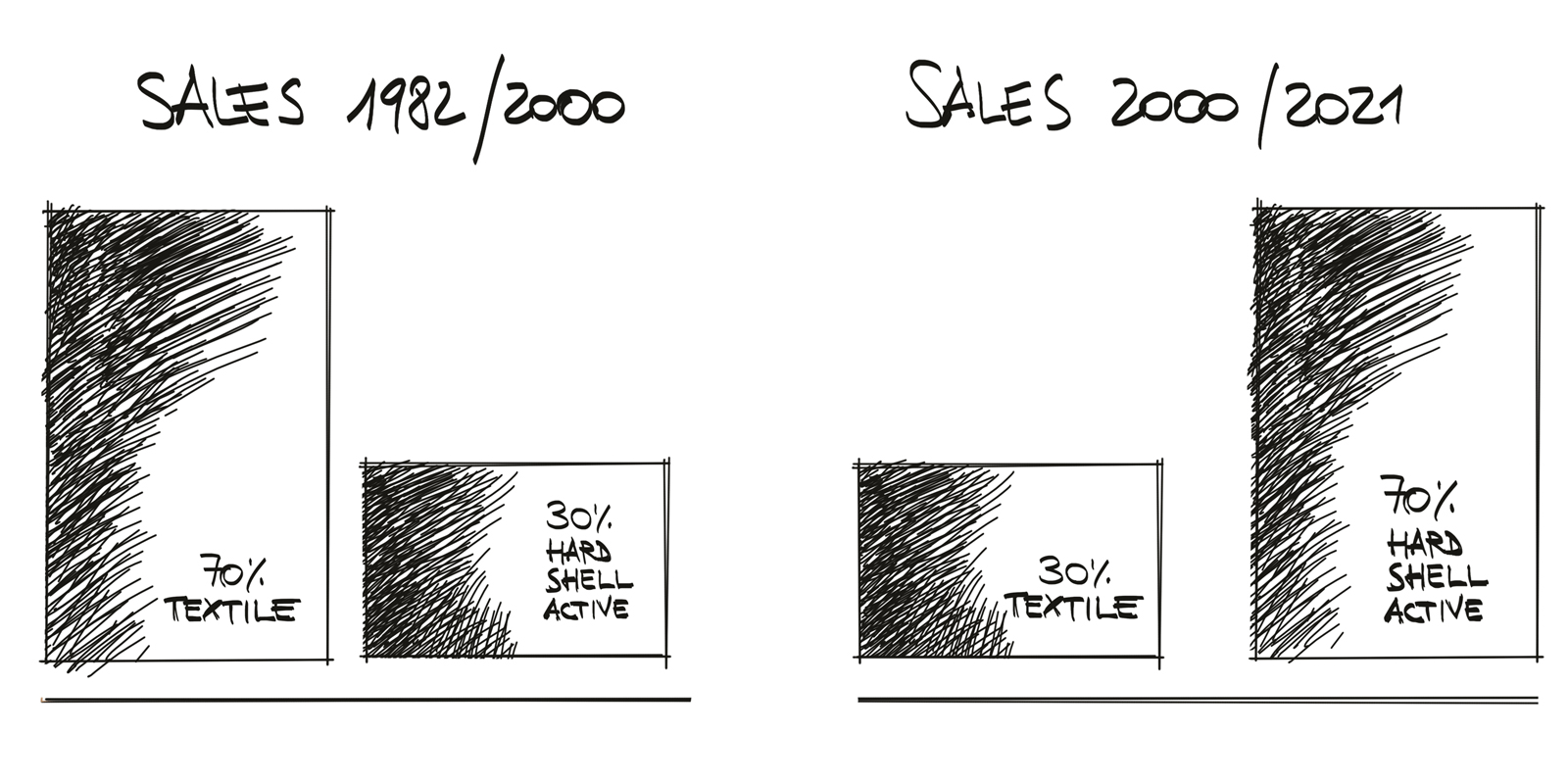 Africa and the desert were the main destinations, ideal destinations for explorers and travellers. We are talking about tents intended mainly for large 4x4-Off Road vehicles. It can rightly be said that the global success of roof tents began with the legendary Land Rover Defender 110, thanks to the memorable exploits of the legendary Nino Cirani, still an icon of adventure for enthusiasts today.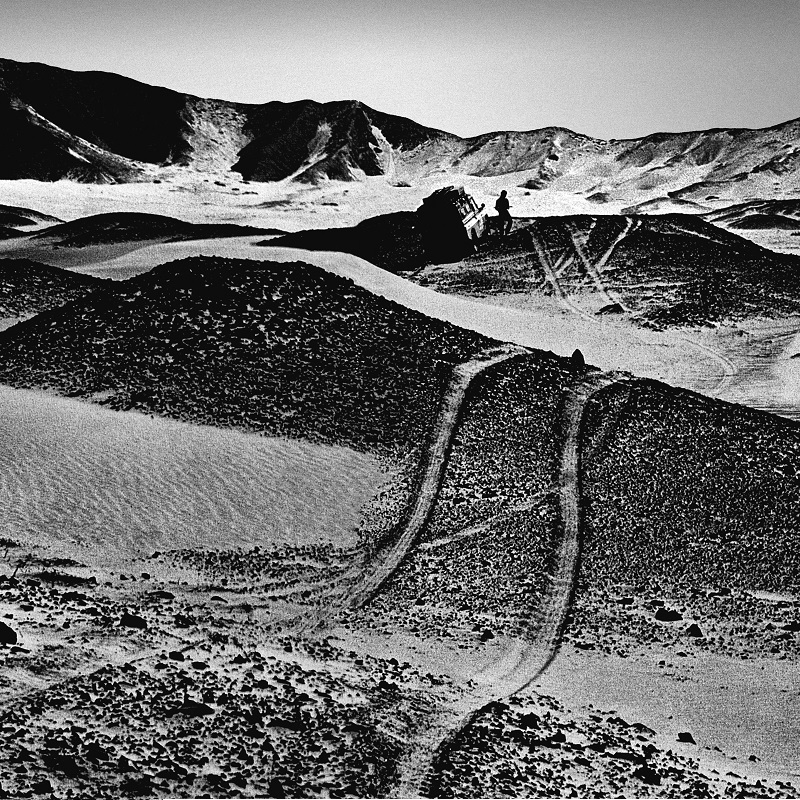 Above the Peruvian desert. Image by Nino Cirani, published in the book "Il raid automobilistico", editorial Domus.
The main reason for choosing the fabric tent was that it occupies half the roof of the off-road vehicle, thus leaving the other half in space to carry tanks, spare tires and travel equipment. This was the main choice in the Off Road world that distinguished the market. But that is no longer the case today. The tent with a shell roof has taken over. There are those who say: but they cost more. I am convinced that in our sector the priorities go to other aspects, at least for those who really love free travel. I remember a traveling friend saying, "... when you go to a good restaurant and eat very well, you remember what you ate and not the bill".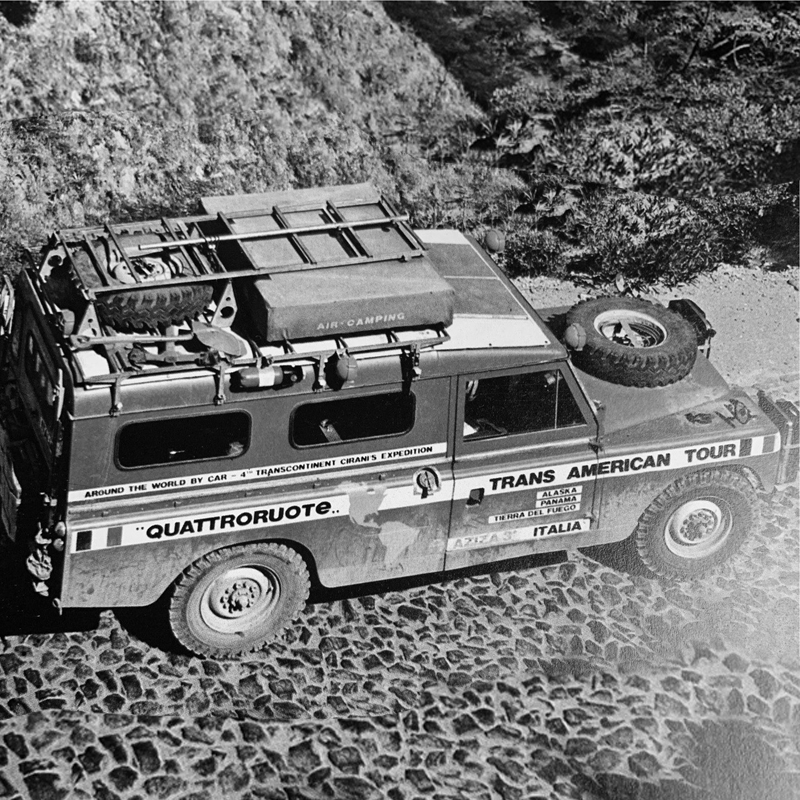 This is AZIZA 3 - Land Rover 109 from Nino Cirani. It should be noted that the tent occupies half the roof of the vehicle, thus leaving room for transporting spare tyre and other travel equipment.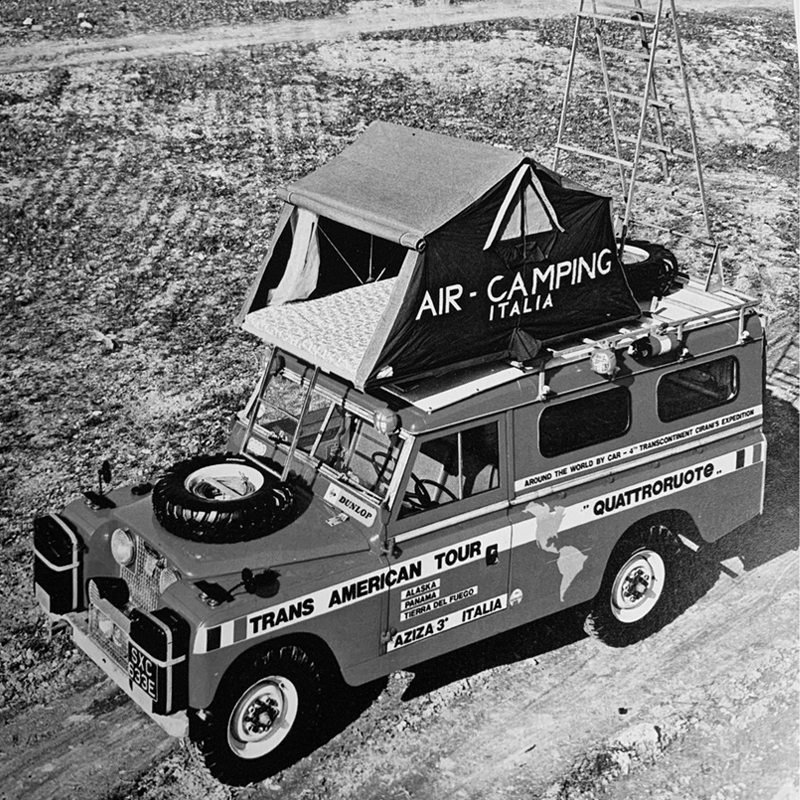 Assembly of the tent in the Nino Cirani' style. The open tent does not come out of the shape of the car, which means that it is possible to camp wherever you are.
Let's first consider fabric tents. Where should attention for any choice be paid to? The fabric tents are essentially very compact closed and become well habitable when opened. Be careful though: they open with cantilevered platform and then protrude from the shape of the car.

Let's look at some aspects of attention. First of all, the ladder: it should not be considered as an element to be kept detached from the tent and stored in the trunk of the car, that is to say, to be hooked whenever the tent is opened. Conceptually the ladder is a functional element of the tent in all respects. So I recommend checking that the ladder is integrated. Second aspect: materials and structure of the platforms. Autohome fabric tents have waterproof and water-repellent hardwood base with high elasticity, thus ensuring reliability and durability. Quality guarantees very different from tents of Asian origin that have floors in... coated polystyrene! So, before each purchase, check this item very well. Thirdly: the windows. They must be perfectly integrated and not have protruding structures, because let's not forget that we are tall from the ground. Personally I hate any stakes to match windows, as you can see in poor quality Asian products. Another aspect that I do not share in these tents are the windows on the roof, because they can easily become a source of rainwater infiltration risks. Over time it can prove to be a very serious problem. And then pay attention to the wind: a tent about two meters from the ground cannot have structural sloping elements, such as canopies and so on. The tent must be a single body, the roof must necessarily be integral with the walls. If you do not control these aspects in the choice phase, there is a risk from the first use... of taking flight and going to hang gliding! Not to mention the sailing effect of fabrics: in many parking places the wind is a constant, which can create instability and noise, causing sleepless nights.
Shown here is an Autohome range tent. A real windproof car roof tent. A serious, original and great design project that will not generate turbulence and noise, let alone "the sail effect" or "the ball effect" which are averted.
We always knew these attentions to be paid in Autohome and we solve them in our fabric tents with suitable solutions, the result of the experience of many years of activity. An authoritative manager once said: "You are Italian and like cooking, so you know how to dose the ingredients to make a good dish". This joke impressed on me and I still treasure it today and it is part of my personal experience. Fabric roof tents must be of heavy fabric, this is the first ingredient.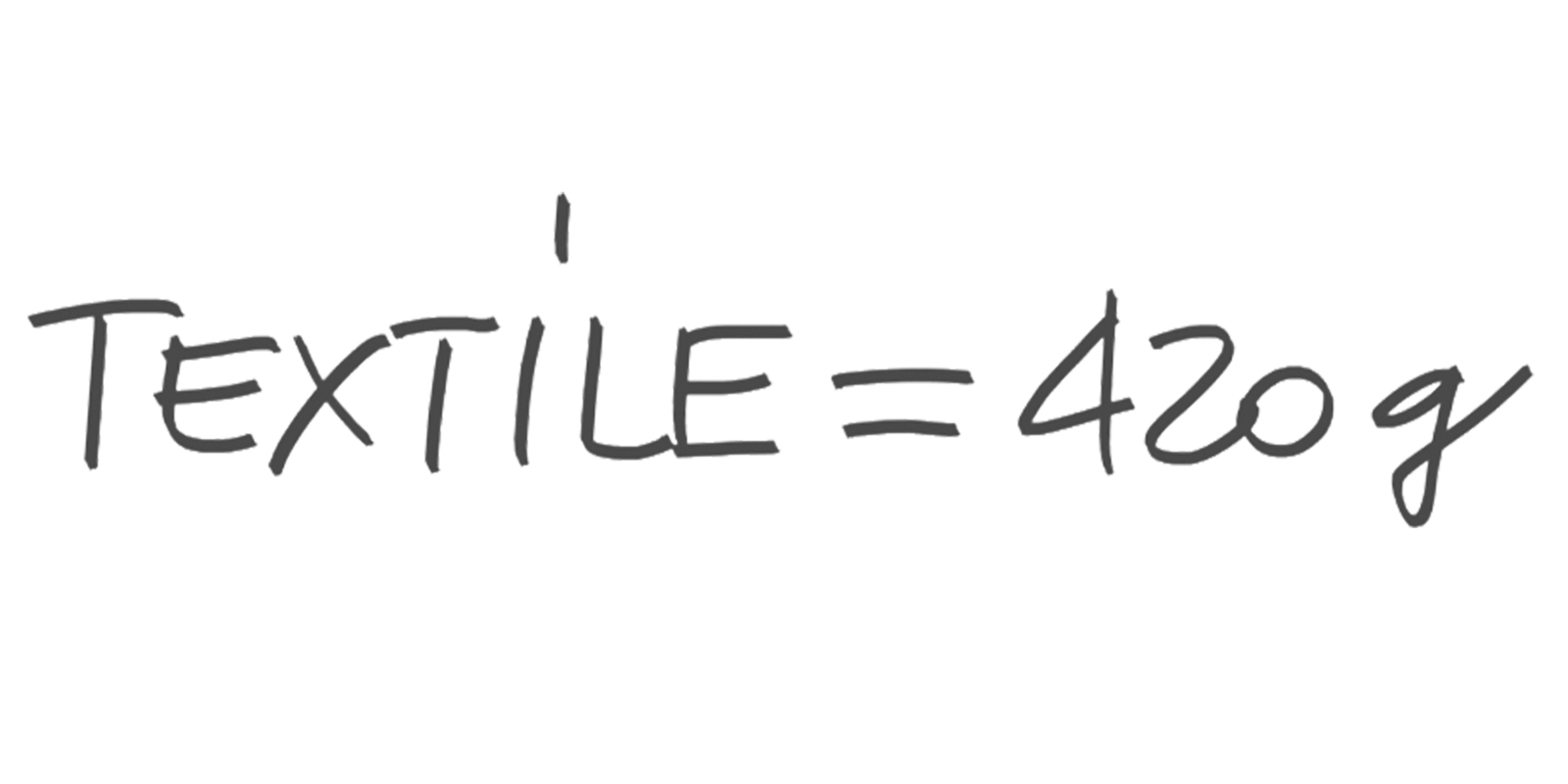 They must also be simple and have little protruding fabric that generates a sailing effect. It is preferable to stay in a private area or campsite with a fabric tent. This is at least the law in force. The tents does not fit in the shape of the car, it protrudes from the mirrors and it is therefore believed to occupy public land. They are therefore bound by the rules on the occupation of public land, a fundamental difference from the rigid roof tents, which remain in shape. To recap: the great advantages are habitability and comfort. The most obvious problem is having overnight limits in public areas.
Let's look at the rigid tents with shells. What are the considerations to be taken into account when choosing? I believe today that these tents actually have something more than fabric tents. In particular, it is the roof that makes the difference. Having a roof in suitable materials means having a more insulated environment: you are more isolated from the heat and cold, more protected from every point of view. It is no coincidence that the experts call them HARD SHELL ACTIVE, THE TENTS WITH AN ACTIVE ROOF.

INSULATED ROOF

In fact they have a little less internal habitability than fabric tents, but just choose an adequate size of tent and the spaces become ideal. Shell tents are more compact and stable than fabric tents, especially in storms. They completely prevent infiltration. Welded fabrics, double sheets and PVC cannot compete with a rigid roof, among other things made of fiberglass which is also equipped with an insulating inner membrane. Not surprisingly for quality fabric tents, our Air-Camping, for example, we minimize seams on the roof. Neither put we zips on the roof or windows, as it appears on certain low-cost models from Asia. So, to sum up, I would say that the main advantages of shell tents are: an extraordinary stability without sacrificing the speed of opening and closing; to this is added the fact that the mattress is slightly higher and does not fold like the fabric tents. It is a unique piece with no joints. In addition, shell tents have no limits in deciding the location of overnight stays in public areas, because the tent and ladder fall within the shape of the car. The disadvantage, if we can define it that way, is only one: a higher cost of purchase than the fabric tents. But I strongly invite you to consider what they can guarantee over time in terms of comfort and safety, especially in adverse weather conditions.
Returning to fabrics, but considered as materials, what can we specify as a focus of attention to our readers?

It is a decisive choice in a tent, it naturally affects its quality and costs. Everything is on the market: more or less heavy, breathable, waterproof fabrics. In detail, it ranges from fabric with high impermeability or watertightness such as PVC, to lightweight nylon such as in Igloo tents, to coated, resined, synthetic, acrylic, eco-friendly fabric, natural cotton and mixed fabrics. Autohome does not trust products from markets outside Europe, let alone Asia, and this is because quality is too variable. Our purchasing department is particularly attentive to this issue. In summary: for fabrics, as for yarn for stitching and also for mosquito nets, we turn to Made in Germany suppliers of great seriousness and specialist expertise. This allows us to leave behind unreliable production paths. For example, making tents using double sheets: they are too fluttering and unstable solutions that create turbulence in the wind, in addition to causing bulk. I think it is essential to use the most breathable fabric possible or, in any case, a the fabric that best transmits heat and condensation to the outside, obviously it must be waterproof. A perfectly breathable fabric is certainly more expensive, but it is what allows you to get a cooler and healthier environment. Autohome tents have a high degree of breathability and optimal heat transmission to the outside. That's why they don't need to use fans, vacuum cleaners or extractors to spin the air. Next to the fabric, packaging and stitching must be considered. We always try to avoid them at critical points. On this subject, I say that I have little confidence in the chemistry applied to fabrics: for example, hot tape adhesives do not satisfy me; sometimes with temperature changes they lose grip. In my opinion, better mechanical solutions or alternative packaging methods are better. The most exposed zips, in particular, must be of high quality standard. Ours, the tents most exposed to water, are all waterproof and above all "spiral", to resist abuse and wear. As you can easily understand, even here you need to be certain before buying. Above all, do not be enchanted by certain prices offered by unknown brands or without a history, often present on the Internet. The concept is almost trivial, but always important and must be remembered: even in our sector, nobody gives anything and every decision has its price.

But an expert like yourself, Mr Fercodini, directly involved in the sector, which tent do you personally use? When I was young, my first tent was Maggiolina, which has always been my favorite. What memories! ... and what years of great enthusiasm and continuous discoveries... Initially I placed it on a 1982 VW Golf, then on a VW Passat Variant from the '90s. I also used the legendary Air-Camping, but I didn't have the right car to be in tune with what an extreme traveller did, such as the great Nino Cirani, to be clear! Today I am 60 years old, I use a Columbus shell with great joy. Exactly the X-long Land Rover model. This is because I want to be 100% sure and find myself in aesthetic harmony with my personal and timeless "Defender", year 2008. By the way, even the legendary Defender celebrates its 60th birthday! Also on this topic I have a lot to tell... maybe next time, if you want.